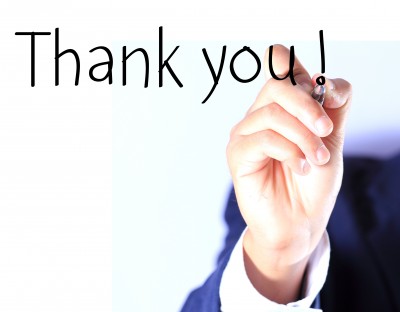 You should be jealous of me this week. I received an amazing thank you card from a client for whom I had created a custom sales meeting to help launch an important project.
The card even indicated that the company I did the work for had made a donation to one of my favorite charities on by behalf.
A bottle of Cabernet showed up on my doorstep, too… a symbol of thanks for shooting some engagement photos for a friend who lives miles away.
And one of my bosses dropped a note in the mail, too, explaining that he knew I was operating at very high speed right now and involved with a lot of tasks; he wanted me to know that he appreciates the initiative.
It feels good to be appreciated. But these messages accomplished something else.
They made me reflect on whether I have shown due gratitude to those people who have helped me, often in ways beyond their job description. Have you?
We've all had situations where we need folks to go above and beyond the call of duty… helping us handle a complex order, work a weekend assignment, or stay late to help get an order submitted in just the right way. You know who they are.
Do they?
If you thank them now for all they've done to help you along, they'll be more willing to accept that challenge the next time you need them to step-up. But beyond getting more help in the future, it is just good business and good humanity to say, "Thanks." It does not matter how busy you are, you should never be too busy for that.
Thank you for reading.
Mike Anderson is VP of Consumer Insights and Communication at The Center for Sales Strategy