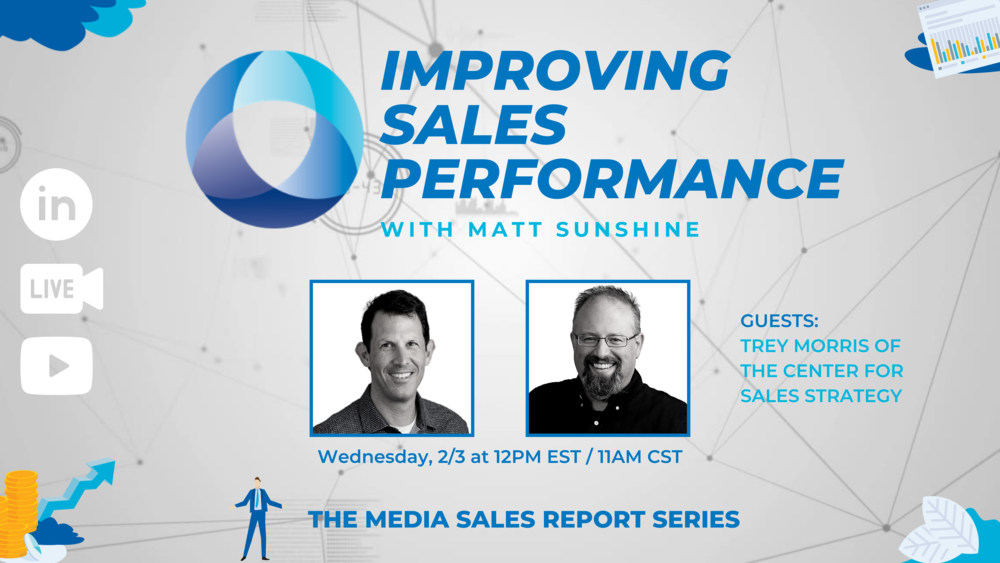 Season 2 of the Improving Sales Performance Series focuses on the data and analysis of the newly released Media Sales Report. Trey Morris, VP Senior Consultant at The Center for Sales Strategy, joined Matt Sunshine on the second episode of the season to analyze the data around the effects of COVID-19 and its impact on the media sales industry.
You can stream it now to hear their insight, advice, and initial thoughts after analyzing the data that was just published. Or keep reading for a brief overview.
Changes Directly Related to COVID-19
COVID accelerated many things that were in the works that many businesses were tentative to do. They didn't think it would work and they were forced overnight to make changes. As Morris points out in the interview:
We finally proved salespeople could work from home.


When you do work from home, you're actually more productive and work longer hours.


We've entered the realm of the Jetsons. Video phone calls are here to stay.
However, the biggest "change" is that fundamentals still matter. "It doesn't matter where you work from, what tools you're using, what tech you have – if you're not executing the fundamentals of your job, you will not be successful," states Morris.
You still uncover desired business results. The Sales Accelerator process is still the exact same. You're just using different tools.
Will Work From Home Continue?
Addressed in the COVID section of the Media Sales Report, you'll find that salespeople overwhelmingly (91%) said they do not want to work from the office full-time ever again.
Deeper in the report, you find that 82% of salespeople said they would give working from home a raving review with 3 to 4 stars out of 4 stars. 40% were 4 stars our of 4 stars!
As Sunshine and Morris point out, the data is clear that the way we did business in 2020 is not coming back.
What will it look like?
Morris gives his personal opinion during the interview, based on his conversations with various sales managers and business owners.
Best Practices for Sellers and Sales Managers Working From Home
What are some best practices for sellers and sales managers working from home? Morris advises managers to remember they're the ones who set the tone. Some of the best practices they can follow include:
Save sales meetings and Individual Focus Meetings (IFM) for in-office days
Conduct training in-person
Use in-person meetings as a opportunity for more collaborative type work
When you're not in-office, focus on being intentional and proactive. Communicate more often with your team because no one can just "pop into the office" and have a conversation. As Morris points out, salespeople want you to be more intentional!
The best practices for salespeople working from home include:
Having a routine
Having a dedicated space to work (an actual office)
Having the right equipment
Regular communication and better collaboration
Listen to the episode to hear the sales tech you need while working from home!
What Are the Growth Industries?
As Morris states, there's not a magic 8 ball that shows what industries to focus on right now. However, he does give his personal recommendations on hot categories:
Healthcare
Insurance
Home Improvement
Outdoor Entertainment
Delivery
He also advises listeners to not forget about the bounce-back categories that will need your help:
Travel
Entertainment
Concerts
Restaurants
Auto
"All of these categories will bounce back, and now is the time to get back in there and open the door," says Morris. "Ask what their marketing strategy is and be a trust resource for them."
The best time to get ready for rebound is right now.
Long-Term Impact of COVID-19
Sunshine asks, "Looking ahead, what long-term impact changes has COVID caused?"
Structure
Compensation
Technology
Morris simply says, "Yes. All of it. The pandemic has accelerated all of this."
During the last few minutes of the interview, Morris focuses heavily on how sales enablement and inbound marketing are becoming way more than buzzwords.
He also discusses sales structure and how media (specifically) needs to change their way of thinking and look at the roles Account Executives, Lead Gen Specialists, Marketing Specialists, Account Managers, and Account Coordinators.
Ending on a high note, Morris points out that many new systems and structures are being implements as a positive impact resulting from the pandemic. Things such as:
Working from home
Work-life balance
More productive and efficient in the job
He also mentions how many organizations are moving forward with adding a fun element – making a collaborative space for when everyone is in the office. "We all wanted this; we just didn't know how to do it – COVID forced us to do," says Morris. "Engagement and feeling valued and supported, the Media Sales Report states it loud and clear that this is what we want."
Don't miss another episode of the Improving Sales Performance series where Managing Partner Matt Sunshine speaks with thought leaders, experts, and industry gurus, who share their insight, tips, and knowledge on various topics that help companies improve sales performance.
Subscribe to our YouTube channel, and have your notifications on so you're notified of our next episode!