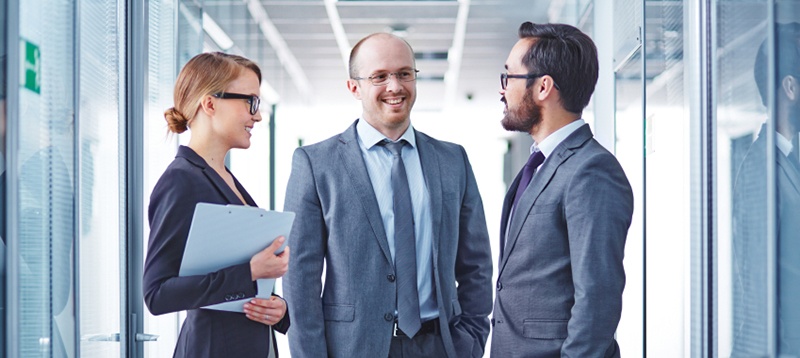 Now that 2016 is here, how are you going to improve sales? With the arrival of each New Year we set personal goals, or resolutions. Do you set goals? These goals, hopefully, revolve around what's truly important to you—what you value.
When it comes to sales, what do you value? If the answer to that question is hitting the numbers, then people are simply stepping stones. When you value people first, you'll watch the numbers stack up. The goal is to invest in people. The return on that investment is huge, because people account for a quality sales operation.
What Morale Means to ROI
Morale is the confidence, enthusiasm, and discipline of a person or group. Two statistics jump out from a Marketing Innovators white paper:
Companies with high employee morale outperform industry counterparts by about 20 percent.
Emphasizing high employee morale, satisfaction, and engagement yields a 47 percent increase in market value.
Everywhere I look, my research corroborates these findings. But I don't think it's necessary to dwell on statistics, because common sense says happy, engaged, and motivated salespeople do a better job. And we all know companies don't excel unless salespeople rock it.
How to Improve Morale
So, it's simple to understand how important morale is. But how can we improve it?
Prioritize Transparency
According to TSheets Time Tracking, transparency from management is the number one way to improve morale. Salespeople should know management's expectations. In addition, they should know why the company expects what they do. What metrics does the company need to hit to stay afloat? In what ways has the sales department struggled before? What have sales successes looked like in the past and what do they look like now? Are there any deficiencies in the product or service, and if so, what is the company doing to correct for them? What are the strengths compared to competitors?
There are myriad questions, and for that reason transparency is an ongoing process. The more salespeople know about the company as a whole, the more equipped they are to sell it. When you sell a product or service, you're not just selling that product or service—you're also selling who you work for.
Increase Motivation
You probably have extrinsic motivators in place: bonuses, commissions, employee of the month awards, etc. Intrinsic motivation is the other half—the harder half—to cultivate in employees, and may be even more important than extrinsic motivation.
According to Intelliconnection author Sandra Donovan, gamification boosts employee engagement by nearly 90%. It encourages employees to both come to work and increase their efficiency. Sales acceleration solutions such as Hoopla, LevelEleven, and Bunchball incorporate gaming platforms, or sales motivation engines, into the interface.
If software isn't within the scope of your organization, gamify the sales experience in other ways. Set up friendly competitions between teams, establish achievable goals for individuals so that they strive to beat their previous numbers. Make work fun by establishing all sorts of checkpoints and levels, even if they're miniscule improvements, and throw rewards into the mix.
Provide Benefits
Salespeople who stick with their jobs do so because they feel they're valued as people. According to TSheets, a competitive employee wellness program and a gym membership improve morale by 71%. And according to a Gallup poll, employees with high well-being miss 70% less workdays throughout the year. They also are 27% more likely to report excellent on-the-job performance.
Encourage Relationships
Salespeople are constantly interacting with each other, and co-worker relationships impact happiness 23% more than manager-employee relationships. 70% say having friends at works is crucial for happiness. It's important to foster positive relationships.
Give them plenty of chances to nurture relationships at company get-togethers and volunteer programs. Acknowledge friendships in your interactions instead of distancing yourself. Laugh with them, chat with them, have a drink with them after work. They'll associate the meaning inherent in friendship with your company.
Recognize Efforts
Recognizing output and input is another way to show you value your team. As Greg Giersch says, "Positive reinforcement is always more powerful than negative." In a poll from Globoforce, a social-recognition software company, eighty-two percent of employees said being recognized for what they do at work makes them more satisfied.
Recognition can come in any form you deem appropriate, as long as it's genuine. Salespeople who don't have their training wheels off yet need more recognition for small achievements. But don't forget seasoned vets—no achievement is too small to recognize.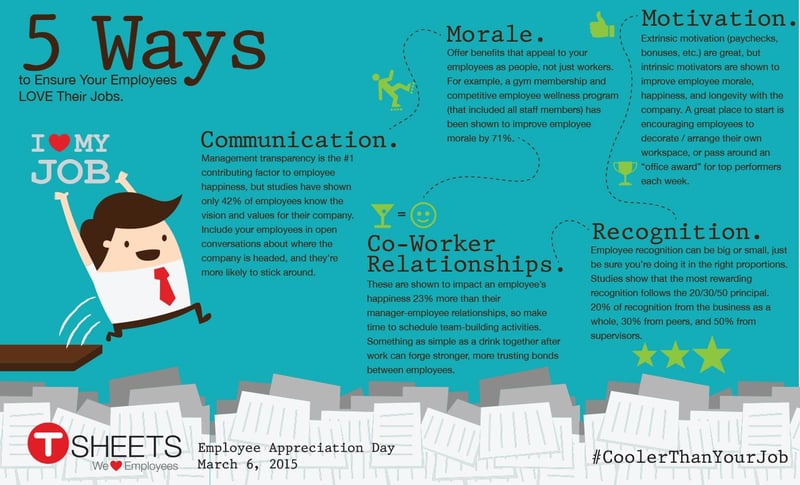 It's a Two-way Street
As you work to boost the morale of your employees, I think you'll notice your own morale rising, too. By investing in others you're investing in yourself. Not only will the bottom line benefit, so will relationships, and you'll create a sales culture truly worth buying.
---
Daniel Matthews is a freelance writer from Boise, ID who writes for Social Media Today, Switch and Shift, Triple Pundit, and Jeff Bullas, among others. He specializes in company culture, marketing, and tech, with a sprinkle of anything that's super-interesting in the world right now. Please find him on Twitter.