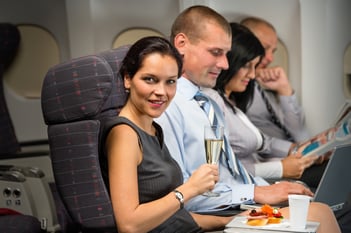 I recently read an article on how to get one of those choice seats in the first-class cabin. One suggestion was to be nice and smile at the gate agent. Gee, I don't think so! Yes, I should be courteous and warm, but no, there is darn little chance that being sweet will get me upgraded. I know the computer makes those decisions based on the passenger's status in the airline's loyalty program, how much they paid for their ticket, when they bought it, and numerous other factors. Rarely does the gate agent have any discretion as to which of us weary travelers gets that last first-class seat.
But the article did have value—because it made me think about how salespeople get "upgraded" in the minds of our prospects. In that realm, there's no computer and no algorithm. And while smiling probably won't make much of a difference, how we behave totally determines how we're perceived and whether the prospect gives us first-class treatment (an appointment) or not.
There was a time you could just pick up the phone and ask for an appointment. These days, you can't even get a No with a cold call like that, no less a Yes. The surprising thing to me is how many salespeople still behave as if the way to get an appointment is just to announce themselves and ask whether Wednesday morning or Thursday afternoon is better.
Getting an appointment today requires at least these two conditions:
BEFORE you ask, you must have established yourself as a person who is trusted and valued by similar clients and, therefore, deserves to be trusted and valued by this prospect. That's called credibility.
WHEN you ask, you must present a valid business reason—that means a reason the prospect should want to schedule time with you (and soon!), not the reason you want to schedule time with them.
How can you establish that credibility before you've even met the prospect? There are many ways.
5 Ways to get Upgraded to First Class in Sales
I've got more ways you can establish your credibility, more ways to be seen as trusted and valued, but hey, I'm saving some for our paying clients! We have a very interesting online course called Getting That First Appointment, and I guarantee you it has ideas you haven't come across before.