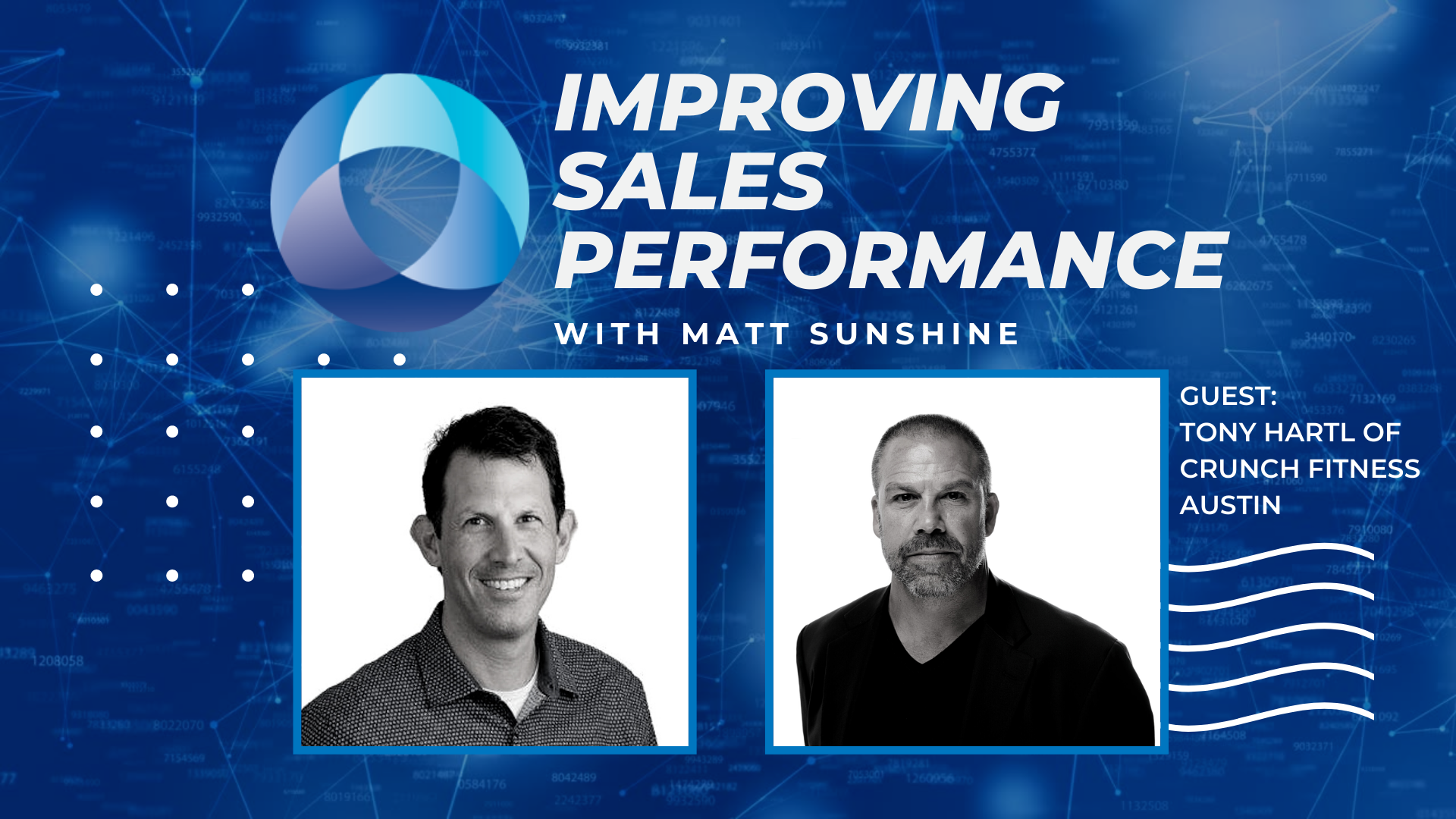 Your role as a leader is to drive your people toward your ambitious culture. How do you do that? You must connect with people!
When COVID-19 closed gyms, 58% of trainers lost some of all of their income, and 23% were furlough or laid off (PR Newswire). How did one gym manage to gain more members now than pre-COIVD?
Episode 4 of the Improving Sales Performance series with Tony Hartl, founder of Crunch Fitness Austin and Planet Tan, provides listeners with a few secrets of how he's getting new members and keeping existing ones amid the pandemic. He also discloses how he keeps his team focused and energized.
A Truly Successful Entrepreneur
Tony Hartl, founder of Crunch Fitness Austin, is a Midwesterner, father, world-traveler, author, optimist, and experienced entrepreneur. He is also the founder and former CEO of Planet Tan, which he started in 1995 in Dallas-Fort Worth and grew into one of the area's most recognizable brands with 17 locations, 160 employees, and the nation's highest average per-unit sales.
Since selling Planet Tan in 2008, Tony fulfilled another life goal and traveled to over 30 countries. Along the way, he even created the iconic wine called — Seed, from Mendoza, Argentina — which has a 94-point score from Wine Enthusiast for its 2015 Malbec.
In 2011, Hartl put his company philosophy on paper with his award-winning business book Selling Sunshine: 75 Tools, Tips, and Tactics for Becoming a Wildly Successful Entrepreneur.
Among all of these things, he's served as a board member, investor, or trustee for many organizations. A few of his recognition's include:
Featured in Success Magazine earlier this year

Winner of Axiom's Bronze Business Book award for Selling Sunshine

Featured on the cover of Fortune Small Business

Awarded "Top Young Guns under 40" by The Dallas Business Journal
The Importance of Being Authentic
Hartl is known for saying, "No can-kickers or cave dwellers or clock watchers for management." When host, Matt Sunshine, asked what this meant and why it's important, Hartl replied, "It's tip 28 in Selling Sunshine. It's a way to remind leaders to get out of their office and comfy chairs and meet their people."
Hartl also quotes Scott Fitzgerald:
"No grand idea was ever born in a conference, but a lot of foolish ideas have died there."
Business is all about people, and if you don't want to meet them where they are – get to know them, their dreams, and help them accomplish those dreams — then you're not making a lot of progress. "You must connect with people," states Hartl. "People deserve your best. You have to really love and care about people. Show up with energy and intentionality."
Employees don't care what you say; they watch what you do and how you behave. Company culture must be authentic. Your employees devote much of their lives to you, the workplace, and your vision. Show them you genuinely care, and when times get tough, they'll remember who acknowledged them and helped them accelerate.
Key Revenue Drivers
On the Improving Sales Performance series, Sunshine addresses various topics that help companies improve sales performance. In this episode, he takes a deep dive into how Hartl drives revenue and business performance at Crunch Fitness. Particularly, what are some of his keys to success?
"For us, we focus on people, cost per lead, cost per acquisition, the dial of conversion, and part of the secret sauce in our industry is uptime of equipment," explains Hartl. Higher equipment uptime means better member retention. When you take care of your equipment, you're keeping users satisfied, you're keeping people coming back, and it shows you care.
When asked how he keeps his team focused and energized, Hartl explains these four actions to the audience:
Alignment

Commitment

Financial Management
Tune into this episode to hear more about these actions and how to apply them to your team!
Don't miss another episode of the Improving Sales Performance series where Managing Partner Matt Sunshine speaks with thought leaders, experts, and industry gurus, who share their insight, tips, and knowledge on various topics that help companies improve sales performance.
Subscribe to our YouTube channel, and have your notifications on so you're notified of our next episode!