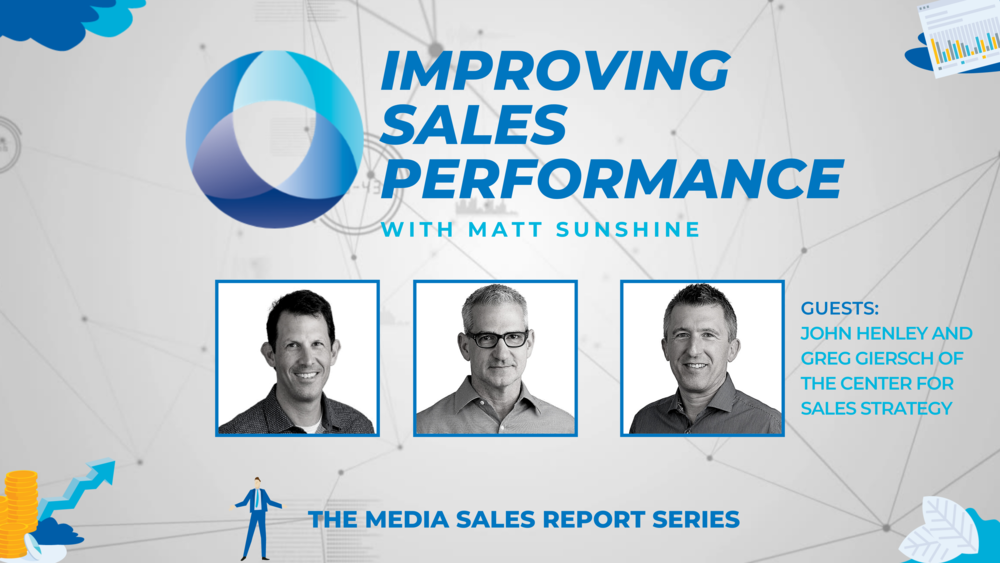 Throughout season 2 of the Improving Sales Performance Series, we've focused on the data and analysis of the 2020 Media Sales Report.
In this episode, John Henley, Managing Partner at The Center for Sales Strategy, and Greg Giersch, Vice President of Client Experience at The Center for Sales Strategy, join Matt Sunshine to discuss the data from the Media Sales Report surrounding the analysis of the sales training and development data.
You can stream it now to hear their insight, advice, and initial thoughts after analyzing the data that was just published. Or keep reading for a brief overview.
Leading with Data, Insight, and Outsight
The Media Sales Report found that 92% of sellers say learning and development is important in their role.
With such a large number of people wanting to learn, grow, and develop — Sunshine asks, "What sort of training is important to salespeople right now?"
Henley says the best way to simplify it is to break it down into generating leads, selling solutions, and serving clients. "Right now, it's all about generating leads, identifying the right categories of business, and connecting with them," he states. "That's what is needed right now — a fresh view of what this looks like."
Giersch adds to the conversation saying that it's in the very beginning steps that salespeople seem to have the hardest time, especially now, because the landscape has changed so much. "Salespeople need more than just in-time training; they need it now and today," he states. "Typical salespeople need training now on how to find valid business reasons and how to refine that process."
For years, the hardest part of a salesperson's job was getting appointments. And data shows that salespeople and managers agree that its tougher today than in the past. As discussed in this broadcast, one reason is because of the "work from anywhere" environment — geographies are now going out the window.
Tune in now to hear the detailed thoughts of Henley, Giersch, and Sunshine on why setting appointment is more difficult than ever before.
How CSS Has Adapted Our Training
At The Center for Sales Strategy (CSS), we train sales departments by giving them a sales process and Account List Management Strategy (ALMS) — basically we give them a system to run. Since the pandemic, the way we deliver training has significantly changed.
One of the new training programs we've implemented is remote training workouts. As Henley discusses, these short 15-to-20-minute workouts are fun, exciting, and talk about relevant concepts that are happening right now, and how to bring those concepts together and apply them.
Another way CSS has adapted to changing times is through micro-learning, or chunked learning. As Giersch explains, "We take big courses and break then down into 5, 10, 15-minute chunks so that our brain can process the information." He uses the analogy of learning in chunks being like putting it in drawers versus throwing it all in the closet.
To sum it all up: Training needs to be applicable, relevant, and learner driven.
Why Are 40% of Sellers Underperforming?
The Media Sales Report found that 73% of sales managers do weekly training and 20% conduct monthly training. Yet, 75% of managers said 40% of sellers are underperforming.
Why?
Henley believes it's because salespeople are having to unlearn and relearn a lot. Giersch feels that it's because too many managers are not applying training as much as they are simply checking off boxes. "For me, it's managers reinforcing the training everywhere — seeing the sales training in action. It has to be applied to daily practices, not just showing managers that you've done the training."
What Should Sales Managers Do Right Now in Sales Meetings?
During the broadcast, Sunshine makes an excellent point — learning and development does not equal sales training, and training does not equal coaching.
When sellers say they want learning and development, they want training and coaching. Too often, sales meetings lack strategy. Giersch advises managers to break sales down into steps, and that managers should always go back to their valid business reasons — what's important to the client, how they can help in the discovery phase, and how they can help discover needs and create solutions. "When you're in your 1:1 meeting, bring training in, identify and zero-in where they're having trouble in the sales process." CSS offers a lot of forms, such as the Target Tracker, that help make the process tangible and strategic.
Henley advises managers to coach their people individually and to manage their team with a predictable process. He also mentioned the new tools that CSS has available that breaks down the sales process for managers. Tune in to hear more!
Don't miss another episode of the Improving Sales Performance series where Managing Partner Matt Sunshine speaks with thought leaders, experts, and industry gurus, who share their insight, tips, and knowledge on various topics that help companies improve sales performance.
Subscribe to our YouTube channel, and have your notifications on so you're notified of our next episode!