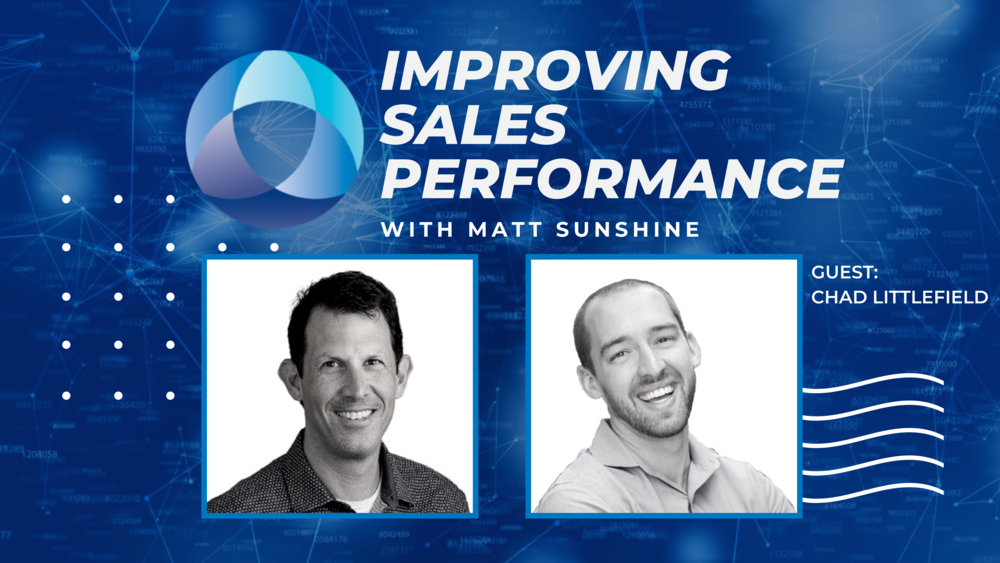 What are some best practices for running a successful virtual meeting? How should leaders go about unifying a remote team?
These questions and more are answered in this Improving Sales Performance episode with Chad Littlefield, Co-Founder of We and Me, Inc.
As he shares his insight on running effective sales meetings in a work-from-home environment, he also touches on how to build a culture of trust and connection. Tune in now to hear the Live broadcast or keep reading for a brief overview.
A True Conversationalist
Chad Littlefield is the co-founder and Chief Experience Officer of We and Me, Inc.— an organization whose mission is to create conversations that matter. Leaders call Chad when they want to amplify connection, belonging, and trust in their organization.
Forbes calls Chad a "global expert on asking questions that build trust and connection in teams." He is a TEDx speaker, author of the Pocket Guide to Facilitating Human Connections, and creator of We! Connect Cards™, which are now being used to create conversations that matter on campuses and companies in over 80 countries around the world.
Most recently, Chad and his partner Will Wise launched their new book, Ask Powerful Questions: Create Conversations that Matter, now a #1 Amazon Bestseller.
What is We and Me?
We and Me has a simple mission: to make connection easy.
To do this, they design and deliver interactive keynotes, team-building retreats, programs, and workshops that have real impact on companies of all types and sizes. They also offer different connection toolkits and cars to help leaders and educators stop using phony ice breakers games or "team building" activities that don't work.
Chad states, "70% of the revenue and We and Me is us teaching organizations how to make virtual engagement easy. We help create conversations that matter."
Where did the idea for We and Me come from?
During the broadcast, Chad takes listeners on a trip down memory lane. He explains that as a boy, he loved the 1998 film Patch Adams, and he was determined to be Patch Adams because he was so struck by the way he could reach the unreachable. Fast forward to college chemistry, and he realized that he wasn't passionate about the scalpel – he was passionate about the connection.
Best Practices for Running a Successful Virtual Meeting
Chad believes there are five buckets that if applies will increase engagement in meetings, whether in-person or virtual.
1. Unofficial Start — This begins before the official meeting time to reward those who show up early and to give understanding to those who are running late.
2. Context Hook — Do something quick as a group or share something in one clear sentence.
3. Connection Before Content — Before "jumping in," find a way for everyone to contribute to the purpose of the meeting.
4. Content — Many meetings are used to transmit information. You need to design content for contribution, not just consumption.
5. Closing — Know the first thing and last thing you're going to do because most meetings end in a rush. Set an alarm 5-10 minutes before the hard stop to do a peaceful closing.
Tune in now for visual examples.
Strategies for Engaging a Virtual Team
In many sales organizations, we find that people miss the in-person bantering and the face-to-face connection. To replace this lost connection while meeting virtually, one bucket to focus on is the connection before content.
Chad explains this as having an intentional structure to accelerator the cadence of connection. An example is teaching the team sentence completion. This is where the host of the meeting comes in and prompts members with a sentence like: "I'm wondering…" and asks for them to complete the sentence.
This method bridges the gap to have conversation we want to have — not just ones to fill time.
How Do You Do Virtual Team Building?
One of the takeaways that Chad wants listeners to know is, "don't feel the need to block off 3 hours of fun to build the team."
You can certainly block off that time if you want but take the time to actually build up the team so that you're stronger and understand everyone better.
Chad suggests using the five buckets to help with virtual team building. During the broadcast, host Matt Sunshine and Chad speak specifically on the Context Hook.
"You want to be intentional, and answer questions first and provide a statement as to why this meeting is valuable to them," states Chad.
Rarely do we slow down enough to have intentions — when we do pause enough to get clear about intentions, sometimes it's not about others. What do others want or need?
Tune in now to hear more!
Don't miss another episode of the Improving Sales Performance series where Managing Partner Matt Sunshine speaks with thought leaders, experts, and industry gurus, who share their insight, tips, and knowledge on various topics that help companies improve sales performance.
Subscribe to our YouTube channel, and have your notifications on so you're notified of our next episode!