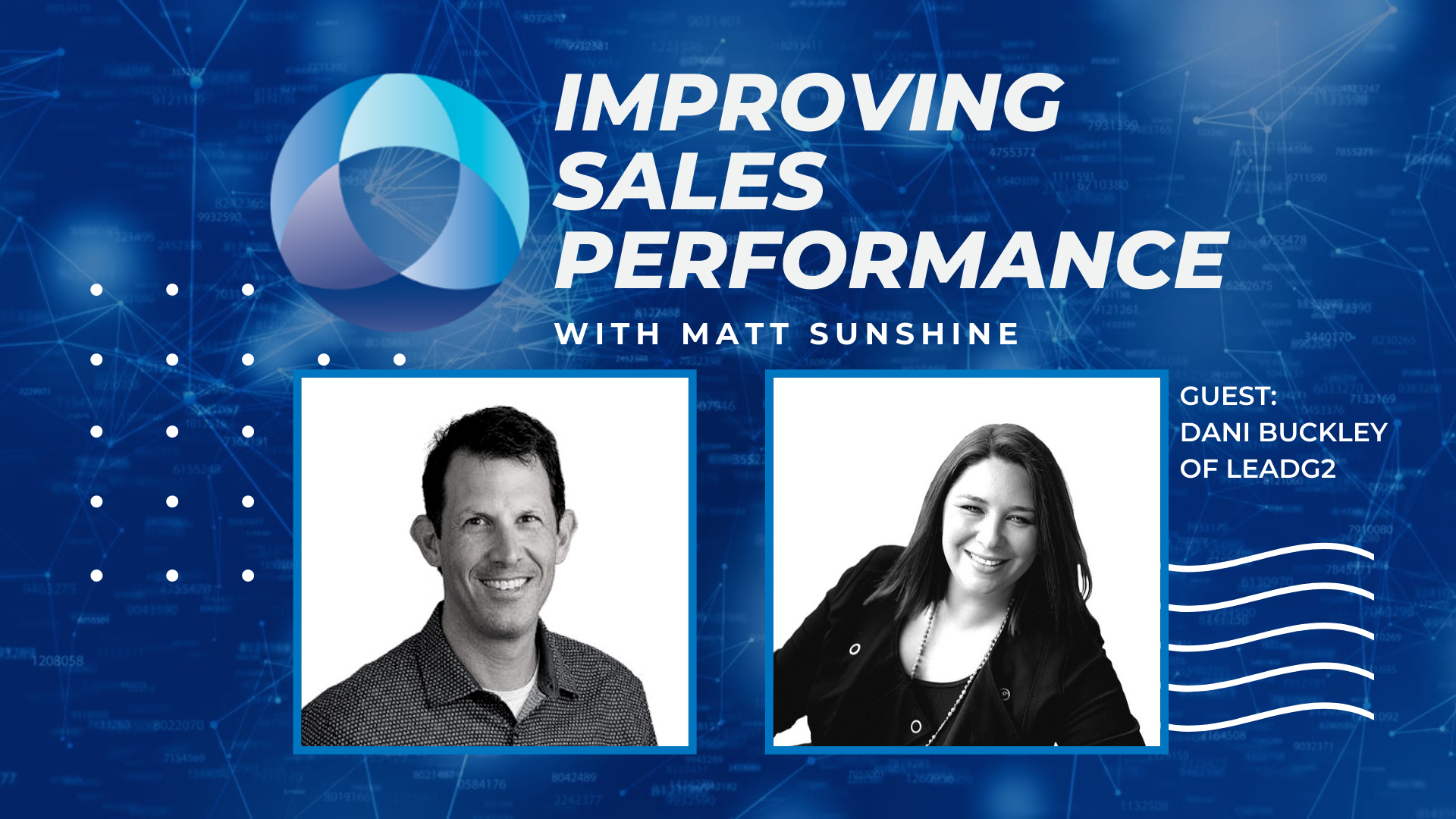 With dozens of episodes coming to our brand-new Improving Sales Performance series, sales professionals will soon have a plethora of insights and tips at their disposal.
The Improving Sales Performance series is hosted by Managing Partner Matt Sunshine who speaks with guests that are thought leaders, experts, and industry gurus, to share their insight, tips, and knowledge on various topics that help companies improve sales performance.
Episode 1 recently debuted on our newly-refreshed YouTube channel with guest, Dani Buckley, talking to Matt about Sales Enablement.
Sales Enablement Specialist

Dani Buckley, VP/General Manager at LeadG2, began her journey seven years ago as the second employee at LeadG2. Today, she oversees a growing team of 14. Dani has a background in both advertising sales and marketing consulting and has helped lead the development of our Sales Playbook and Sales Enablement services at The Center for Sales Strategy and LeadG2.
She served on the Sales Enablement Advisory Board at HubSpot and regularly speaks on topics around Sales Enablement at conferences across the country. Earlier this year, Dani was also featured as one of the top women in Sales, specifically Sales Enablement, by Sales Hacker.
Sales Enablement Services

LeadG2 is a sales performance agency that helps businesses drive revenue with the use of inbound marketing and sales enablement tactics. There are multiple reasons businesses approach LeadG2 for hire:
To generate new business and drive new revenue

To improve their sales process

—

have salespeople sell smarter and faster

To build thought leadership, stand-out as experts, and build trust earlier with prospects

To increase conversion rates, website traffic, and customer retention
The 4 Buckets of Sales Enablement
How do we get salespeople to spend more time closing new business?
This is the question we ask when defining Sales Enablement. Sales Enablament is giving your salespeople the right strategy, content, technology, and training so they can sell smarter and sell faster.
Strategy

—

You have a sales playbook and sales plays


Content

—

This is the resources and materials that sellers and buyer's need along their journey


Technology

—

the tools that help sellers sell smarter and faster


Training

—

Sales Enablement training brings it all together, so that sellers know how to implement strategies, content, and tools
The best organizations have all of these buckets checked off and filled because there is a rhyme and reason to the order. However, some pieces are not dependent on each other. For example, you can have a good strategy and not necessarily have all the tools and technology but still see results. The one element that is priority is having a strategy.
Examples of Sales Enablement Technology
Meeting Schedulers

Email Tracking

Document Tracing

Sequences
For details on each, click on the video below.
Examples of Sales Enablement Content
Top-of-the-funnel (TOFU) — Educational material that answers EARLY questions.

Articles

eBooks

Guides

Checklists
Middle-of-the-funnel (MOFU) — Prospects know the solution and they're exploring who to work with. This is where sellers ease into selling, but remain educational.
Product one-sheets

Media kits

Testimonial

Research reports

Whitepapers
Bottom-of-the-funnel (BOFU) — Less educational and more positional
Proposals

Case Studies

Targeted articles
What does Sales Enablement look like in the real world, and how does it speed up the sales process? Watch and learn!
For more sales enablement tips, we recommend you download our CRM and Sales Enablement Guidelines and use that to evaluate your needs and make decisions on actions to improve your usage of Sales Enablement and CRM.