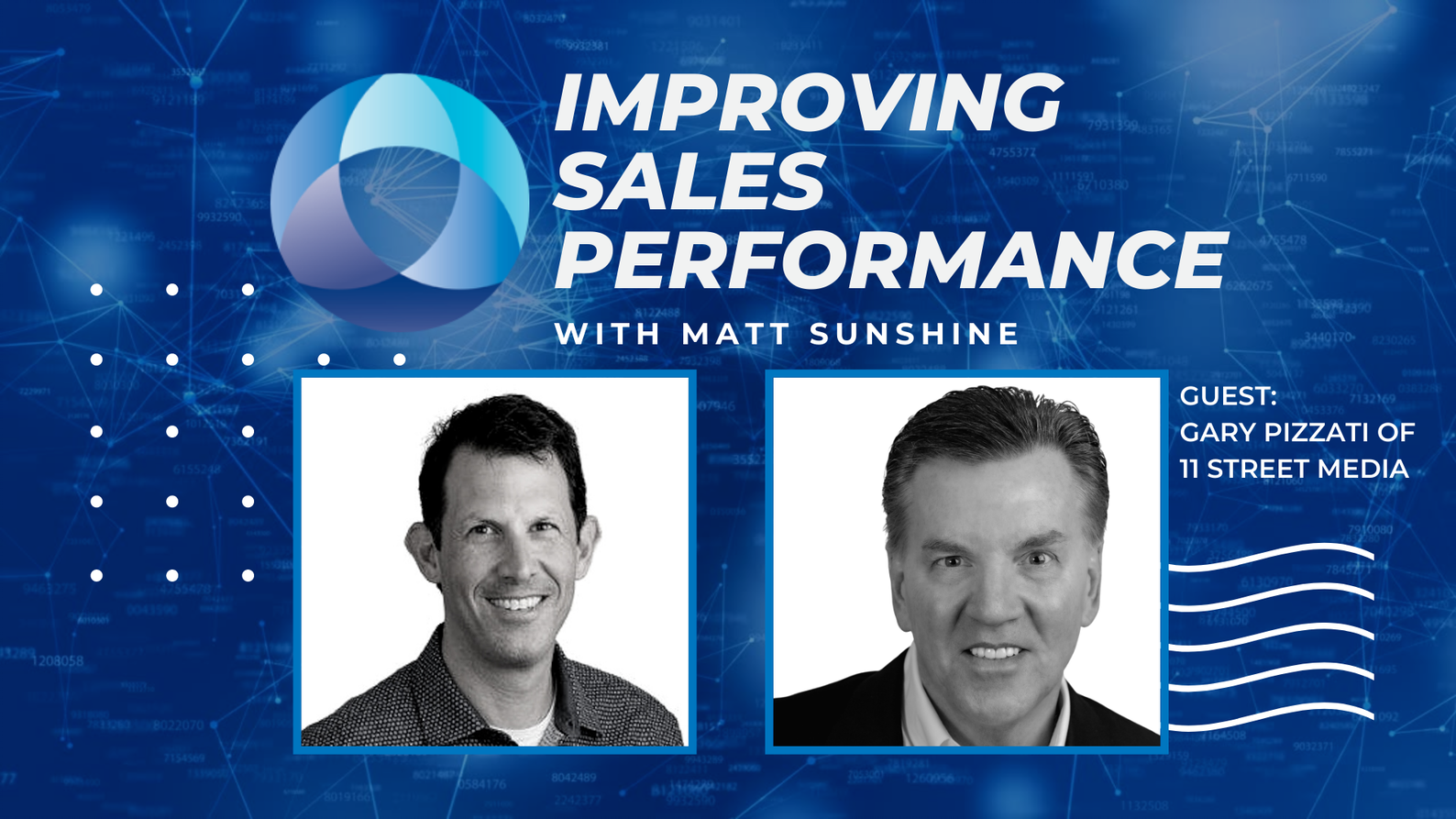 The pandemic affected more than just the health and daily lives of people across the world. It affected behaviors and perceptions—including how media is used.
With media plans reconfigured and millions of dollars' worth of ad budgets shifted - to say the rug was swept out from under the advertising industry is an understatement.
In case you missed Episode 8 of the Improving Sales Performance series, here's a breakdown of the conversation that host, Matt Sunshine and guest, Gary Pizzati had on how many traditional clients are buying and selling in 2021. Plus, recruiting and selecting top talent, the impact of technology, and how to keep a sales culture alive during these unprecedented times.
A True Media and Advertising Expert
30-year media and advertising veteran Gary Pizzati is the founder of 11 Street Media, a firm built around a team of industry experts that provides business transformation services along with brand creation strategies for clients.

As former President / Chief Revenue Officer for Modern Luxury, Gary was responsible for the company's 100-million-dollar revenue portfolio. His oversight has P&L responsibilities for the 24 markets Modern Luxury does business in.

For over 11 years, Pizzati shaped the face of advertising via his role as Senior Vice President at Cumulus Media, the nation's second largest broadcaster. Not only did he fuel company expansion and profitability, but he also consulted the sales and marketing portfolios of hundreds of businesses from coast to coast. In his role for Cumulus Media, he managed a 400-million-dollar multi-platform new and traditional media revenue portfolio that drove 115 million dollars in EBITDA from over 40 markets across the country.
What is 11 Street Media?
Pizzati describes 11 Street Media as a traditional advertising agency on steroids. The firm specializes in increasing customer counts through data-driven targeting. Their team is made up of industry experts in multi — touch point marketing across new and traditional media platforms. They work very closely with clients interconnecting brands, rebranding, and work with sales strategy and sales process.
How People are Buying and Selling in 2021
Host Matt sunshine asks, "What differences are you noticing with how people are buying and selling these days?"
Pizzati swiftly responds, "Clients are really confused."
He explains that clients are confused because they were used to traditional media platforms like newspaper, radio, and television — and now there's a big wave of technology that's taking over.
To help explain behavioral marketing and how people are buying and selling today, he uses this simplistic analogy:
Imagine going to local supermarket, and they know you're a big fan of ice cream. As soon as you walk in, there's ice cream lining the walls. Behavioral marketing is the same thing on social media — they know who you are and what you like.
Clients are still unsure of how to navigate through that and how to allow budget for this type of advertising. They're asking questions like "do I go back to traditional media?" or "do I turn around and go to new media?" That's where agencies come in and help them navigate the ever-changing landscape.
Recruiting and Selecting Top Talent
Recruitment and selection are not part of the same process. If you select at the same time you recruit, you will make bad choices.
You recruit so that people want to work for you

Then you select the best candidate
With this knowledge, Pizzati explains his unique process of recruiting and selecting and how the system he has built continuously works for him. His biggest piece of advice is to NOT connect with someone on LinkedIn and then pitch to them. "Allow them time to get to know you, let them see your content and activity, then pitch."
Impact of Technology
COVID retrained us with a lot of things, and business is not the same.
Digital is going to grow, and the best of the best will win. Now, we have high levels of communication from social platforms to zoom technology that doesn't interrupt your client's day. Pizzati forecasts that in Q3 2021, we will be more interactive with people, but the technology advancements we are seeing today will not go away.
Sunshine chimes in, saying, "We would be crazy to let it go away." Tune in to hear his reasoning!
As a last piece of advice, Pizzati encourages salespeople to "get their face on social media as often as you can. Be the person that everyone can think about. Blog, write articles, get on Linked."
Keeping Sales Culture Alive During COVID
COVID has taken the personal touch away. But there are still several ways to keep your sales culture alive virtually. Here are some of Pizzati's suggestions:
Host a cocktail hour

Send your team wine and cheese and host a get-together

Buy everyone Uber Eats gift cards and have a lunch party

Participate in online games
You're no longer limited to office hours! Be intentional about building a strong sales culture and find ways to interact with your sales team!
Don't miss another episode of the Improving Sales Performance series where Managing Partner Matt Sunshine speaks with thought leaders, experts, and industry gurus, who share their insight, tips, and knowledge on various topics that help companies improve sales performance.
Subscribe to our newly-refreshed YouTube channel today!