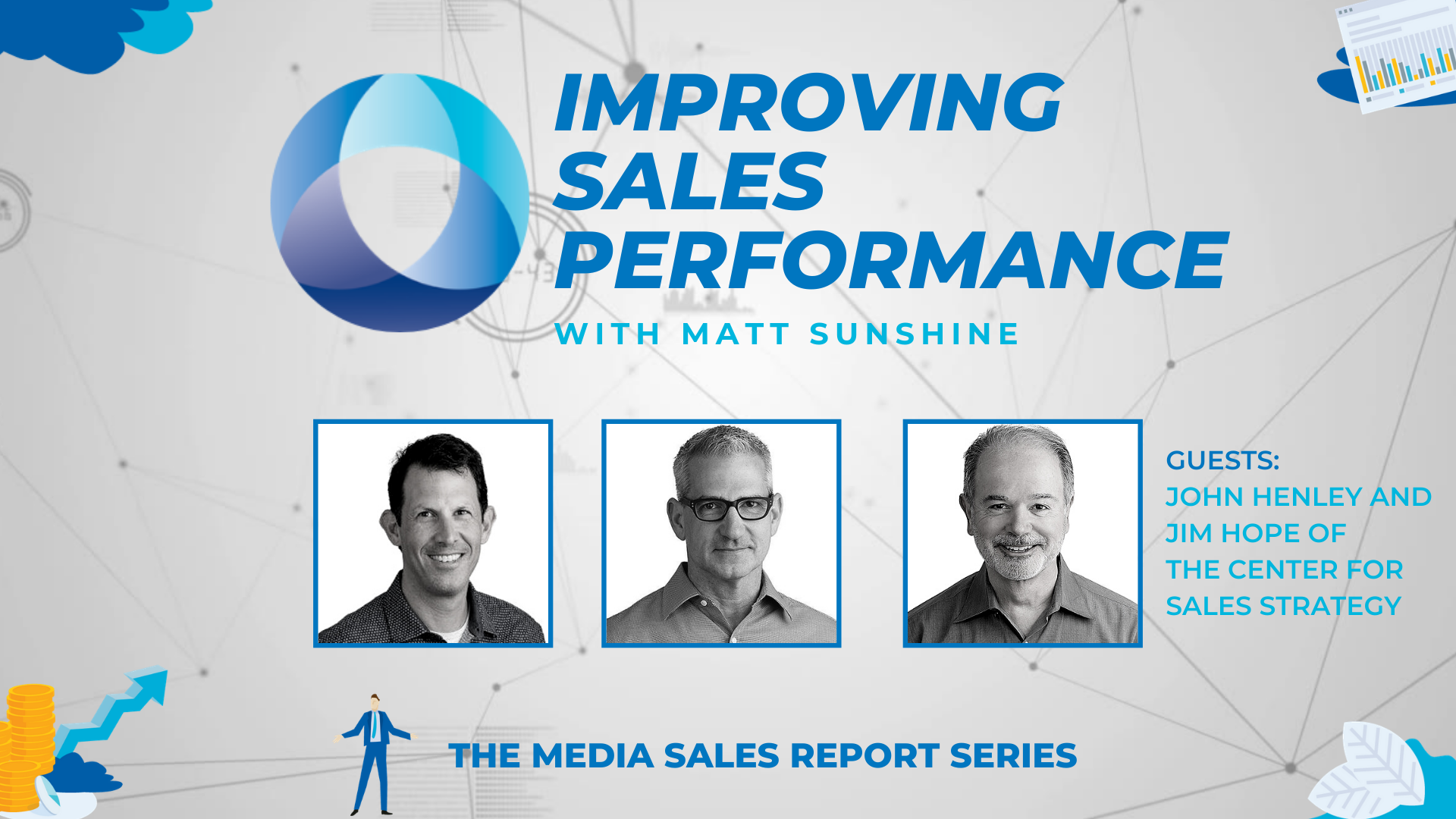 We just launched Season 2 of the Improving Sales Performance Series, which focuses on the data and analysis of the newly-released Media Sales Report. John Henley and Jim Hopes, managing partners at CSS, joined Matt Sunshine on the first episode of the season to discuss their key takeaways from the report, how sales management and leadership can use this data, and the feelings of the future and outlook of the media sales industry.
You can stream it now to hear their insight, advice, and initial thoughts after analyzing the data that was just published. Or keep reading for a brief overview.
6 Key Findings from the 2020 Media Sales Report
The 2020 Media Sales Report studies the landscape over the past year, including the expectations for sales managers and the strategies deployed by media salespeople to assess their effectiveness across six key topics: Compensation, Training and Development, Setting Appointments, Sales Enablement, Culture and Industry, and the Impact of COVID-19.
Sales managers feel the need to expand sales staff.
Sales teams value learning and development.
It's harder to get appointments, period.
Sales teams need stronger sales enablement collateral.
Sales managers are optimistic about the future of the market.
Remote work has led to greater productivity among salespeople.
Top Takeaways from Key Findings
It's never been more important to know what steps to take in order for your sales team and organization to survive and thrive. When research is conducted, you never know what the outcome will bring. While the 2020 Media Sales Report brought in plenty of fascinating results, these are the points that stood out as highlights to Jim Hopes and John Henley.
Hopes said the stand-out factor to him was that "context and conditions have certainly changed (i.e., working from home), but fundamentals remain the same."
Henley was surprised and delighted to see that 5 out of 6 sales managers are optimistic about the future. And the statistic that grabbed his attention was 80% of sales managers use CRM's for tracking and accountability – a much larger number than normal.
How to Use the Media Sales Report to Improve Sales Performance
We've conducted the research, crunched the numbers, but how can you use these insights to drive sales performance and business performance in the year ahead?
Henley suggests looking at the six key findings and making a short list of actions for each because some will be more relevant to your organization than others. "Start with two or three actions and go back in six weeks or a month and reevaluate," he suggests.
Hopes explains that this report gives managers a big picture of what's happening in other sales departments, and it provides validation that you're not facing obstacles alone. If any of the six key findings in this report is an obstacle for your organization, make a plan to address them.
What to Look at RIGHT NOW in the Media Sales Report
Based on the findings from the report and recent conversations with sales managers, Henley addresses the need to expand staff. He suggests using this time to think about how to drive more quality activity around new business. "Keep the focus on how do I drive more quality sales activity, not am I going to get approval to hire more salespeople," he states.
Tune in to hear Sunshine's takeaway on rearranging sales structure and giving your people different responsibilities!
Hopes also chimes in on driving more quality activity and expresses his disappointment in how slow sales departments are in equipping their salespeople to sell more functionality and efficiently. In other words, the adoption of sales enablement.
If you want to tailor your approach and make it easier for your salespeople to sell, tune in as Hopes gives fantastic examples of how sales enablement helps you sell smarter and faster.
Overlooked Points in the Media Sales Report
The 2020 Media Sales Report contains a lot of useful, valuable data. We get it — some points can get overlooked. Here's a brief summary of what Hopes and Henley don't want you to miss:
Hopes finds it interesting what a small percentage of people they see as superstars. "In today's environment, if you had 10 salespeople and cut back to 8 because of cost reductions, then you better have 8 stars in those seats," he explains. He also points out the amount of Talent Interviews that managers overlook because they don't think they'll be hiring soon. "You must have good talent; that's what really jumped out at me, despite this unprecedented year we had."
Henley made an interesting connection between key findings number three and six:
It's harder to get appointments, period.
Remote work has led to greater productivity among salespeople.
If you look at these findings together, one part of what remote work is not doing from a productivity standpoint is driving new business appointments with new prospects. Sellers are not more effective with getting new connections; therefore, you must troubleshoot through that obstacle. Henley suggests:
Think about your goal as not to get an appointment, but to stand out and make a connection
Get connected on LinkedIn
Share insights and case studies
As a sales leader, how do you make sure this productivity leads to more new business?
Don't miss another episode of the Improving Sales Performance series where Managing Partner Matt Sunshine speaks with thought leaders, experts, and industry gurus, who share their insight, tips, and knowledge on various topics that help companies improve sales performance.
Subscribe to our YouTube channel, and have your notifications on so you're notified of our next episode!