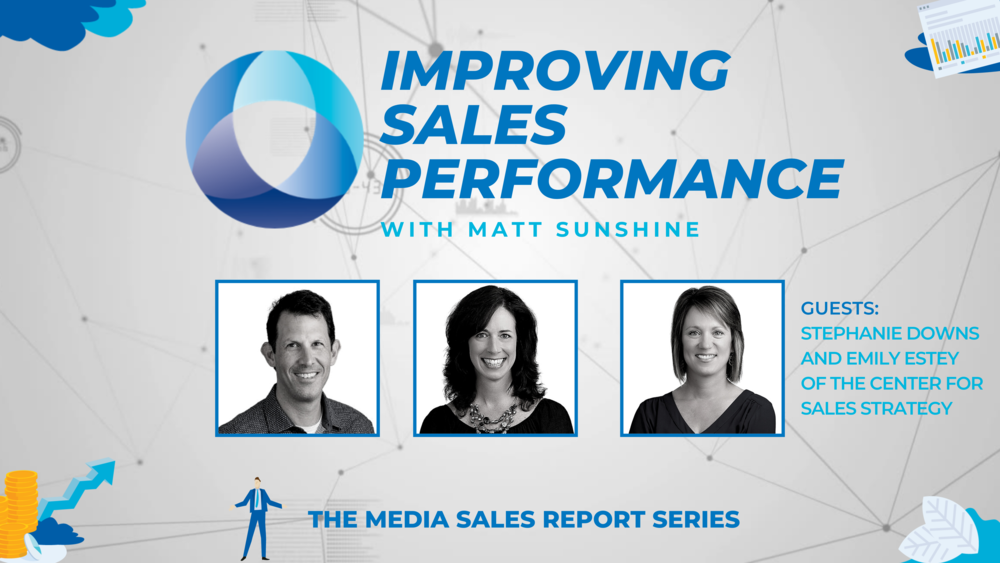 Season 2 of the Improving Sales Performance Series focuses on the data and analysis of the newly released Media Sales Report. Partner and VP Senior Consultant Stephanie Downs and VP Senior Consultant Emily Estey at The Center for Sales Strategy, joined Matt Sunshine to discuss the Sales Department Structure section of the Media Sales Report, specifically looking at data on sales department size and compensation of sellers.
You can stream it now to hear their insight, advice, and initial thoughts after analyzing the data that was just published. Or keep reading for a brief overview.
Do You Really Need More Salespeople?
The Media Sales Report surveyed over 300 salespeople and just under 200 sales leaders, and more than half of those sales managers (61%) said they don't feel they have the right number of salespeople on staff. More than two-thirds (64%) feel they should increase the size of their sales team.
With these findings in mind, Sunshine asks, "Do sales managers really want more salespeople, activity, or output?"
Through detailed conversation, Estey and Downs agree that there are organizations that truly need people because of the open seats that the pandemic has left. However, as Downs points out, the Media Sales Report found that 78% of managers want more appointments, so you can argue that they need a better process or system to generate leads — not more people.
The conversation leads Sunshine to ask, "Rather than automatically assuming they need more people, why are mangers not thinking about restructuring their sales organization or rethinking activity to get more from their current sales team?"
Estey points out that salespeople are clearly active but they're not able to focus enough time on things that generate revenue. Between internal meetings and paperwork (69% said that's where time goes), there isn't enough time for them to be active on the right things.
What Sales Structure is Designed for Growth?
Sales leaders want to build organization to grow revenue (not maintain) — grow current key accounts but also have strong new business development. How should sales departments be structured to do that?
Downs advises listeners and sales managers to identify key revenue areas. "Look at department revenue goals and step back to see if you're consistently performing against those," she says. "It starts with understanding those areas and asking yourself if your sales structure supports that."
Estey continues by advising the audience to check out the Sales Structure form from IMPACT. "This helps you determine if you have a people or process problem," she explains. "Do you have the wrong people and not enough talent or is it a process problem? If you think you have the right people, then it's a structure problem."
Sales Organization Structures That Caught Our Attention
Downs mentions two specific sales organization structures she has witnessed within the last year that has caught her attention:
A clear lead generation strategy
Having some level of account management team that helps the seller
Estey quotes a finding from the Media Sales Report — over 53% of salespeople don't think their company has a marketing plan that attracts leads and promotes thought leadership. "There is a huge opportunity here," she exclaims. "If your CRM is loaded with sales enablement and it runs on its own then you can automate lead generation. Then you can put thought into dividing your account managers and executives. But you MUST focus on leads first."
How do you know if you need to restructure your team?
The short answer is nonperformance. However, tune in to the episode for a more in-dept answer!
If You Can't Restructure Your Sales Organization, Do This
There are many sales managers who want to restructure their organization, but they simply can't. If you can't do a major restructure of your sales department right now, this is what Estey and Downs says to do instead:
Category focused AEs. It works because it limits their scope and saves time in the sales process.
Eliminate what you can (i.e. meetings and trainings)

—

anything that is not bringing value to the team
Consider hiring an order entry person
Many sales leaders don't restructure their organization because they don't know where or how to start. If that sound familiar to you, check out the Sales Structure document in the CSS library or reach out to one of our consultants to explore the possibility.
How Do You Compensate a Salesperson?
When it comes to compensation, salespeople don't want 100% salary. Only 27% want straight commission — the majority (70%) want some version of salary plus commission (Media Sales Report).
The statistics are there. Why don't media sales departments embrace this type of compensation? During the discussion, listeners learn that it's a combination of old school thinking and not adapting to the way we do business today.
As Sunshine points out, when you have people on straight commission, they self-manage. When you put a salary on someone, there's more pressure on the manager to hold people accountable — and that's not something that has been asked of sales managers.
Downs and Estey agree that they see a big struggle with the accountability piece among sales managers. "People do what thee get paid to do," states Downs. "Are you paying them to maintain accounts or to grow accounts?" Tune in to hear the in-depth discussion!
Don't miss another episode of the Improving Sales Performance series where Managing Partner Matt Sunshine speaks with thought leaders, experts, and industry gurus, who share their insight, tips, and knowledge on various topics that help companies improve sales performance.
Subscribe to our YouTube channel, and have your notifications on so you're notified of our next episode!