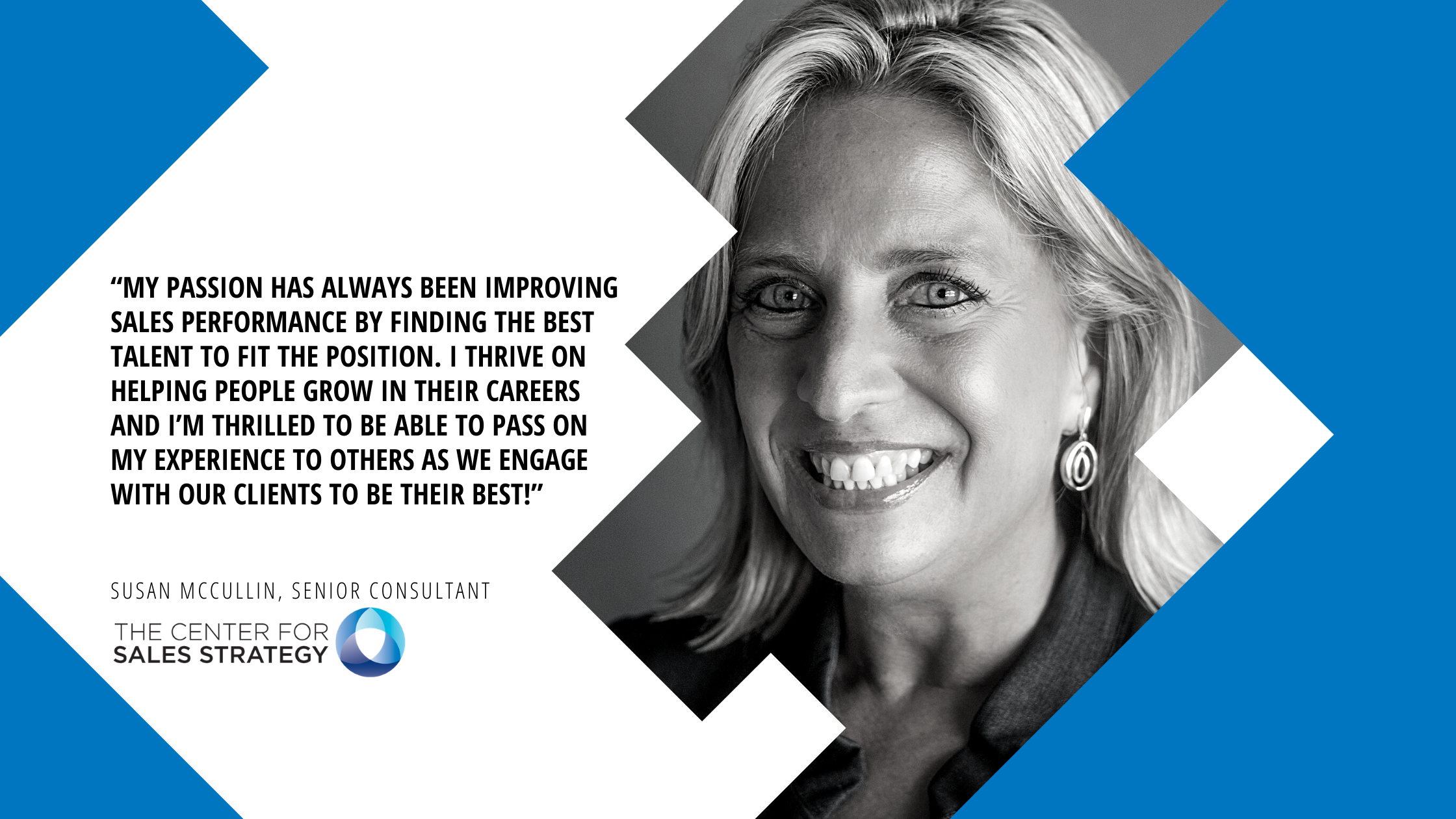 FOR IMMEDIATE RELEASE
The Center for Sales Strategy Appoints Susan McCullin as a Senior Consultant
(June 1, 2021) — The Center for Sales Strategy (CSS), a leading international firm focused on sales acceleration, sales enablement, and sales talent selection and development, today announced the appointment of Susan McCullin as a Senior Consultant. McCullin brings 29 years of sales and management experience in radio and television to The Center for Sales Strategy.
"I am thrilled to be on the CSS team. I started as a CSS client in the 90's with Susquehanna Radio Corp. CSS gave me a solid foundation for my career in radio and TV sales and management. I later went on to be a client at Bonneville International in St. Louis," said McCullin. "My passion has always been improving sales performance by finding the best talent to fit the position. I thrive on helping people grow in their careers and I'm thrilled to be able to pass on my experience to others as we engage with our clients to be their best!"
McCullin brings with her years of success in various management positions, including LSM, DOS, RVP, VP, and GM. Her career includes Susquehanna Radio Corp., Clear Channel, Bonneville International, Univision, and Azteca International. McCullin has been in sales management for 25 years.
"We are excited to have Susan on the CSS team. She loves to make a difference in people's lives and has spent her career helping people be at their best," said Stephanie Downs, Partner/VP Senior Consultant. "She is passionate about talent and helping businesses improve sales performance. Susan embodies the CSS core values of quality, integrity, and responsiveness. She is a perfect fit for our team."
About The Center for Sales Strategy
Founded in 1983, The Center for Sales Strategy (CSS) has grown to serve hundreds of clients annually, across a spectrum of industries including broadcast, print, and digital media, professional services, non-profit associations, and more. CSS is focused on improving sales performance as it helps sales organizations turn talent into performance and develop the highest-performing sales professionals. Its approach to customer-focused selling and talent-focused management has always been, and continues to be, core to its clients' success and the organization's success. CSS is joined by LeadG2, its sales performance division, and Up Your Culture, its employee engagement and company culture division, to help organizations achieve total revenue performance. 
###
MEDIA LINKS: