Sometimes, showing, more than telling, is a better way to pitch ideas and new products to potential customers and investors. This way, you can give them graphic images and pictorial representations of your pitch, which is a more engaging way to sell yourself.
One of the ways to do this is through a sales presentation. It presents your product or service to clients professionally, informing, educating, inspiring, and motivating the customer or investor to take action in favor of your product.
However, poorly-delivered sales presentations can defeat the purpose, sometimes even turning the client off from doing business with you. A sales presentation is carefully prepared by taking time, energy, dedication to create the perfect pitch.
If you've ever wondered what makes pitching the perfect sales presentation to customers and investors so important, this article will tell you. We'll also share tips to help you deliver the perfect sales pitch and wow your clients.
Importance of a Perfect Sales Presentation Pitch
Below are the significant reasons you need to endeavor to pitch the perfect sales presentation at all times.
1. It makes a good impression on customers
It would be best to remember that your sales presentation might be the first in-person interaction that the prospective client or investor has with your business. So, it must be as perfect as possible.
The presentation is the perfect opportunity for you to expand their knowledge about your company or business more than what they already know. It is also one of the best ways of leaving a lasting, positive impression on your investors, clients, or customers.
2. It will help build a connection
When you deliver your sales presentation perfectly well, it can build a strong business connection between you and potential customers. Additionally, your customers need to trust you and your business for a business relationship to be successful.
Your sales presentation will help them develop that trust in you, your product, and your business. It will also earn you the loyalty of your customers. This is one of the greatest assets you can have as a business owner.
3. It will make you stand out from the competition
The business world is known for the cut-throat competition between businesses that deliver similar products and services to customers. One way to stand out from the competition is to pitch a perfect sales presentation.
As mentioned earlier, your sales presentation should be able to leave a long-lasting impression on consumers and investors. It would grab their attention so much that regardless of your competitors' pitch, they will not forget your perfect presentation.
4. It will help boost sales
The main goal of a sales presentation is to increase sales in your business. So, delivering a mediocre sales presentation will likely not convince your prospects to invest in your business or purchase your products.
On the other hand, if you create and deliver a killer sales presentation, you will win them over to your side, gain new customers, and increase sales.
Additionally, at a sales presentation, it is best to encourage interactions between you and your clients. During these interactions, you will be able to get feedback on how to improve your products. When you improve your products or services, you will have more sales and profit.
Tips for Delivering an Excellent Sales Presentation
These tips are guaranteed to turn your sales presentation game for the better and ensure you get all the benefits attached to pitching the perfect sales presentation.
1. Carry out research
One of the worst things to do before a sales presentation is not to have enough information to present while pitching. This would make you come off as unserious and unprofessional to your prospects.
So, if you hope to pitch the perfect sales presentation, you need to carry out a ton of research. Your research should include finding out the customers' pain points, what your competitors initially pitched, and many more.
2. Be confident
Confidence is an important characteristic you must portray when delivering a sales presentation. You have to be confident in the product or service you are trying to sell, and you also have to be sure of your abilities.
Be confident that you have put a lot of effort into producing the perfect pitch and solving a problem. So, go into your presentation with that confidence. The way you present yourself will influence how your prospects respond to your pitch.
3. Make it interactive
Spice up your presentation with creative presentation templates to boost interactivity and engagement between you and your audience. You need to ensure that you are not the only one speaking throughout your sales presentation.
Make the presentation interesting enough to spark questions from your audience, and don't push their questions till after the presentation. If you allow them to ask questions while the presentation goes on, it will show that they are following along.
Also, your ability to answer the questions will help the clients realize that you know your stuff and are confident about what you are saying.
If you need help finding the perfect sales presentation templates, you can use the ones on Pitch.
4. Get to the point
If there is one thing you should avoid before, during, and even after the sales presentation, it is beating around the bush. The attention span of human beings is limited, so when pitching your sales pitch, you should go straight to the point.
It is advisable to start with something that will grab their attention at the very beginning. This will then, most likely, determine the pace till the very end.
5. Present yourself as a problem solver
Before you start creating your sales presentation, you need to research through surveys, for instance, to determine the pain points of your target audience. This will help you build your presentation to portray the product as a solution to these pain points.
A pain point is that specific problem that your current or prospective customers are facing in the market. So, in your presentation, let them know that the product or your business is capable of solving those problems.
Tools for Creating the Perfect Sales Presentation
In every job, you need tools to carry out your duties effectively. Also, in delivering the perfect sales presentation, you need presentation software that can help you. Therefore, below are four of the top presentation software you can use for your next sales presentation.
1. Pitch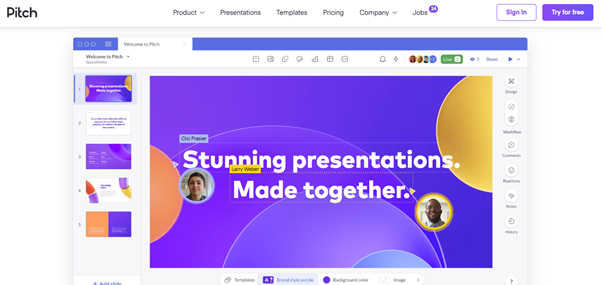 Pitch is a presentation software that combines the best parts of productivity and design to help your team create beautifully designed decks within minutes. You can collaborate with your team to produce stunning sales presentations.
Pitch provides you with one workspace and boundless possibilities when designing your presentation. Furthermore, this presentation allows you to execute pitch decks, project plans, conference keynotes, all-hands meetings, and many more.
Pitch allows you to easily convert your ideas into professional-level pitch decks that help you convince your clients in record time.
2. Prezi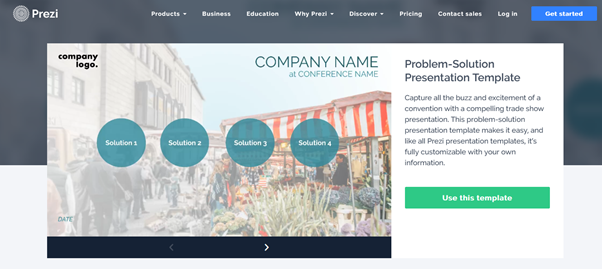 Prezi is presentation software that will make video presentations an easy task. You can decide to create your presentation from scratch or browse some of Prezi's favorite presentations and use them as templates.
You can then customize the content in these designs to create your work of art. These templates give you a head start while you make your videos, presentations, and designs.
This presentation software helps you add personality to your sales message, improve your engagement, customer relations and boost sales. Additionally, you can create impactful, custom-branded marketing messages that will engage your audience.
3. Canva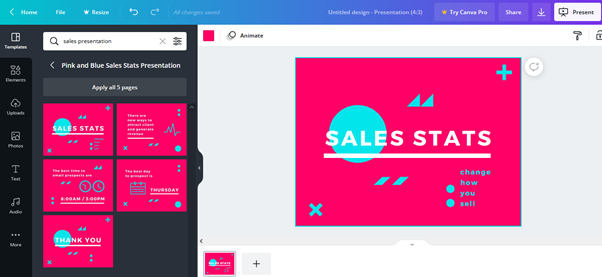 Canva provides you with thousands of professional templates, images, and quality content that you can choose from to bring your presentation to life. You can also collaborate with other team members to edit and prepare the sales presentation with you.
You can decide to upgrade to Canva Pro, where you can easily set your whole team up to manage brand assets, leave feedback, get approval, and even scale your visual content.
Canva has team folders to help you stay organized and manage your content as you prepare for the sales presentation. Additionally, with Canva's high-quality graphics, you can create slides and customize using animations, sounds, etc., however you like.
4. Zoho Show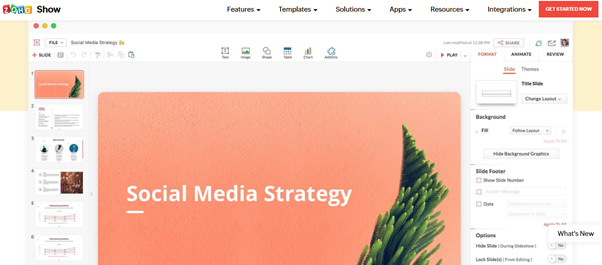 Zoho Show is collaborative presentation software that is perfect for modern teams. With it, you can design professional slides, collaborate with your team, and deliver visually engaging presentations for free at any time and on any device.
Zoho Show prides itself on its minimalistic and contextual user interface design. It understands what you're doing, and because of the clutter-free UI, it provides you with the necessary options for the task you are working on.
Furthermore, Zoho Show comes with over 100 preloaded templates to cover all your professional needs ranging from startup pitch decks to sales presentations.
Conclusion
A lot has been said about the importance of pitching the perfect sales presentation to your potential or current clients. If you want to develop a connection with your clients, increase sales and engagement, etc., you need to put a lot of work into your sales presentation.
Additionally, you can be sure that you will win over your clients at your next presentation when you follow the tips in this article and use the discussed tools.