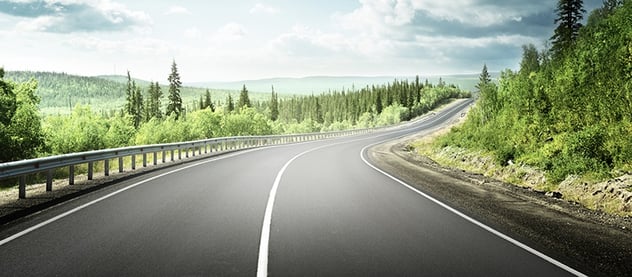 You may have heard it said that the best way to approach selling is to make buying easier for the buyer. That saying has been around a long time. But a new twist on that is the notion of helping buyers navigate their journey. The journey in B2B buying has greatly changed over the last several years.
Smart salespeople think about the "things" along the buyer journey—and consider how they can help the buyer navigate that journey.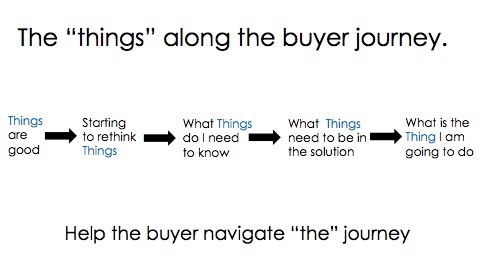 A closer look at the things:
Things are good: It's hard to make a sale to someone who thinks things are good. This is why you need multiple prospects—you are not likely to sell anyone with this mindset.
Starting to rethink things: This is where the opportunity starts for a salesperson. You want to talk to people who are starting to re-think things. Problem is, in nearly all cases, the buyer starts their journey by researching online. This makes it difficult for the salesperson to have an impact at this part of the journey. Only 18% of B2B buyers report relying on a salesperson when researching a purchase.
Companies with an inbound marketing strategy, using a marketing platform connected to their CRM have an advantage here. If you have a software system that enables you, you'll know when the buyer begins searching and you'll see their every subsequent move.
What things do I need to know: The buyer moves from the initial thought that "I need to re-think things," to "What do I need to know to properly think things through?" If you can be there during this stage of the process, you will have a big advantage over others. It's not time to sell. This is where you lead with insights, share knowledge, and start to secure the position of trusted advisor. The sooner you can be there, the better.
Research shows that those involved in the B2B buying process are already 57% of the way down the path to a decision before they'll actually perform an action on your site.
If they are that far along before they go to your site, they are at least that far along before they want to talk to a salesperson. You really have to stand out to be seen as someone who can add value at this stage.
What things need to be in the solution: A buyer isn't going to this stage if they aren't serious about making a purchase. As a salesperson, you want to be highly engaged at this stage. Asking questions, floating options, discussing return on investment, moving toward a proposal.
What is the thing I am going to do: The buyer is evaluating options and then making a decision. This is where most salespeople enter the process. You want to get involved before the RFP—to play a role to help shape the solution.
Don't be so consumed with selling that you forget about the journey the buyer is on. Help the buyer navigate the journey.