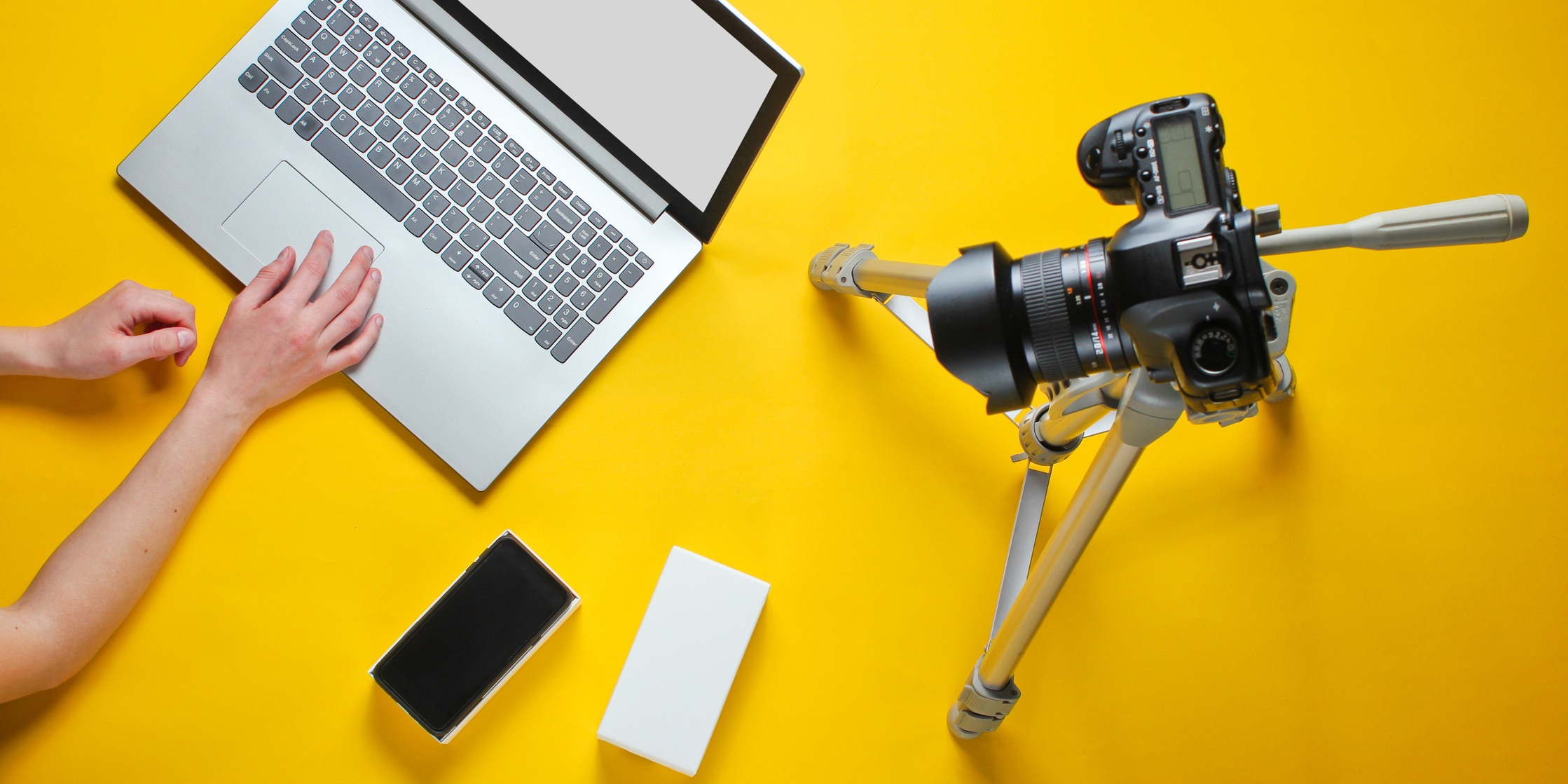 If you could start one new thing this month that increased the open rate of your sales emails by 5Xs and improved your open-to-reply rate by 8Xs, would you do it? The obvious answer is yes, but sadly, once most of you realize what it is, you'll come up with at least one of these excuses as to why you won't do it and still avoid it.
Video. Yes, video! Video has the power to not only get your emails opened but replied to! Across platforms (not just email) it's proven to help get higher response rates, inspire more action, and help sellers reach the C-Suite (source).
In the COVID-19 economy and the current state we're living in where social distancing is becoming the common theme, video—now more than ever—has become the ideal way to nurture leads in your sales pipeline without the ability to meet face-to-face, as well as keep your messaging and expertise in front of your clients and prospects so those relationships you've worked hard to build don't dissipate during this time.
However, today, you're not going to learn about:
Click the links within the sentences if you'd like to explore those, then come back to this post, because, here's where you're going to learn how to become more comfortable on camera so you can create more 1:1 sales and thought leadership videos.
How to Get More Comfortable Using Video
1. Prepare Your Set-Up
There's nothing like a video that leaves a bad impression from the second it's opened. For example, when you open a video where the person talking is dark and can't be seen, there's a bright light behind them, or you're too distracted by the mess in the video.
Trey Morris, a Senior Consultant at The Center for Sales Strategy recommends that you "find a well-lit area in your home or office to shoot your video. Natural light is better. Also, the more space behind you the better - this creates a nice depth of field. When looking at what will be behind you, make sure that you clear out any mess - a messy space is distracting."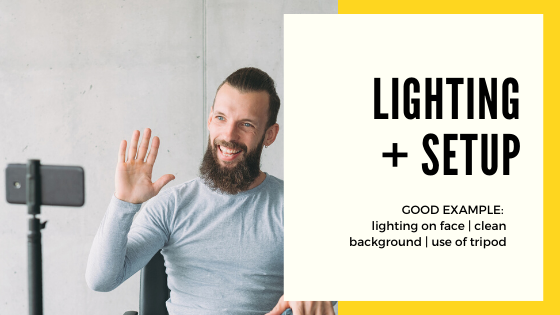 Preparing Your Space
Lighting—Find a space where the natural light (or the best light) is shining towards your face. Ideally you do not want the light behind you, this will make you look like a shadow in your video. If it's a window in front of you, avoid direct sunlight on your face. Also, blinds might give you shadow stripes so either open the blinds or pull a light curtain that allows light to shine through but offers my disbursement of the light and not a direct sun beam on your face.


Audio—Is it noisy? Consider the noises that will be happening with you do your video. A quiet space is best. If you're outside, you could get trucks, birds, kids, etc., in the background. If you're inside, there might be email notifications, fan noises, phone ringing, etc.


Background—Check what will be behind you – is it a mess? Is there something distracting? Take some time to rearrange if necessary.

If you're worried about the background, people are finding affordable photography backdrops on Amazon to avoid having to worry about what's behind them. These backdrops range from everything from a retro wood wall look to an image that looks like your back-porch windows are behind you. There are so many options! A quick search for 'photography backdrop' will elicit a LONG list of options from $20+. If you purchase a backdrop, you might also need a stand to hang it on unless you have a wall or door frame you plan to hang it on. The stands are also available online.
Camera Placement—Think about where your camera (likely your phone, tablet, or laptop) will sit during recording – and the height it will sit at.


If you're recording from a laptop or web cam, I recommend elevating the device that your computer is on so that the camera is about eye-level and you aren't getting the dreaded 'double chin' angle that we all love (hate) so much. When I record from my laptop, I just grab a few big books and stack them to the desired level. Nothing fancy, but it works!

If you're recording from a laptop or web cam, I recommend elevating the device that your computer is on so that the camera is about eye-level and you aren't getting the dreaded 'double chin' angle that we all love (hate) so much. When I record from my laptop, I just grab a few big books and stack them to the desired level. Nothing fancy, but it works!



Camera Orientation—Do you know which orientation to record your video? As you're setting up your space, think about whether you're going to record in portrait or landscape orientation.

Likely, landscape (wide) is preferable for most sales emails and social media platforms. But if you're sending a quick message to your prospect via text or sharing a thought leadership nugget on Instagram Stories, portrait mode might be ideal. If you're on a laptop camera, the only option is landscape. The option would come in if you're recording on a phone or tablet.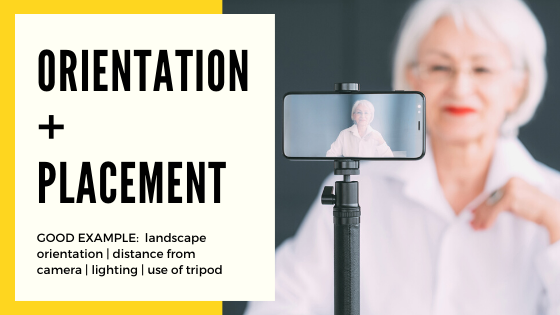 2. Master the Technology
Whether you're opening your phone's camera app for the first time or you've purchased a Bluetooth tripod for your cell phone, there's likely a new tech lesson you'll need to learn. Depending on whether you're recording via a cell phone or on a laptop, this may vary, and I've clarified on each one. Also, depending on how you're using the video (embedding into an email or posting on LinkedIn), these tools might vary.
Bluetooth Tripod—mentioned previously (cell phone only)


Simple Microphone—There are many options that connect via Bluetooth or aux cord. This helps to pick up what you're saying and minimize other noise (cell phone or laptop)

NOTE: An external microphone is NOT required to recording video! Don't get caught up on that. Your phone and laptop mics are sufficient to get started! These just help enhance the quality—when you're ready to get there.


Headphones with Microphone—an external microphone isn't always necessary; some headphones have great microphones. Often, this is plenty to pick up your voice and decrease background noise (cell phone or laptop)


Basic Video Recording App—

for use if you're sharing on social media, sending in a LinkedIn message, or uploading it to an editing software

Cell Phone

—

if you're recording on your cell phone, your phone's standard camera app on 'video' mode is perfect

Computer

—if you're recording on your computer (either laptop or with an external camera), there are a few options. Some like to record in a 'camera' app that would be similar to a cell phone app. Some also have software to record their sales videos. See next bullet



Video Recording Software Programs—

If you're using

video in your sales process

and you use a CRM, there's likely a video platform that makes life easier. Check your CRM platform to see what software plays nice with your CRM. If you're not using a CRM, check out which video program allows you to send your videos in emails. Yes, some video programs allow you to put the video in email, such as:

3. Be More confident on Camera
For this next section, I reached out to some of my colleagues and connections that are video pros at this point and here's what they had to say about being more confident on camera and getting comfortable once you hit 'RECORD.'
Mental Prep
Getting mentally prepared is really step one here. I mean it's what's holding us back, right?
Don't Overthink.

Dani Buckley

shared, "My biggest tip is don't overthink it." Sounds simple, right? Yes.

David Haar

, who has been using video for cold outreach over the past few months and has had some really good results with it, expanded even more and said, "Don't overthink it. Just do your videos like you would do a voicemail." Hmm.. It makes sense. We don't overthink emails and voicemails anymore, but at one time we did. We need to reach this mental state where video is almost as second-nature as voicemail and email!


Be Yourself. Dani shares that it's important that you're being yourself and connecting with the person on the receiving end of the video. Remember this as you're mentally preparing yourself or your content.


Don't Expect Perfection. To wrap up this whole section, I'm quoting

Dean Moothart

, "Just start. Don't overthink things, and don't expect them to be perfect. Your phone calls, voicemails and emails aren't." True that, Dean!
Content Prep
While we don't want to overthink these videos too much, there is value in preparing what you're going to say. We do this with voicemails and emails, but it's almost second nature because we're conditioned to it. So with video, it's okay to spend a little more time preparing the message you're going to send in your video. Here are some tips to keep this simple.
Keep it Conversational.

Morgan Harrison

shared that it took her a few videos "before I realized that the most authentic videos are conversational." Authenticity builds trust. Don't forget this!




Prepare Your Message with Bullet Points.

Matt Sunshine,

Managing Partner at The Center for Sales Strategy says, "I usually write out bullet points and then tape them to the camera. I do it in a way that if I look at the bullet points, I am looking into the camera." This keeps you on track with your messaging without sounding like you're reading a script.




Practice.

Almost every person I asked included some form of 'Practice!' in their responses on this topic.

Ryan Troester

recommends that you practice conversing with the camera until you feel comfortable enough to post. And I'll close this point with what

Natalie Schmidt

said, "Practice makes perfect. And if you don't like it, scrap it and re-record!" I like her thinking. No pressure, right!?
Hit Record

Alright, it's time to hit record, and this is where people freeze. Here are some tips collected from all of the contributors to help keep you calm, looking cool, and of course, collected in your thoughts.
Do a few takes if needed.

Don't read direct from a script. Have your bullets close to the camera like Matt mentioned above!

Don't look at yourself in the monitor—look into the camera.

Talk to the camera as if you're talking to one person.

Address people directly by name if it's a 1:1 email. But don't overdo it.

Keep it short and simple if you can.

If you don't like it, scrap it and re-record, but there's no need to do this over and over.

Use a small whiteboard to relay simple messages or numbers during your video.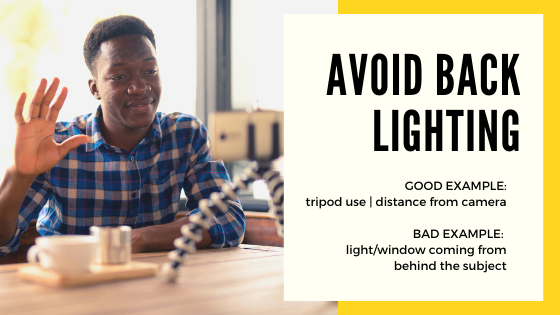 4. Enhance the Presentation
It's one thing to have a great video, it's another thing to present it in a way that your recipient wants to watch it. Below are a few tips/tools to enhance the presentation and optimize the delivery for better consumption.
Choose a Great Thumbnail. What's a thumbnail? It's the image the recipient sees before the video starts. Depending on where you're sharing/sending this video, this could change.


Create a Custom Thumbnail. David shared, "If you're not using Canva for thumbnails, a great tool to use!" There's a video thumbnail template that allows you to easily create an attractive graphic you can upload as the video thumbnail to encourage interaction (and views) of your video. No design experience required! There are other platforms you could design a thumbnail in, but I highly recommend Canva if you're not experienced in design. (See example below made in Canva.)

Email. If you're sending the videos in email through a platform like GoVideo or Soapbox or through your CRM, you can choose the thumbnail from a screen in your video. Some platforms allow you to create a fun GIF to be the thumbnail in your email (this is awesome and definitely grabs your attention). Some also allow you to upload a custom thumbnail image that you create outside of your video.


Social Media. Some platforms allow you to upload a custom thumbnail image (YouTube and Vimeo), and some platforms allow you to pick a thumbnail from a screen in your video. Some platforms just pick it for you and there's no functionality there.


Consider the Video Viewing Experience. Whether your video is going in an email to be opened on a webpage, you're sending it in a LinkedIn message, or you're sharing a 'thought leadership' style video on LinkedIn or Instagram, each viewing experience is different. Learn the platforms you're sharing your messaging on so you can learn the functionality for adding or choosing thumbnails and optimal orientation of your video (landscape orientation—wide, or portrait orientation—tall).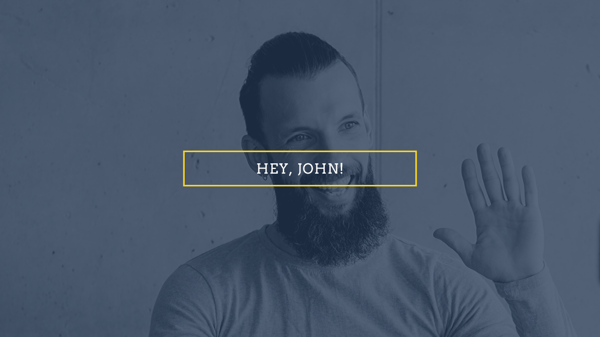 5. Strengthen the Delivery
Okay, at this point, you've done everything to make your video the best with a flawless message within the video and a stunning thumbnail encouraging the recipient to view it. Great. Now what? Strengthen the delivery of this video you've spent time creating by doing these things:
Communicate What The Recipient is About to Watch.

David shares, "I always like to know how long a video is before I play it. Telling them it's a 45-second or a 1-minute video ahead of time will really help your open rate and your completion rate."




For Email Delivery, Ensure You Optimize the Send.

Depending on your email platform or CRM, you'll need to do some research on what's most recommended here. If you use Hubspot, I wrote a post, "

How To Embed Personalized Video Into Your Hubspot Sales Emails

." Here's another article on

sending email via video

.




Earn the Attention you Deserve.

Craig Jones, a Senior Consultant at The Center for Sales Strategy wrote a great post on breaking through your prospects' clutter by earning their attention and not stealing it. Read, "

Earn my attention. Don't steal it." 7 Best Practices Using Video to Breakthrough Your Prospects' Email Clutter

" for more info on this.




Track Results and Learn from the Data. David also recommending this at this phase of the video process. By watching the results and learning from the data, you can tweak variables throughout the whole process to improve your content and delivery. It's like a science project with technology!
If you made it this far in the post, I have full confidence that you're going to walk away ready to make great sales and thought leadership videos. This process can seem overwhelming, but sometimes it takes just getting started, trying out a few of these tips at a time, and practicing!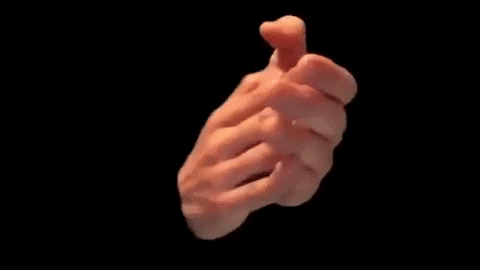 A few last tips and words of advice (and encouragement) from the pros:
"Have fun with it and showcase your personality. Don't turn into a newscaster or feel like you need to be 'on.' Just keep it casual and conversational and your authenticity will shine."—David


"Just remember that you're obsessing way more about how you look and sound than the person watching it. What's important is that you're being yourself and connecting with them." — Dani


"People really like video. You got this!"—Morgan


"The more videos you make - the more comfortable you'll be. So just start."—Dean


Last... "PRACTICE PRACTICE PRACTICE!!!!"—Matt
I'd love to see your thought leadership videos you share on social media and see what you're doing. Feel free to shoot them to me on LinkedIn or tag me in your posts! We're all in this together and "a rising tide lifts all boats." Good luck, and I look forward to seeing some great videos in the future.
Special thanks to the following sales, business development, and marketing professionals for contributing to this post!
Matt Sunshine | Dani Buckley | Trey Morris | Dean Moothart | David Haar | Ryan Troester | Natalie Schmidt | Morgan Harrison