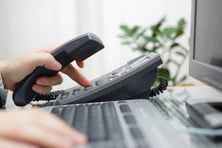 The most successful sales and marketing organizations are ones that set their sales teams up for success. They give them the tools and resources they need to get the job done as efficiently and profitably as possible. The best ones actually solicit input from their salespeople, asking what they need in order to be more successful.
If you're a part of such an organization (and even if you're not), you should insist that your company design and deploy an inbound marketing strategy. If they ask why, no problem! Here are a dozen reasons you can share:
Closing business. That's what it's all about, right? You didn't get into sales to dial the phone 100+ times per day or to spend hours researching potential target prospects. Inbound marketing can help you do what you love to do, what you're good at doing, which is guiding a prospect through their buying process and closing the deal.
Learn about inbound marketing from the author of LeadG2: Getting Prospects to Raise Their Hands and join the Insiders' Circle.
See also:
Top Five Characteristics of Successful Inbound Marketing Efforts