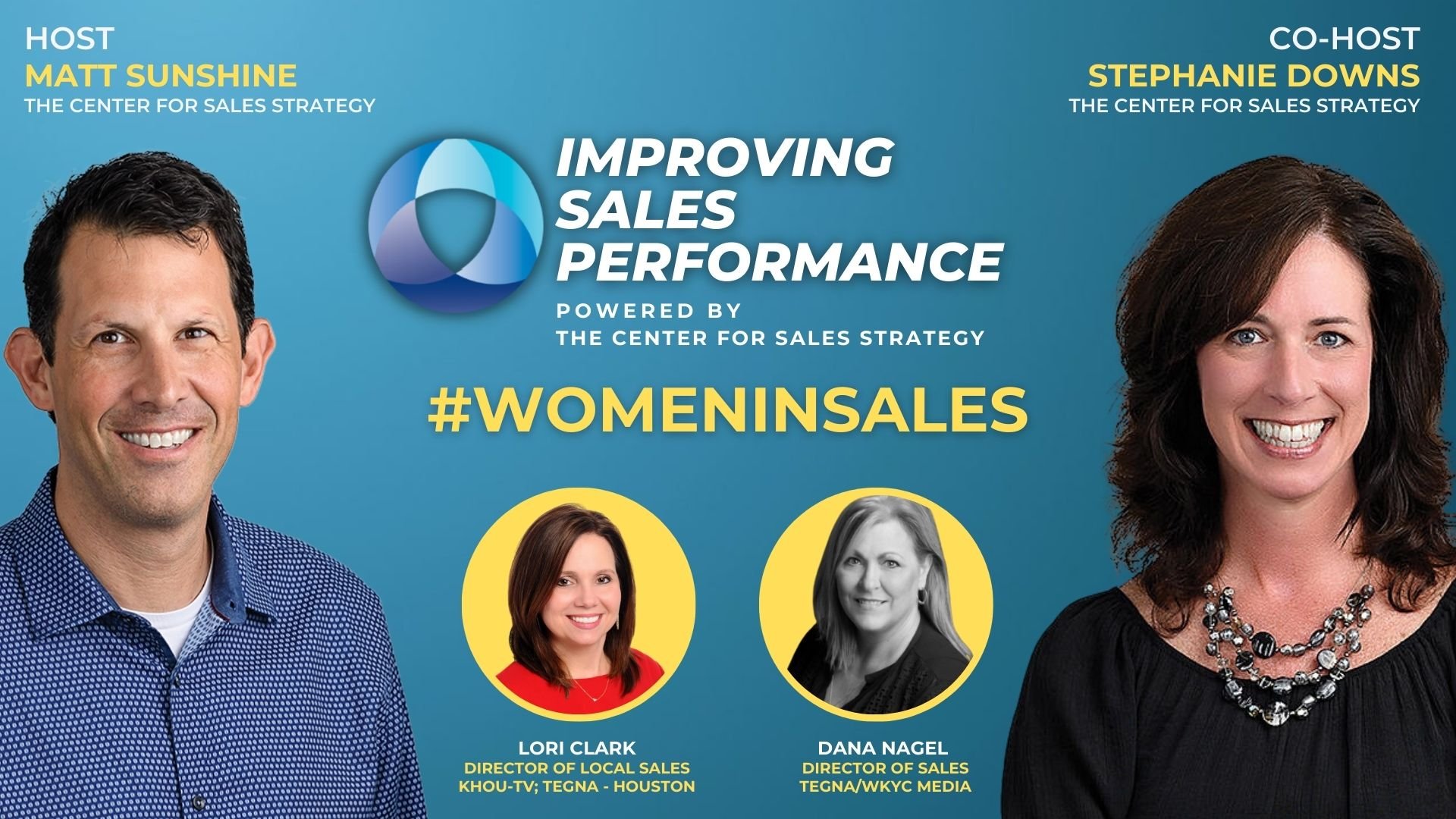 Continuing season 5 of the Improving Sales Performance Series, host Matt Sunshine and co-host Stephanie Downs, continue to focuses on celebrating #WomenInSales for the month of October.
Guests Lori Clark, Director of Local Sales at KHOU-TV; TEGNA - HOUSTON, and Dana Nagel, Director of Sales, TEGNA/WKYC Media join the show to share their insight, tips, and knowledge on various topics that help companies improve sales performance.
Tune in now or keep reading for a brief overview.
Female Thought Leaders in Sales
Lori Clark started her career with a national rep firm and then in 2002 joined KHOU in Houston as an accounting executive. In 2006, she was promoted to a local sales manager, and in 2012 she promoted to Director of local sales.
Lori is a people leader and very passionate about growing and developing people. She is also one of the CSS talent superheros and has been named sales manager of the year by the Media Alliance in Houston in 2009 and in 2017.
Dana Nagel is a broadcast-born, NFL-bred media and digital marketing sales leader with a blue-ribbon history of leading change and a brag book of developing elite sellers.
She's known for leading change and developing teams, and thrives on positive energy. She's always focused on doing the right thing on behalf of the client and making sure that their business wins and grows.
Dana was WKYC's Local Sales Manager from 1994 to 2010 when she left to work as the Director of Media and Digital Sales for the Cleveland Browns. She came back to WKYC as Director of Sales.
Important Key Performance Indicators for Sales
In order to ensure that the sales process is working, you also need to establish the right key performance indicators to track so you always know how well you are doing in each step. So what KPI's should you measure?
During the interview, Lori says these are the top KPIs she looks at:
Revenue

Activity and pipeline

Retention of clients

Is everyone on the sales team contributing
In addition to these top KPIs, Dana also adds that sales leaders must look at intuitiveness — how people are feeling. "Enthusiasm starts at the top," she states. "And good energy helps create a good culture."
Big Rocks for Sales Managers
Big Rocks are your priorities. They're the projects, tasks, or goals you must accomplish. They're not a messy to-do list.
A Big Rock may be, "Learn more about motivating already successful sales people," or "Get better at filling my Talent Bank."
Dana says Big Rocks for managers should be:

People

The Why

Remove obstacles
"If you don't have the right people on your team, it's impossible to achieve goals," she states. "You also have to know your why. Then managers remove obstacles because you won't know it's a problem until it's a problem."
Tune in now to hear how she helps remove obstacles from her team.
Lori also adds how she helps coach and develop new people to help them understand the business aspects. "People must understand how to ask the right questions to business owners."
The Past, Present, and Future of Sales
Thanks to new technological developments and a general shift in attitudes regarding how customers make purchasing decisions, sales has changed a lot during recent years.
Lori says that, "Our roles will continue to change, just like businesses continue to change. Team members want to ensure you're invested in them."
She also adds that while managing in a remote world, managers must ensure they understand how to make connections with people and hold them accountable.
Dana also says that because of the changing ecosystem and world, "Ongoing communication with clients is more critical now than eve. You must have a plan."
Both women agree that you must be intentional of the work that you're doing. "We always knew that it was important to care about people, and grow and develop people, but it's about being more intentional about it now"
As a final piece of advice to sales managers, both women agree:
Culture is paramount to success.

You must be fully vested in the success of your sales team.

It's okay to make mistakes. Make them and move on.
For more in-depth information on this subject, tune in now!
Don't miss another episode of the Improving Sales Performance series where Managing Partner Matt Sunshine speaks with thought leaders, experts, and industry gurus, who share their insight, tips, and knowledge on various topics that help companies improve sales performance.
Subscribe to our YouTube channel, and have your notifications on so you're notified of our next episode!