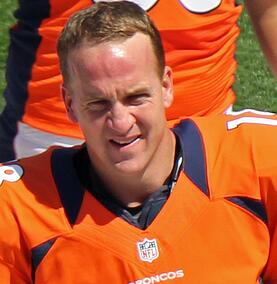 Absolutely!

And here's why. He's a competitor; he has a deep desire to win and is not afraid to work hard. He has intense focus, he is smart, and he is dedicated and committed to do whatever it takes to achieve his goals and perform at his best. He understands the incredible value of his team and his teammates trust him. He has overcome many obstacles throughout his career and is now the

NFL's top product endorser, earning $12 million annually

off the field from companies like Reebok, Buick, Wheaties, DirectTV, Gatorade and Papa John's… which means he has also earned the trust and respect of millions of people across the globe.

Without question Peyton Manning will go down in history as one of the best quarterbacks in football of all time. His stats are impressive and speak volumes… here are just a few to give you perspective:

The average career of an NFL Quarterback is 6.6 years. Peyton has been an NFL quarterback for 16 years, sitting out only 1 season in 2011 due to a neck injury.
Following his injury, he silenced critics and was awarded the NFL Comeback Player of the Year Award in 2013.
He has been selected to play in 13 Pro Bowls, making him part of an elite group of 3. Jerry Rice and Reggie White are the only others who have been selected 13 times. And according to the Pro Football Hall of Fame, only Bruce Mathews and Merlin Olsen, with 14 Pro Bowl selections each, have more.


He has been named the league MVP 5 times, 2 more times than any other player in history.


He is only the 3rd starting quarterback in history to have made it to the Super Bowl with more than one team. Kurt Warner and Craig Morton are the others who've accomplished this.


In 2010, he was chosen as the 14th smartest athlete by Sporting News.
Peyton Manning is not average… neither are great salespeople!
If you look into Peyton's football career, it won't take much searching to learn that he is an extremely high performer and always has been. The list of awards he has received and records he has broken go all the way back to high school. There are literally too many to list in this post. And what's even more impressive is what his peer's say about him!

Tom Brady said, "To me, he's the greatest of all time. He's a friend of mine, and someone that I always watch and admire, because he always wants to improve, he always wants to get better, and he doesn't settle for anything less than the best. So, when you watch the best and you're able to learn from the best, hopefully that helps me get better." This is incredibly telling, considering it's coming from another NFL quarterback who is also thought to be one of the best of all time!

So… how does all this parallel with a high performing salesperson?
The answer is simple. If you were to ask a VP of Sales (or other sales manager), of virtually any company in virtually any industry to describe the characteristics of the very best salesperson they have ever worked with or met, their answer would not be much different than the way I described Peyton Manning in the opening paragraph. Great salespeople are not average, they too are tough competitors, they're goal oriented, and they're considered thought leaders among their peers and customers. They have intense focus, and are committed to do what it takes to earn the trust of their team and their customers. They are also natural problem solvers, which helps them consistently look for opportunities to maximize efficiencies, overcome obstacles, and meet the goal and objectives of their company and their customer's companies. And like Peyton Manning, they are also among the highest compensated employees in their field.

Not Every High Performing NFL QB Would Make a Great Salesperson
Taking a deeper look, it's important to note that we've studied the very best B2B salespeople and have found that there are only a handful of behaviors they all had in common. These are specific behaviors that separated them from all the other sellers who were average or not as successful. In essence, these behaviors separate the best from the rest.

Looking at these specific behaviors it's fascinating to think that Peyton Manning, who performs on the field rather than the streets, shares many of the same innate behaviors as high performing salespeople. However, it's also critical to understand that not every high performing NFL quarterback would be a great salesperson and conversely, not all great salespeople would make record breaking NFL quarterbacks… albeit that distinction is a bit easier to grasp!

Talent Alone Won't Make You Successful
Peyton Manning was indeed born with the natural talent to make him one of the best NFL quarterbacks of all time, and his desire and dedication to continually "up his game" has made him a coach's dream. All of his talent without the consistent coaching from experts throughout his career would likely leave him average, unable to compete on the field with the other elite athletes in the NFL. And this is an important point, because nature and nurture are both at play here. He was born with natural talent, which makes him an obvious selection into the NFL, and his talent has been nurtured for as long as he's been playing football through continued coaching and focused practice.

Elite salespeople are no different; they too have the desire and dedication to continually "up their game." So if you're a sales manager and you come across a salesperson with the characteristics I've mentioned above, make sure you've created a culture that will continue to help them learn and grow. As with high performing athletes, nature and nurture are both at play. First you need to select the strong sales talent and then you need to continue to provide ongoing coaching to help them increase performance year after year. As with Peyton Manning, they want to be the best, and they're not afraid to work hard. Give them consistent feedback and work to be their coach… rather than their manager!

Having said all this, Peyton Manning I personally invite you to go through our Sales Talent Interview with one of our Talent Analysts! Comparing a handful of your behaviors with some of the elite salespeople we've worked with would be fascinating! Heck, we'll even do it for free! You never know… sales could be your next great adventure.
Interested in learning more about Sales Coaching? Here are a few of our sales coaching blog posts you might want to read to get the most out of yourself and your team!