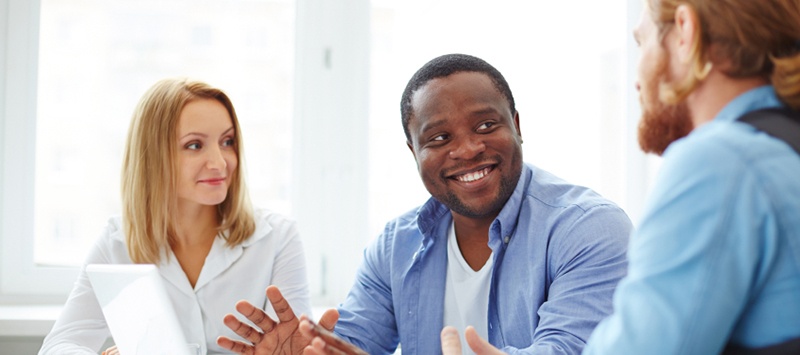 Sales and marketing have a long history of conflict. The most common scenario is that marketing teams complain about their hard-earned leads not being closed properly, while salespeople are unhappy with the quality of marketing leads. Having these two teams working together may not be an easy task, but it's certainly worth it.
Your marketing team can track the online behaviors of your leads to warm up what would have otherwise been a cold call. All the while, data from your sales team can help marketing get a better idea of which types of leads will most likely convert into paying customers and what the most efficient communication channels are. Bringing sales and marketing together is paramount to the growth of your company.
Here are five ways an integrated approach boosts growth.
1. It provides prospects with a coherent buyer's journey.
Your ideal customer profile or buyer persona should be shaped by both teams. When you think about who it is that you're trying to reach with your product or service, you need key information about who they are, where you can find them, and what their average day looks like. But you also need to know what their buying habits are, how they make decisions, and what their expectations are.
Sales' experience can tell marketing the most common problems that prospects encounter when researching a solution. Using content marketing, you can distinguish yourself through well-researched articles and content offers that bring the right prospects into your sales funnel. Marketers, on the other hand, have a lot of experience with knowing what to say and where to say it.
Take a look at how targeted online marketing programs can boost customer conversion rates.
2. It builds credibility with a unified message.
With an integrated sales and marketing strategy, you can position your company as an industry leader, one who is always happy to educate, help, advise, and counsel clients all throughout the buying process.
Leverage the valuable content that your marketing team has created to perfect your sales pitches and phone calls. Offer prospects informative eBooks or solution briefs that can help them make a better-informed decision.
Building close relationships between sales and marketing should be a priority all through planning, implementing, and analyzing your customer acquisition processes.
Read how HP boosted their product sales 84% by letting the blogosphere run its online marketing promotion.
3. It aligns goals.
This is a great reminder that the final objective everyone should be pursuing is the business bottom line. This kind of thinking will simplify everything, with both sales and marketing pushing for the same broad goal. Working together can only get them there faster and much more efficiently.
Both teams should define what a marketing qualified lead is, as well as what a sales-ready lead is, in a common meeting. This way, both teams can voice their concerns with respect to when a prospect is ready to advance to the next step of the funnel, but also when it's too early for someone to receive a buying offer.
4. It makes tracking and budgeting easy.
Working together can save both teams a lot of money and time. Why have separate budgets and spending for tools and campaigns that don't coordinate? Why not have teams build a unified retention and advocacy program on a common budget?
With an integrated approach, you can track lead flow and close rates so much better. Measure marketing performance on the volume and quality of leads they hand off to sales. As for sales performance, make sure that they deliver on their closing rates.
Check out how a small Internet publisher doubled its email database & reduced marketing spend with cost-per-lead.
5. It improves efficiency through integrations.
Everyone stands to lose from leads falling through the cracks between filling out a download form for a content offer and being registered in your CRM. In this digital economy, data is key to all operations.
The best way to generate data between sales and marketing is to integrate your sales and marketing software. This integration benefits both sides with valuable data to improve their results. By connecting both teams' operations, you can see the entire lifecycle of visitor to a customer.
Find out how Dell increased their pipeline revenue by 10X in one quarter using an integrated sales and marketing approach.
Takeaway
Everyone benefits from an integrated approach to sales and marketing. This sort of alignment (or agreement) can help you significantly improve your business bottom-line and also create a better working environment.
It will give you a better overview of how your customers interact with your brand and how they reach a purchasing decision, enabling you to create smarter marketing campaigns and improve your customer service.
---
Jeremy Page started Authority to show people a better way to buy things. He is an irregular blogger for SEJ, Unbounce, and The Daily Egg.