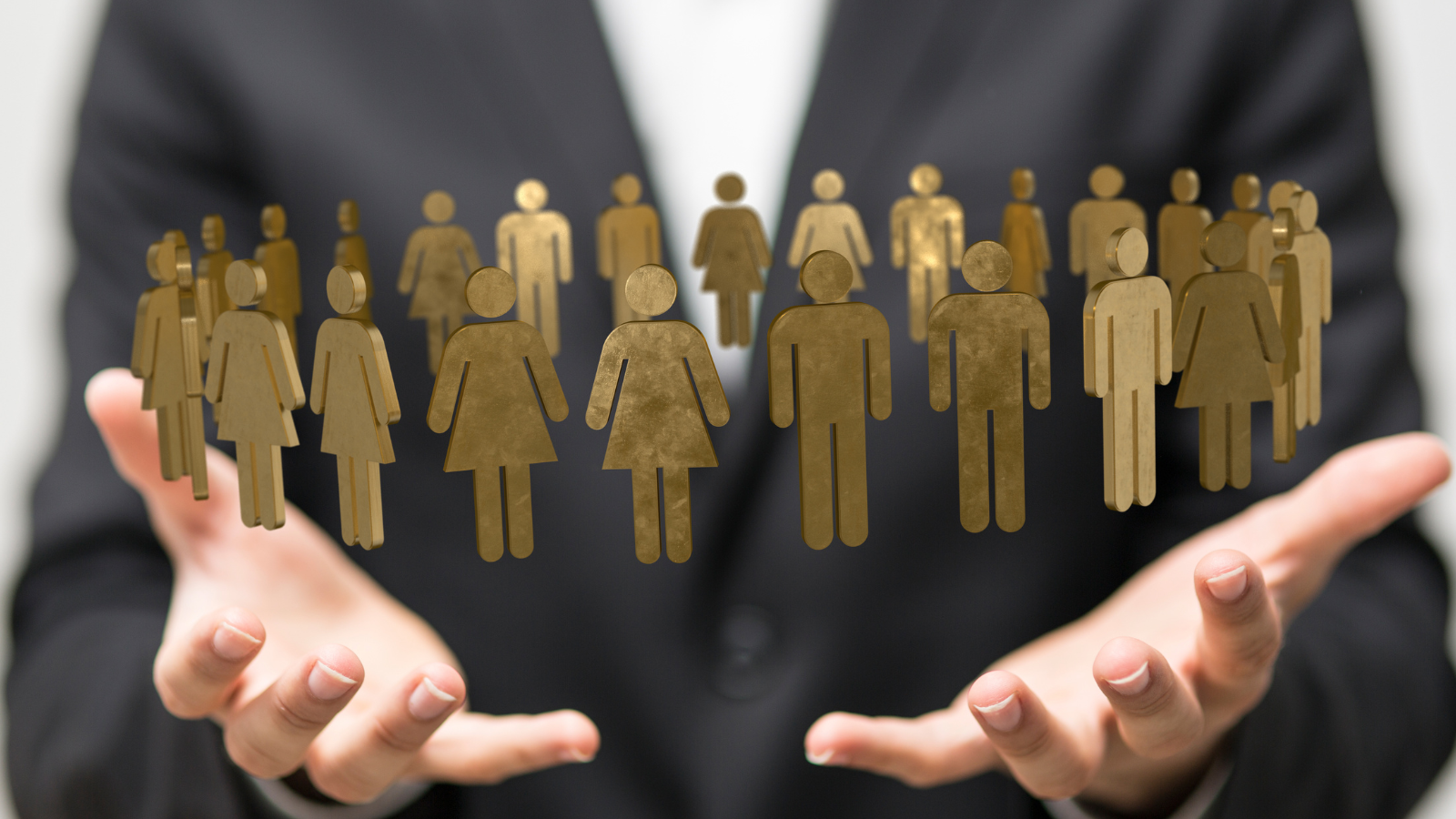 According to Fortune, 65% of US workers are looking for a new job. If you're looking to fill a position, that sounds promising, right?
But wait — LinkedIn found that 76% of managers admit attracting the right candidates is their greatest challenge.
With so many workers looking for new jobs, why are managers still struggling to attract talent? The answer is recruitment.
Recruitment vs. Selection
Mark Twain once said, "The secret to getting ahead is getting started." Recruitment is the act of finding people with a variety of talents, skills, and experiences that could potentially fill a role in your organization in the future. Recruitment is getting ahead by "getting started."
Selection is the act of searching through your talent bank to find the person with the right talents, skills, and experiences for the role you are filling. Too often, recruitment isn't started until it's necessary to make a selection.
Recruitment then becomes a frantic effort of posting job descriptions, gathering resumes, and crossing fingers that the right candidate, or any candidate, comes your way. In the meantime, the rest of your team is forced to take on the extra workload until you fill the position. It becomes easy and tempting to hire a warm body rather than hiring talent.
Instead of the recruitment-selection scramble, wouldn't it be nice if you had a bench of talented candidates ready, willing, and waiting to work for you?
We recommend adopting a "we're always hiring" mindset. Instead of telling people you don't have any openings right now, let them know you're always looking for top talent – let's talk! With this mindset, recruitment is happening all the time, whether you have an open position or not. Then, when you finally need to make a hire, you have a talented group of people sitting on the bench to pull from.
Building Your Talent Bank
The "we're always hiring" mindset begins by building a talent bank.
Recruiting is like prospecting in sales. Your target accounts are your future employees. Set aside time for recruitment like your Account Executives set aside time to prospect. If you make one deposit into your talent bank each week, at the end of the year, you'll have 52 deposits! Attracting top talent is challenging. It's even more challenging if you don't have a strong talent bank to pull from. Set a goal for talent bank deposits each month and hold yourself to that commitment. The most successful leaders develop consistent habits when it comes to recruitment.
Once you've set your goal for deposits, it's time to begin your search. 70% of the global workforce is made up of passive talent who aren't actively job searching themselves. Building your talent bank takes more than posting a "prospective position" and waiting for candidates to come your way. Attracting top talent and finding qualified candidates requires hunting and fishing in the right places.
Ask for Referrals
Each year, CSS conducts a study to better understand how clients are finding superstar performers. For the past seven years, the number one most common way our clients found superstars has been through the process of referrals.
If you ask someone, "What's a great restaurant I should eat at while I'm in town?" you're likely to get a slew of answers. Some answers may sound appealing to you, but others may not sound appealing at all.
Now imagine you asked someone, "What's a Mexican restaurant with great chips and salsa that serves specialty margaritas?" Their answer will likely be different — and it will more than likely appeal to what you're looking for. The same can be said for referrals. When you're asking for referrals, be sure to ask for the specific behaviors you're looking for. For example:
Who do you know who…
Is highly competitive and always wants to win?

Is outgoing and easily connects with others?

Doesn't give up until the job is done?
Talent loves talent — start by thinking about those on your team who are highly talented and ask them who they know who may be a good fit. Companies can expand their talents pools by 10x by recruiting through current employees' networks. Consider implementing an employee referral program with a monetary incentive. What's better than bringing someone you know on board? Getting paid to do so!
Once you've tapped into your current team, ask others in the industry for referrals. And don't leave out your clients! Chances are, they're working with talented reps in the market who may be willing to join your team.
Hunt and Fish on Social Media
According to The Muse, 92% of companies use social media for hiring. Actively engage with your LinkedIn network to help you become more visible. Be strategic about what you comment on and respond to comments of those who pique your interest as potential candidates. Getting the conversation started casually will help break the ice and give people the opportunity to explore your LinkedIn page as well.
Other social media sites are also effective recruitment tools. Add a "hiring" banner to your profile picture. If your company has an active blog, share posts from your company that help others understand the culture and value of your organization. You can also share blogs from other companies and include a thought-provoking question at the top of your post to promote interaction.
Research Your Employer Brand
As you attract potential candidates, they will certainly research your employer brand. Your employer brand refers to your company's identity and your reputation as an employer. It's the general perception of your company as a place to work and includes your Employee Value Proposition: the set of benefits that an employee receives in exchange for their talent, skills, and experience.
Amazon's Jeff Bezos said, "Your brand is what other people say about you when you're not in the room." Take the time to find out what your current employer brand looks like. Google your organization to see how you present yourself to your potential talent bank deposits. Find out what people think of your company and ensure it matches who you really are. Companies that invest in employer branding are 3x more likely to make better hires.
Be a Company People Want to Work For
77% of adults evaluate a company's culture before applying for a job, and 46% will hold out for a strong culture. Embed culture into your recruitment process and remember culture isn't about what you say, it's about what you do. Candidates are looking for authenticity.
Highlight your company's reason for being and core values and gather employee testimonials explaining how you live them out every day. Exemplify your culture in each and every interaction you have. The stronger your company culture, the higher the quality of employees you will attract and retain.
Using Sales Talent Assessment
You've successfully attracted attention; now what?
Nearly 60% of job seekers quit online job applications mid-way due to length and complexity. After devoting time to building your talent bank, don't lose potential talent because your application process is too complex. Save resumes and references for later down the road. Those with superstar talent are likely in a position already, meaning they probably don't even have an updated resume to share with you.
Instead of a lengthy application, use a validated talent assessment as early as possible to determine whether or not someone has the innate talents necessary to join your team. It will save you AND your candidate valuable time.
A validated talent assessment doesn't just describe a candidate; it actually predicts whether or not the candidate has the potential to be a top performer within your organization. The best assessments will even provide actionable coaching strategies to maximize performance if you choose to bring someone on board in the future.
Don't forget — everyone wants to know what they're talented in. When someone completes your talent assessment, be sure you always share their top talents with them. It will give you an edge in recruitment.
If you're interested in keeping someone in your talent bank, LinkedIn found that talent is 4x more likely to consider your company for a future opportunity when you provide them with feedback. If you choose not to keep a candidate in your talent bank, providing someone's top talents helps candidates to learn more about themselves, and it can assist them in future job searches. It's a great step forward in candidate care.
Keep Your Talent Bank Full
Once you have a strong group of people on your bench, just like in sports, you need to keep them warm and ready to go.
Keep your talent bank deposits warm by reaching out to them with job-related content and training resources. Provide them opportunities to collaborate and connect with members of your team. The warmer you keep your prospects, the easier it will be to bring them on board when the time comes.
When It's Time to Select, Ask the Right Interview Questions
If you're using a validated talent assessment before interviewing, you will walk into the interview with an advantage. You know exactly how the candidate is wired. Instead of determining talent potential, you can use the interview process to determine whether or not someone is the right fit for your team. Talent is only a strength if the fit is right.
Fit is measured through skills, experience, intuition, and interactions. To help determine fit, select interview questions that will truly allow to discover more about the candidate. For example:
How would you describe your ideal company to work for?
How do you take advantage of your strengths? Can you share a specific example?
What traits do you look for in a manager?
What qualities in your co-workers to you appreciate the most?
If you made an important business decision and a co-worker challenged it, what would you do?
Consider gathering your current team together to identify and develop fit interview questions that are specific to your workplace. Invite team members to join a panel interview to get multiple perspectives and impressions of your candidate. Others will more than likely pick up on signs and signals you miss.
Conclusion
Remember, the secret to getting ahead is getting started. An effective recruitment strategy involves adopting a "we're always hiring" mindset. Identify what your current recruitment strategy is and set goals for yourself moving forward. The recruitment habits you build now will set you up to hire superstar talent in the future.