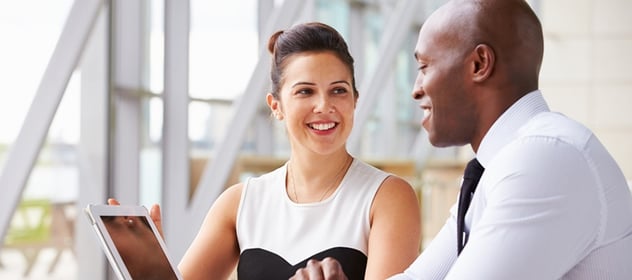 Some say that the holy grail of sales is consistent and predictable revenue. Many are on this seemingly never-ending quest but find it both elusive and always just out of reach. A strategic sales process is the only thing that will help you reach your goals.
A Strategic Sales Process
The sales process that we teach and help clients implement is called How Selling – Change the Conversation. Essentially we train salespeople to stop talking about WHY their product is so great, so big, or so important. Instead, we help them change the conversation to cover HOW to use their product and resources in order to help their customers get the ROI they need.
Studying the body language of clients in these meetings, we have found that when a Why salesperson presents, the clients tend to sit back and listen. On the other hand, when a How salesperson presents, the clients lean forward, engage, and begin to ask questions about how this could work for them.
For decades, Why selling was the only type of selling we were familiar with. We were all taught to show prospects and clients all the great things about our product or service while highlighting new features we were rolling out. Here's the problem: buying has changed dramatically, but selling has not changed to keep up.
How the Buying Process Has Changed
How has buying changed? Your clients are much more informed now. A few minutes on Google allows them to learn all the information they want as well as the complete history of your company and its competitors.
In order to be successful, selling must change too—which is why How selling is so effective. How salespeople become invaluable resources for their clients which is a critical first step in building a repeatable process.
The How Selling sales system involves 7 critical steps. Each step is important and essential. Keep reading and I'll give a brief real-world style description of each one.
7 Steps to the HOW Selling Process
Step 1: Find — This first step is all about prospecting. Whether you have a marking department that is generating prospects for your sales department or you are asking your salespeople to find them on their own, this first step is an important part of the sales process. A good sales department has a steady flow of leads or prospects that they are constantly able to evaluate and nurture.
Step 2: Select — There is not enough time in the day to chase down every suspect that pops up. Trying to do that would be a waste of time and would lead to an enormous amount of frustration for your sales department. A disciplined approach is necessary for success, which is why it is very important to always use the exact same criteria when separating the good prospects from the not-so-good ones. Having a set ideal customer profile will help you make sure that minimum criteria are established for each prospect.
Step 3: Approach — Once a salesperson has the prospect in sight, the next step is to secure an appointment. In today's world, getting an appointment is hard work, so planning out your approach is key to success. Technology like caller ID, email, and voicemail has made it increasingly easier for prospects and clients to avoid meeting. So in order to secure a quality appointment, salespeople need to do a great job in the Approach step, using solid valid business reasons to earn the appointment.
Step 4: Define — Once a salesperson has the appointment, it is critical that they don't just show up and pitch (that's the old way). They must do their homework first and show up with valuable insights they can share along with many well-thought-out topics and questions to discuss. Only then will they be able to define the marketing challenge and begin to think about how they could help with a solution. The main goal of the Define step is to discover the opportunity and confirm that it would be of value to the client.
Step 5: Solve — With a clear understanding of what the challenge or opportunity is for the prospect or client (as defined in Step 4), the salesperson is now ready to solve. This is the part that many salespeople especially enjoy. In fact, it is often their passion for this step in the process that sometimes causes them to skip over the Define stage and rush to the pitch. The Solve stage is critically important, and when done right, it is what allows the salesperson to go back to the client with confidence that their idea that will work and garner results.
Step 6: Confirm — This is the step in which the salesperson closes the deal. In this system, there is no need for a hard sell here at all. If you have completed every step the right way, this step in the sequence is simply about getting the sign off on the proposal. It's really just a formality since the client has been involved throughout the process and there are no surprises here.
Step 7: Deliver — It's time to get results! No doubt you want revenue to grow year over year which means client attrition has to decrease. The only good way to do this is to make sure that the advertising is actually working and that your clients are getting results. That's why this step is so important. The process does not stop when they sign the contract. You now have an obligation to deliver what has been sold and make sure it really works.
If you've been selling the Why way, the next move is up to you. You could continue doing things the same old way while expecting different results. But you know that is not likely to happen. Or you could implement a repeatable sales process that is a tried and true method to drive sales. I suggest you give it a try.