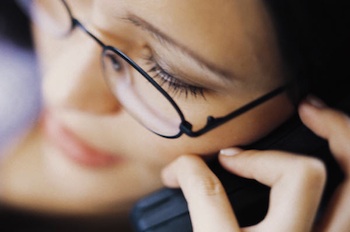 My 11 year old daughter has been dealing with a "mystery illness" for six months. In the last few weeks, the pain has intensified, and we've started working with a pediatric specialist to find the cause. Last week, I found myself calling every doctor we've ever worked with because I am incredibly unhappy with the results we are seeing. As a desperate mother, I am looking for results—someone to ease my child's pain—and that made me realize our medical situation is pretty similar to what your clients expect from you every day.
4 Keys to Client Satisfaction:
1. Take notes. And refer to them. Up until this point in my life, every medical professional I've ever worked with can recall my personal situation without looking at the chart. If I call them after hours, they know who we are and have at least a basic recall of the situation. Just like patients, your clients don't like to recap their entire history every time they see you. Yes, you should conduct repeat needs analysis calls, but you shouldn't have to rehash the entire situation each time you talk.
2. Brief your support team. While I realize that nurses can't "call the shots" on their own, I was discouraged to learn that the nurse I talked to makes 300 calls a day just like the one she made to me. When I ask follow up questions, the nurses all read verbatim from the notes the doctor has already entered into the computer. No critical thinking. No problem solving. Even if a client isn't a key account, your clients want to feel like your problem has their attention. Make them understand you will resolve the issue.
3. Offer solutions. So far, we've had a zillion tests that all come back negative. The nurse calls with results, and doesn't offer a next step until I push for more. And, while I am thankful that no one has given us life-altering news, I want results. I want action. Your clients are no different. They want solutions. They want to know someone is out there fighting for them. That they are not the only one who wants results.
4. Follow up. This specialist tells ME when to follow up with THEM. I am certain they'd forget all about my daughter if I didn't make the call. There is no one in that medical practice wondering how Sarah is doing today. As her mom, it's up to me, and I have to tell you… I've had it. Your clients expect attention and follow up. They want to know you are thinking about how they are doing.
Which leads me to what might be the most important point—I found myself calling every doctor we've ever worked with. We are not getting quality medical care. We are a number. One of 300 x 5 that this doctor talks to weekly. So I called the ones who care. The ones I know remember Sarah. The ones I know wanted to offer a solution but couldn't. And I asked them for advice. For a referral. For ideas.
And then I thought about how easily the same thing could happen to you. If you do not take the time to pay attention to your clients' needs, they could pick up the phone and call your competitor who took the time to understand their needs, take an interest and respond.
Are you holding up your end of the deal when it comes to client care? What are your tips for making clients feel understood and appreciated?
Kim Peek is the Blog Boss at The Center for Sales Strategy.