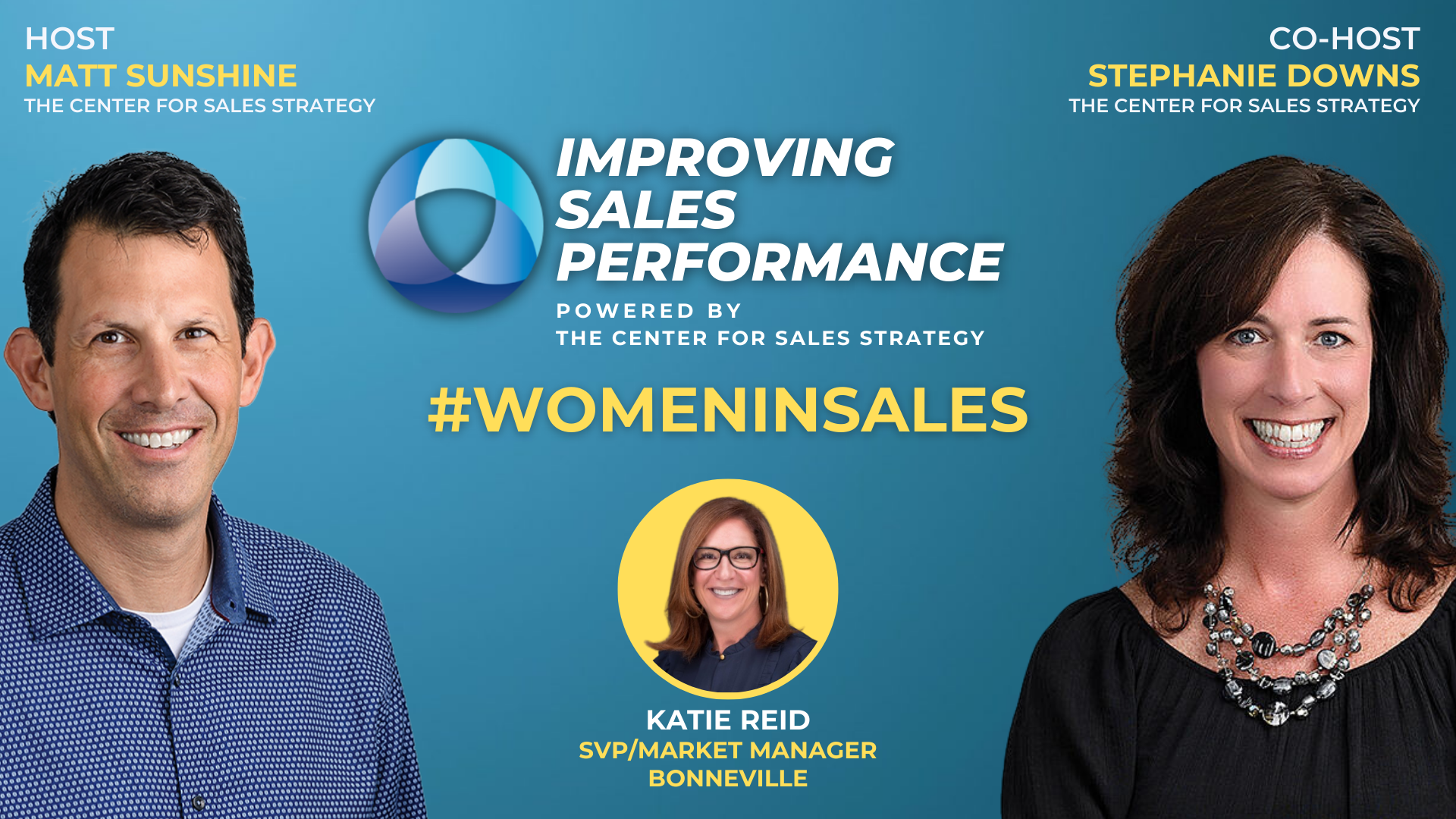 We're honored to celebrate Women in Sales Month all October long by talking with some amazing women sales pros. In this episode, Katie Reid, SVP/Market Manager Bonneville, joins host Matt Sunshine and co-host Stephanie Downs to share unique insights and offer advice for both new and veteran sales managers.
Katie makes so many awesome points, such as avoiding surprises by keeping a watchful eye on your entire sales funnel, maintaining and fostering organic growth, communication, and coaching in a hybrid work environment.
Tune in now or keep reading for a brief overview.
Women in Sales - Katie Reid
Currently, Katie Reid is the SVP/Market Manager Bonneville. Katie's vast experience spans across several industry brands and sales functions. Throughout her career, she's been responsible for driving millions of dollars in sales revenue, developing stellar sales teams, and delivering excellent service to client advertisers. Prior to this role, Katie served as the executive director of revenue, supporting sales teams across the company.
Katie is a board member of the Florida Association of Broadcasters. She is also on the sales advisory committee for RAB. She is a 2017 graduate of the Broadcast Leadership Training program with the National Association of Broadcasters.
How to Know If Your Team Is On Track
When asked what key performance indicators she looks at to ensure a sales team is on track, Katie says, "I like to keep it simple, so there are just certain things we continue to look at, and that's your key account growth. What are the key accounts doing?"
As she points out, these days, it's attrition. "What is that attrition number, then you got to look down to your target account and new business, and I just don't mean the revenue regarding target accounts. I think this is where people can get off track. And that is literally if somebody doesn't have target account revenue, but then how many accounts are they working on? And where are they in the funnel? It's not just the end results, but everything happening to get to the end result."
She also discusses another important KPI – category growth and/or decline. What is happening? What's emerging, and what's deteriorating?
Matt highlights another key point to look at is the difference between pending management and pipeline management. "I think so often sales leaders, they're really good at pending management and looking at what to add. But it's what's in the pipeline that we all have to get better at talking about. We don't spend as much time thinking about the leading indicators. And we need to spend more time on the front end of the process versus the end of it."
High-Priority Items for Sales Leaders to Focus On
Stephanie asks Katie what the biggest, highest priority Big Rocks that sales leaders should pay attention to on a day-in and day-out basis are.
"Number one is their Account Executives; what exactly are Account Executives working on?"
The process has gotten much more complicated, and there's more to sell. "Hopefully, sales managers have stationed initiatives, whether it's a specific station, events, or whatever, and they're focused on that," stated Katie. "And exactly what we were just talking about again is category insights. They should be leading the charge on finding some resources."
All of these Big Rocks that Katie focuses on go back to Account Executives. It's not just knowing their strengths and talent, but if you have somebody brand new versus a veteran salesperson, the expectations for that seller don't change. What are they doing in their day? How are they constructing their day?
The Changing Sales Environment
Onboarding new sellers today, we have to have different expectations than what we've had in the past. They must be more defined than they've ever been before.
With this in mind, Stephanie asks Katie, do you find onboarding new sellers today is harder or takes longer?
"I go back to my very first sales job," Katie shares. "I sat by this woman that was so incredible, and I eavesdropped all the time, and she took me on calls, and we laughed when she got rejected, but all of that was so organic, and I was a sponge. There is no doubt I was successful because of her. They don't have that now."
We have to behave as sales leaders. We have to behave differently when we're onboarding and have a more defined plan, a more structured process, and more hand-holding. It's a sales leader's obligation to give back and help others grow. "Do something to help the new people, just as you were helped and nobody had to ask that person too."
This leads into another good question asked, aside from onboarding new sellers, what has changed in sales over the years?
"There's too much competition There are too many shiny objects," explains Katie. "It's about getting to that next appointment, getting to that next assignment, getting to that close - whatever it is. So yes, you've got to define the roles before going in, but sales managers are way more of a partner than ever before because it's just too much, too complicated, and there are so many pieces.
Everyone has a role to play. The key is to have the conversation ahead of time of what role you want each person to play. You have to carve out what you want that Account Executive to do and ask yourself if you see them getting a little too quiet and a little too passive.
"Because of the complexity and sophistication, sales leaders have to be a great chameleon, be strategic, and they have to be in the trenches. They have to see the big picture, trends and know where their AEs are getting stuck. Managers must know where AEs are good in the process and keep them motivated and focused."
Advice for New Sales Leaders
When asked what advice she would give a new sales leader, Katie responds, "Honestly, it would be they have to have marketing expertise. Sure, you have to know your products, but more importantly, you better know how they work together and how to solve the client."
She continues by saying it also goes back to understanding the individuals that are reporting to you and their talents.
How are you going to motivate them?
How are you going to remove obstacles?
"Sometimes, managers don't realize that their job is to remove obstacles," Matt states. "If you have a very talented, successful salesperson, the best thing you could do is make life easier for them and remove obstacles so that they can perform at a higher level, giving them a bonus or more responsibility."
He advises managers to ask them when no one else is around, what can management do for you? "They would tell you if you listened, they would say if you could just remove these obstacles and help me here."
For more on removing obstacles for salespeople and changes, Katie expects in the next few years, tune in now.