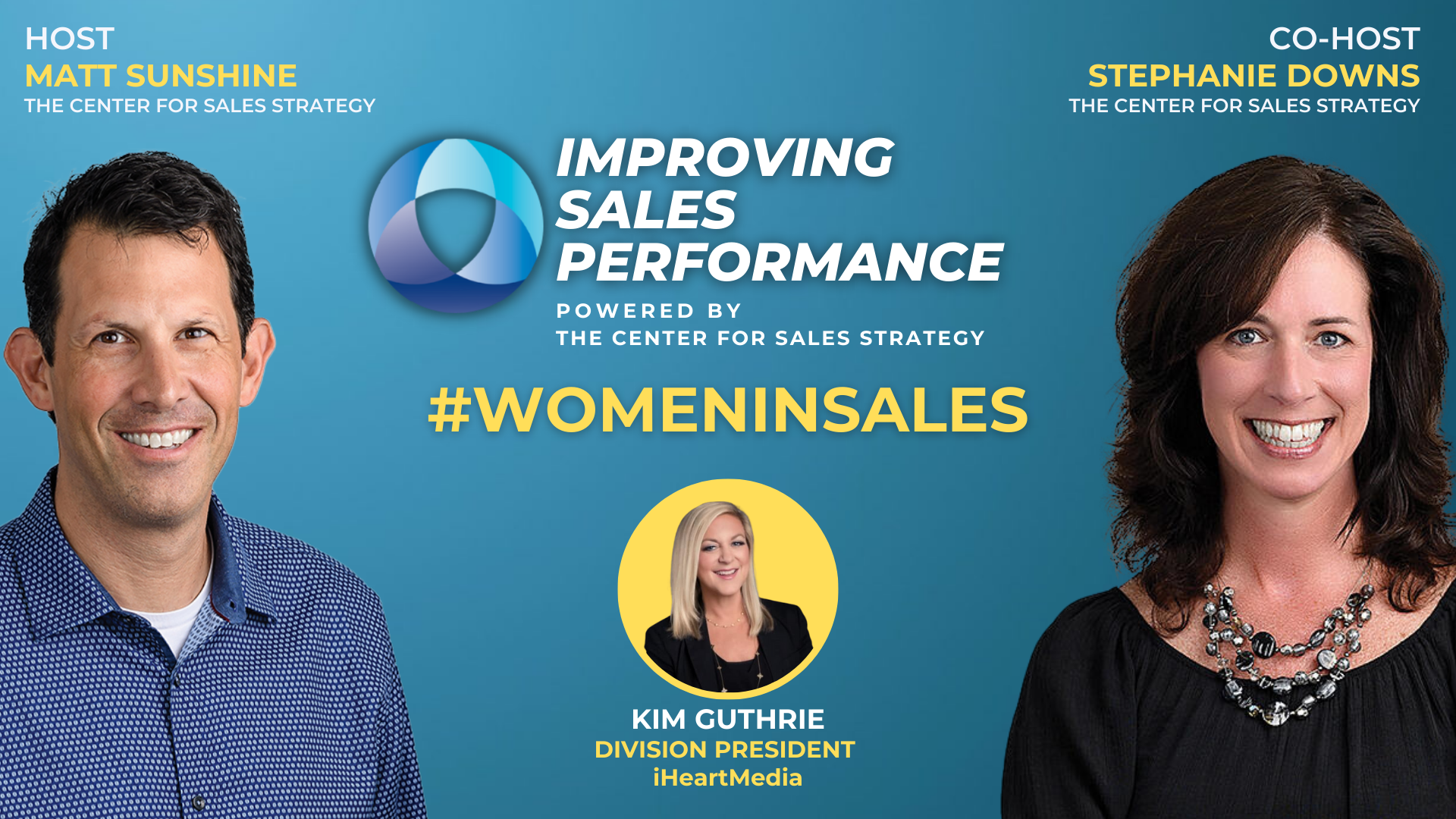 Women in sales have achieved great things for themselves and their organizations over the last decade. To celebrate Women in Sales Month, we're talking with some amazing women sales leaders who share their unique insights, from offering advice for sales managers, new or more experience to discussing the anticipated landscape of sales and years ahead when it comes to improving sales performance.
In this episode of Improving Sales Performance, Kim Guthrie, Division President for iHeart Media, Florida, joins host Matt Sunshine and co-host Stephanie Downs to discuss the importance of forming developmental relationships with clients, the importance of building trust, being a sustaining resource for your team, and how it's necessary to always be recruiting new talent.
Tune in now or keep reading for a brief overview.
Women in Sales – Kim Guthrie
As the Florida Division President for the iHeartMedia Markets Group, Kim Guthrie oversees the operations of the Florida Division for iHeartMedia.
Kim has over three decades of experience in the industry. She most recently served as President/Chief Executive Officer of Cox Media Group, a role she ascended to in late 2016. She was instrumental in the evolution and growth of CMG since she first joined the company in 1998 as VP/General Manager for its Long Island, NY radio station group before working her way up through the ranks.
Before ascending to CEO, Kim further expanded her skills by serving as Executive Vice President of CMG's National Ad Platforms, where she oversaw the country's biggest television rep firm. As CEO of CMG, she had complete oversight of the company, including nearly 100 broadcast TV and radio stations, dozens of digital assets, and newspapers. She started her career in the Midwest, where she worked as a television news reporter and anchor for several ABC affiliates.
Kim was awarded the 2020 Leadership Award by the Broadcasters Foundation of America and is a multi-year honoree of Radio Ink Magazine's "Most Powerful People in Radio" and "Most Influential Women in Radio." She also was named "Woman of Distinction" by the March of Dimes, "Humanitarian of the Year" by the Muscular Dystrophy Association, the "Trailblazer Award" by the Mentoring and Inspiring Women in Radio group (MIW), and was awarded the "Women Who Lead" honor by the Alliance for Women in Media (AWM).
Key Performance Indicators to Watch in Sales
Stephanie starts the conversation by asking Kim to name a few KPIs that she looks at across the sales organization, or even down to the department level, on a consistent basis to really know if you're on track from an organizational standpoint.
Kim mentions that at iHeart, they use Salesforce, and there are tons of metrics to measure. However, she really focuses on listing activities and opportunities by salesperson. "You know what's in the pipeline, and if the activities are down or the opportunities are down. So activity is technically like a meeting or an email that you've got in the process with a prospect or a client," she explains. "Then an opportunity is an actual proposal or a pitch to the customer. So, if you've got a good number of those two metrics going, then that's usually pretty indicative of what's going to come out of the other end of the pipe."
In terms of metrics not on Salesforce, she mentions always looking at new business. "Attrition is something that unfortunately happens in sales no matter what you're selling, but in media for sure. Are you bringing in new business to make up for the attrition?"
Another metric Kim likes to watch is growth from key accounts. "It's one thing to have a really big customer, but it's nice to see how many things you are actually selling to this customer," she explains. "Are they simply buying broadcast? Are they buying just digital? If you have someone buying broadcast plus digital, that usually is a pretty good sign that a customer is less likely to churn. And usually, it's because they're getting better results when they use the piece."
As Kim points out, while there are a million things you can measure, it doesn't mean you need that.
Big Rocks for Sales Managers
What are sales managers' biggest rocks or their highest priorities day in and day out?
Kim responds, "I love that talent x manager = productivity. So, you can have a really amazing sales manager, but if you've got a bunch of C-talent as sellers, it doesn't matter how great the sales manager is."
One really good sales manager is not going to be enough to offset really average sales talent. "I'd rather have really good sales talent," Kim explains. "Sometimes you can have an A that's turned into a C because they got lazy, or they stopped working hard, or they got some really nice accounts, and they're all humming along. And then maybe they forget to keep planting the seeds for new business down the road."
As Kim emphasizes, talent will always – ALWAYS – be the most important Big Rock. In a competitive industry, it's about the salespeople that can figure it out. "Can you go in? Can you get a good conversation going with a customer and find out where their pain points are and how we can solve that?"
She also adds, "You have to retract, but you also have to attract great talent, recruit them, and then keep them motivated once they're here."
Qualities of a Great Sales Leader
Stephanie asks Kim if you're recruiting for a leader in the organization, what are the things that you're looking at - skills, talent, experience, all the above?
"For me, one of the most important is a sense of positivity. It's really hard right now. It's always going to be hard. I don't need you to tell me the 15 reasons that this is really hard."
Kim also adds that as a sales manager, having a business-thinking mindset is absolutely required because you make so many decisions all day long. "Some people don't have a sense of a good deal versus a bad deal or how to eyeball something and see the profitability in it, or that this isn't really good, it's a $15,000 order, but it has $5,000 of hard costs. Then we have to commission the person."
"I also love courage as a trait in people. How do you hold people accountable? It's the courage to have those hard conversations. And having the ability to have a lot of ongoing feedback is going to get the best out of your people and you, and sometimes it takes a pretty big dose of courage to have that."
To hear more about how the sales industry has changed and what to expect in the future, tune in not to hear the rest of the conversation.