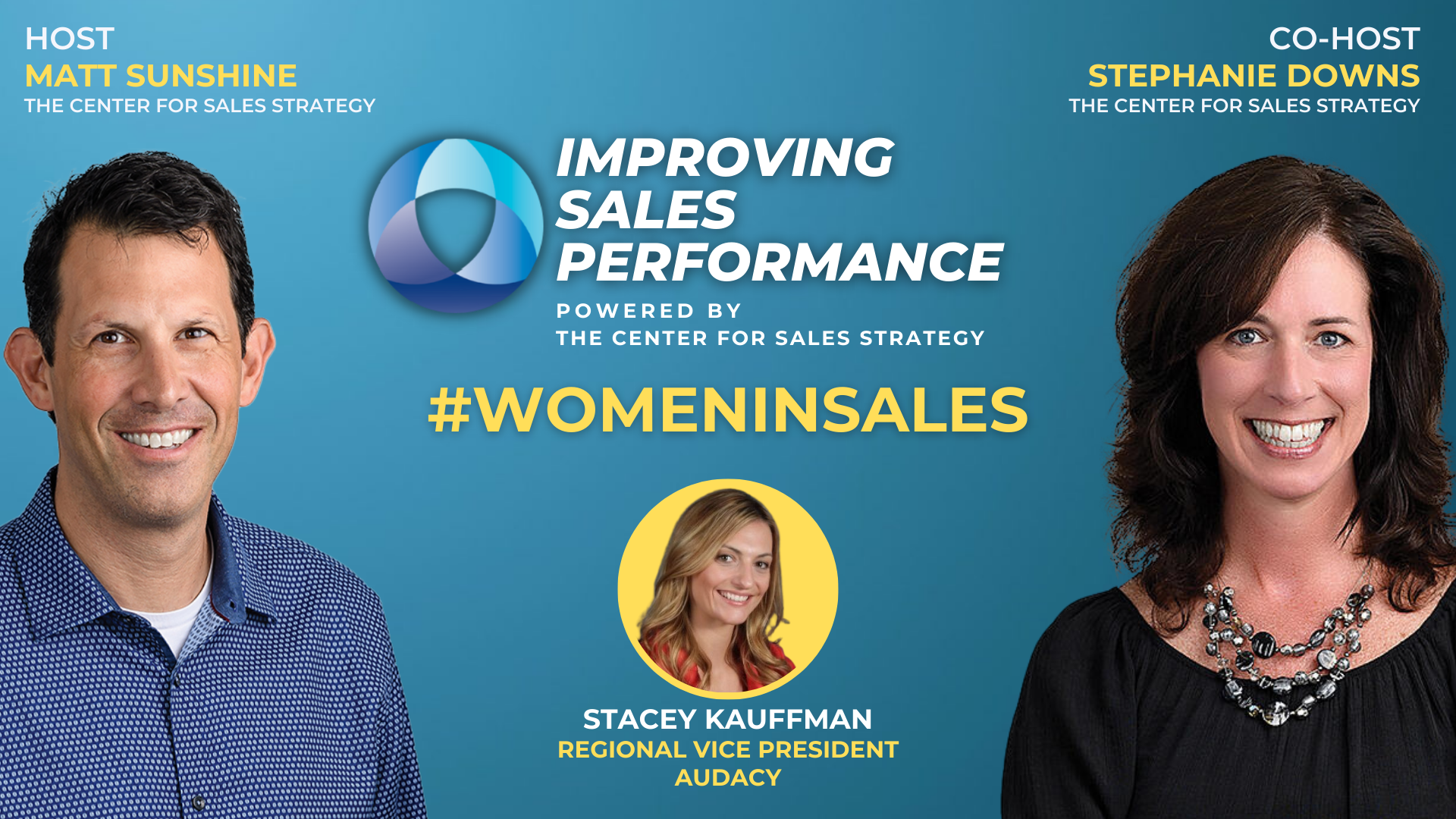 October is Women in Sales Month, and to celebrate, we recognize many talented and hardworking women who work in this industry, the valuable contributions they make to it, and their expert insights on the future.
Joining this episode of Improving Sales Performance is guest Stacey Kauffman, Regional Vice President from San Francisco and Sacramento at Audacy.
Stacey has many observations, such as prioritizing your focus amidst the flurry of data that is constantly at our fingertips (Hint, hint, don't beat chain to your desk), how Account Executives can no longer wear all the hats like they used to, and why you can't build a team of unicorns.
Tune in now or keep reading for a brief overview.
Women in Sales - Stacy Kaufman
Stacey Kauffman currently serves as Regional Vice President from San Francisco and Sacramento at Audacy.
Kauffman has served as the Senior Vice President and Market Manager of Audacy Sacramento since 2018. Prior to that role, she held Director of Sales and General Sales Manager roles for then-Entercom Sacramento.
Prior to joining Audacy in 2015, Kauffman held various sales roles at Hubbard Broadcasting, Radio One, and Susquehanna Radio WFMS-FM.
KPIs to Measure in Sales
Stephanie starts the conversation off with this question, when you look at the overall sales organization, and even down to an individual station or between the two markets, what are the three to five things that you look at to know that you're on track for success?
"First, I would say, the culture, the vibe, and the energy that we're seeing. And, of course, in this new normal of this hybrid environment, what people want to be in the office for," Stacey explains. "So just seeing the collaboration that's happening. I like to be someone that walks the halls a bit. And again, it's totally different because you have to be able to virtually walk the halls as well."
As far as the key performance indicators (KPIs), she mentions focusing on leading indicators "because that's an opportunity for us to still do something about it versus the lagging indicators, which are, of course, how are we performing to our budget and our expectations."

"I really encourage our team and our leaders to narrow what are the least amount of things that we can focus on to have the biggest amount of impact," she continues. " When I'm looking at a macro level for the region, I'm looking at the roll-up of how many new business calls, how many of those new business calls are we doing? What's the trend line of that? Are we adding sales velocity there? And then the dollars and the volume of ask on a weekly basis."
As Stephanie mentions, often in these conversations, there's a lot of emphasis placed on the end result. "Those, the performance metrics, they're important. We all know that they're important. But I love the thinking of if we put more emphasis on the front end are really paying attention to your point of deal size and call volume and all of those pieces, the end result's gonna happen."
What Should Sales Managers Focus On Right Now?
What is the biggest priority for sales managers to focus on right now?
Without hesitation, Stacey answers with "Recruitment."
"Recruiting, retaining, growing talent," she states. "That's not unique to our organization. I see it across our industry. The ideal Account Executive today is different. And it's a really unique opportunity because we can look at enterprise sellers as an opportunity versus historically, you needed the experience to get the experience."
"And just with the way that we're evolving our sales structure and having more client success managers and more of those Account Manager support types, it gives us an opportunity to really expand what the ideal sales executive could look like."
Recruiting the best talent and having them continue to grow and develop is the number one most important priority. Then one of the things that is so great about the sales industry is that it is always evolving and changing. "What made us successful a year ago is not going to be wholly the winning recipe today. I would say that we also look at just managing the sales velocity," Stacy explains.
"So, how are you a catalyst for business for your team? How are you guiding them on where and how to focus their time as a coach? And the third thing is data insights - not being chained to your desk, but how do you identify what the two or three quick reports or numbers that you can look at that help you prioritize where you can have the biggest impact of where, how, and with whom you spend your time are."
According to Stacey, if you nail these things down, that's the recipe for success.
The Evolving Sales Structure and Sales Leader
In the podcast, Stephanie and Stacey discuss in further depth how the role of Account Executives has changed. To hear the conversation, turn in now!
Stephanie also asks Stacey to elaborate on how the sales structure has evolved. She asks, "Do you envision sales structure continuing to evolve? And if so, what do you think the structure's going to look like in the next few years? How do you anticipate or see that changing again?"
"In this business, there are jobs that don't even exist yet," Stacey explains. "They're even going to exist in three years. That's part of what's so fun about it, is it's constantly evolving. We even used to have station-specific sellers, and most of us have enterprise sellers. So those things are constantly evolving, and there's always the ebb and flow of going to in-house agencies and out-of-house agencies. As far as what's the trend? I'm not really sure what it's going to be in three years. But I can guarantee it'll be different."
In terms of how sales leaders, how have they changed?
As Stacey points out, "If we're being totally transparent, there used to be more sales managers. You had local sales managers, general sales managers, and an NPR director. "There was just a bigger layer of local sales management that doesn't exist now. So it's really challenging."
Today, we need leaders who can get the buy-in, get the team motivated, and get them caring about the greater vision and mission and purpose of why we're all here.
"You can hold people accountable without trust. It's just not very effective," explains Stacey. "But to where you're holding them accountable, and they actually care because they understand it's more than just them. This part doesn't change. The part that changes is what do they need to be good at. And ideally, they're probably both left and right-brained because they need to be able to use data insights quickly to identify where and how they're gonna spend their time."
Tune in now to hear Stacey's thoughts on what you should look for when hiring a brand new ales leader today.