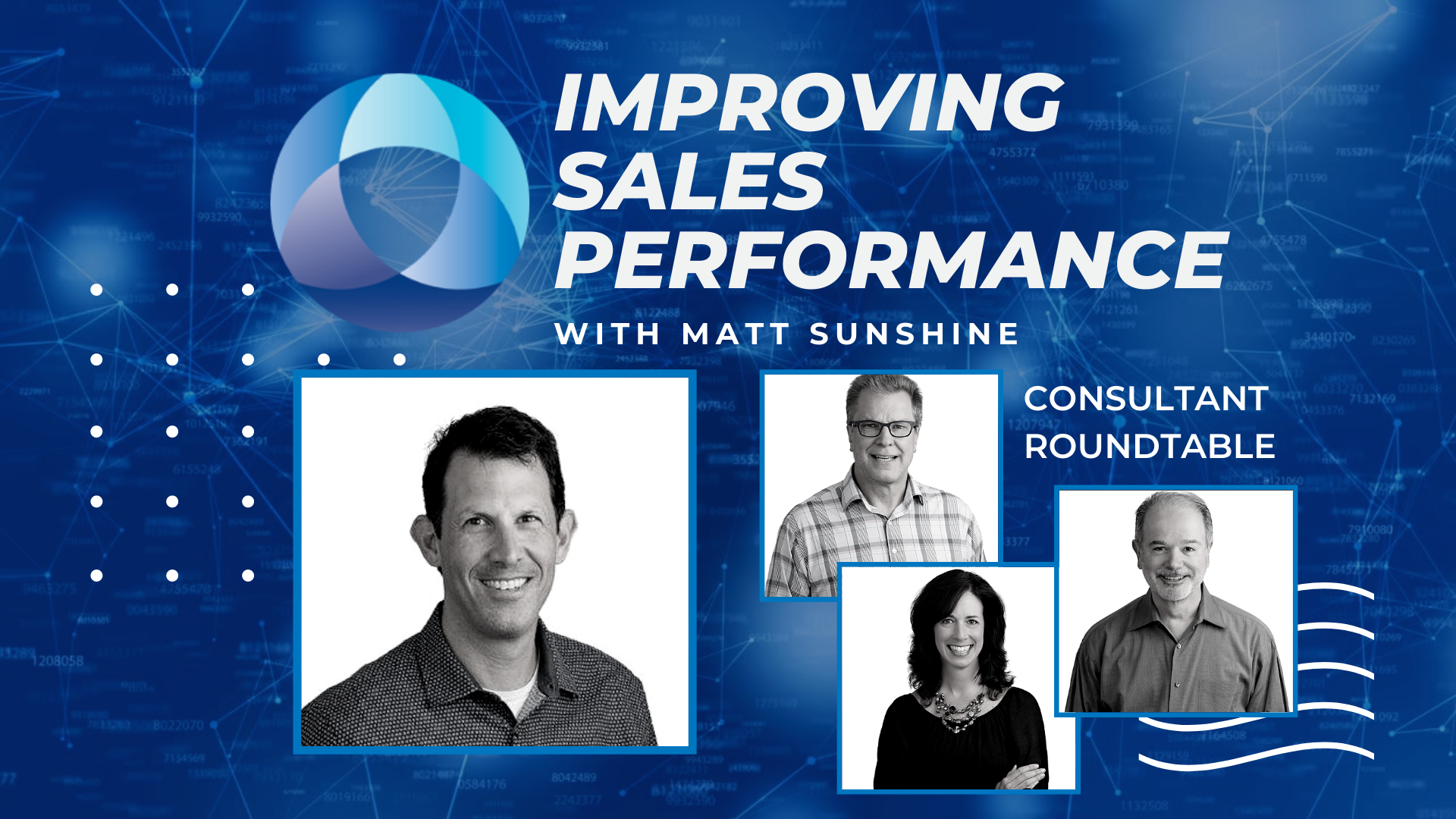 These days you can never get enough information on work from home best practices, how to use video to help manage and sell, and how to manage a remote sales team.
In episode 7 of the Improving Sales Performance series, Matt Sunshine hosts a roundtable discussion with Jim Hopes, Stephanie Downs, and Kurt Sima — all consultants at The Center for Sales Strategy (CSS). This is a rare opportunity for listeners to see what an internal meeting is like at CSS and to truly learn from a team of sales experts that offer different points of view.
A True Team of Experts
Joining in 1992, Jim Hopes joined The Center for Sales Strategy to become its first professional associate. Since then, as a Partner, VP, President/CEO, and now Managing Partner, Jim has performed consulting and training services in many of the company's largest markets in the USA, Canada, New Zealand, and Australia, and clients routinely include Jim in corporate-level projects like long-term strategic planning, sales force restructuring, compensation design, and identifying top talent.
Helping clients turn talent into performance for 13 years, Stephanie Downs thrives on understanding clients' needs, developing strategies, and helping people achieve their goals. Lastly, as VP and Senior Consultant for the past 16 years, Kurt Sima is always looking for systems to improve his client's performance. He has developed several tools—like Target Drive—that have become a significant part of CSS's client resources.
Together, along with host Matt Sunshine, they have A LOT of combined management experience!
Work From Home Best Practices
Working as a remote sales manager or sales rep presents its own unique challenges. Knowing their days are spent talking to multiple sales managers and salespeople, Matt asks the panel what their biggest and best piece of advice is when working from home.
Stephanie recommends keeping a structure as much as possible.


Kurt suggests disengaging your brain and having different spaces throughout your home set up for work.


Jim urges listeners to take advantage of the situation of being able to enter prospect's and client's homes virtually. And to adjust their mindset and treat working from home as if you were going into the office. You want to look and act presentable.
For more work from home practices, tune into the show or check out these resources:
How to Use Video to Sell
Sales managers and salespeople have discovered new ways of conducting face-to-face sales activity as a result of the pandemic. Being creative and using video technology to stay connected with customers as well as propose and close business with new prospects has become the new normal.
Stephanie advises listeners to use video to connect with prospects, get appointments faster, and recap meetings.


Kurt points out that video now allows us a bonus hour because we're not driving back and forth to meetings. What are you going to do with that extra hour? An extra five hours is 10% more time. It all adds up!


Managing Remote Sales Teams
Sales teams are target-driven, so they're going to find the motivation they need to be productive! However, managing a remote team isn't easy. Here are snippets of advice from the experts, one who has managed remote teams since 1983!
Jim recommends building interactive elements, getting to know each other, and finding tools to develop relationships.


Kurt says to use your webcam and let people see you. Embrace things like Kahoot! and other engaging ways to train them. These elements change the whole tone and value of training, and don't eliminate training. Just because you're not together doesn't mean to eliminate it all together!


Stephanie adds that because the environment is so different, we forget about best practices, like scheduling regular Individual Focus Meetings (IFMs), daily huddles and sales meetings, and celebrating wins. Sales managers need to stop skipping steps and do the same best practices as if they would in an office setting.


Matt also adds that one of the most important KPIs while working from home is increased talk time. "Things like, "How's your day?" and "What are you going this weekend?" are a big part of managing a remote sales team."
He also leaks a new statistic from CSS's new Media Sales report — 92% of current salespeople feel that continued sales training and development is extremely important!
For more information on these subjects, as well as Zoom-along's (virtual in-field days), talent banks, and building company culture, tune into the show.
Don't miss another episode of the Improving Sales Performance series where Managing Partner Matt Sunshine speaks with thought leaders, experts, and industry gurus, who share their insight, tips, and knowledge on various topics that help companies improve sales performance.
Subscribe to our YouTube channel, and have your notifications on so you're notified of our next episode!