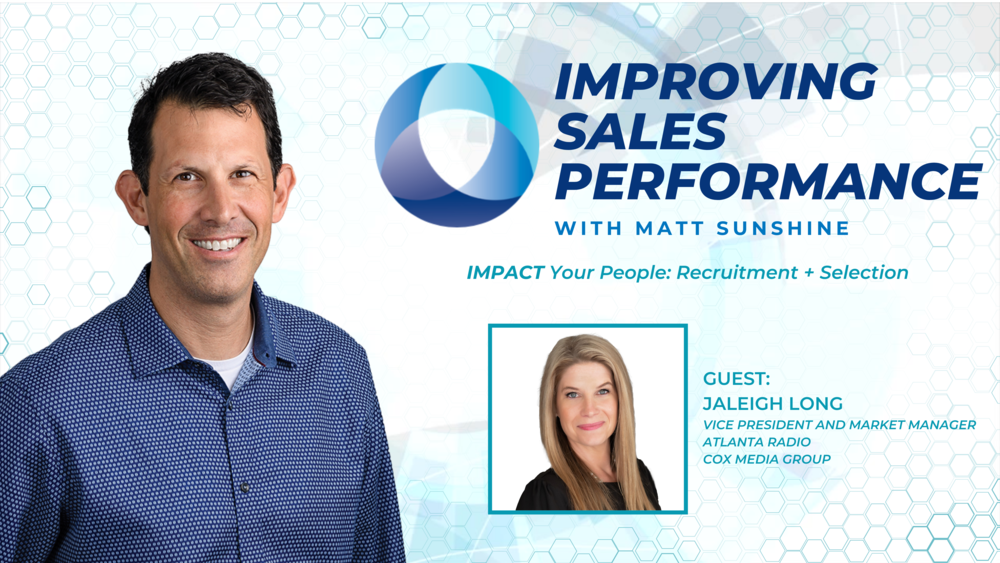 Season 3 of the Improving Sales Performance Series is focused on helping sales leaders make an impact on their sales performance through insight on 4 key areas: people, process, planning, and performance.
In Episode 24, Jaleigh Long, Vice President and Market Manager, Atlanta Radio at Cox Media Group, discusses how sales leaders can make an impact on their sales performance through recruitment and selection.
Tune in now to hear the Live broadcast or keep reading for a brief overview.
18-Year Veteran of the Media Industry
Jaleigh Long is Vice President and General Manager at Cox Media Group for Atlanta and Athens radio markets. She is an 18-year industry veteran with an in-depth knowledge of radio and digital. She joined CMG Atlanta Radio in 2014 as general sales manager and earlier worked for South Central Media and Susquehanna Radio. Long previously lead as Director of Sales for one of the most notable and successful radio sales organizations in America.
Long is also a graduate of the 2020 Broadcast Leadership Program with the National Association of Broadcasters.
Her passion for the media industry, continuous learning, and growing and developing top talent have been cornerstones of her success.
Recruitment is a 52-Week Job
We know the war on talent is only getting tougher and that it's important that recruiting is a 52-week job, not just an event that takes place when positions are open.
During the broadcast, Sunshine asks Long, "What has worked in holding yourself, and the management team accountable to do this, and how do you measure it? What is the routine around doing this?"
"You have to be intentional. You have to schedule it," states Long. "You have to make time for yourself, but you also have to make time to brainstorm with you team."
Who are we looking for? What needs do we have today?
"It's different than a year ago – even six months ago – so we're always making sure we're updating our needs list based on the current team that we have in place," she continues.
Being intentional, scheduling it, and constantly evaluating what you're looking for are three of the really big principles for holding the team accountable.
Tactics to Keep Your Talent Bank Full
When asked how often do you check to see how filled the talent bank is, Long replies, "weekly."
"Weekly, we are looking at our team's talent bank – and that's for all positions and roles."
Succession planning is important.
Career planning is important.
Succession planning is often forgotten about because employers think they have great people who will never leave.
Long continues, "How do we start having these conversations with employees and teammates even in the interviewing and selections process - not just about what the goals are today for your team but what you might need down the road? And being open to adding new questions into the interviewing process, as well as the selection process, to find out exactly where someone in today from a role that they're hired for to go on and do the next job."
Are Employee Referral Programs Beneficial?
During the broadcast, Sunshine and Long briefly discuss the referral program at Atlanta Radio at Cox Media Group. Long explains why they used to have a referral program, but no longer have it in place.
"Your best want to be around the best, so we created an environment where we openly invite employees to the participate in the recruitment process. We're pretty intentional about listening to our team," she explains.

Leading from that discussion, Sunshine continues with, "We sometimes say that strong selection is both an art and a science. The talent assessments you use provide the hard-science and reliable predictions, and your recruiters and hiring managers come with the experience and "gut instinct" which is more of an art."

He then asks, "How do you balance the two? How important is fit and how do you measure it?"

Long states that leading with data and getting specifics with people in the interviewing and selection process, having them tell their story about what makes them successful, what does success look like, and really just listening to all of that information is how they find the right fit.

What kind of stories are they sharing?

How are they measuring growth?

How do they want to be managed, coached, and developed?
"You're going to learn about them and they're going to learn about you. I want them to choose me as much as I choose them," she continues. "What makes a person unique is always a key indicator."

She also reiterated that it's important to have different people on your team asking questions during the process and having input from others on the team, even in different departments, to see how well that fit comes in.
"They might catch something that you don't," Long says. "This isn't just one persons decision on who is joining the family."
Company Culture and Recruitment
77% of adults evaluate a company's culture before apply for a job.
With that statistic in mind, Sunshine asks, "Have you found that your company culture impacts recruitment? How?"
Long replies, "Company culture is important. It's a word that people have to see and feel to really understand it because it's not fluff anymore – how do you know you have a great culture? What do your people say?"
For more on this subject, plus some of Long's go-to categories that she tends to find talent to recruit from, tune in now!
Recruiting Mistakes
As a industry veteran, Sunshine asks Long to share some recruiting mistakes that she's made with the audience so they can avoid them.
Without hesitation, her two responses were:
Not listening to my gut.

Not following some talent assessment guideline.
"Don't settle – hold out for someone who has the talent, experience, and fit that you're looking for.
Recruitment is the key to success. "This is a human-to-human business and relationships matter. They matter more today than ever before, so getting that right and investing and putting equity into the talent that you're hiring right now will pay off down the road again," states Long.

Don't miss another episode of the Improving Sales Performance series where Managing Partner Matt Sunshine speaks with thought leaders, experts, and industry gurus, who share their insight, tips, and knowledge on various topics that help companies improve sales performance.
Subscribe to our YouTube channel, and have your notifications on so you're notified of our next episode!