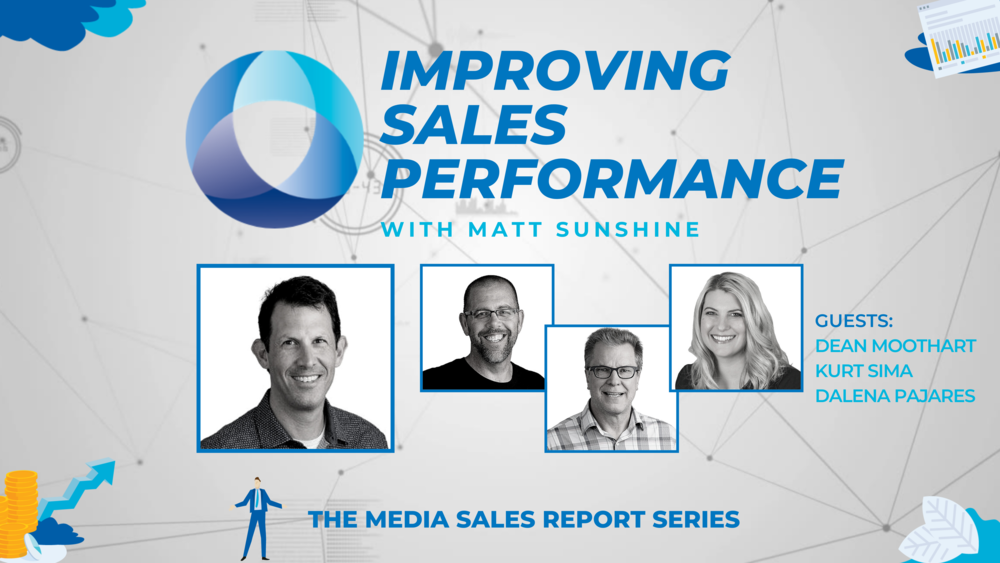 In Season 2 of Improving Sales Performance Series, we've focused on the data and analysis of the 2020 Media Sales Report.
In this episode, Dalena Pajares, Dean Moothart, and Kurt Sima of The Center for Sales Strategy and LeadG2 join Matt Sunshine as they discuss the data from the Media Sales Report surrounding the analysis of the sales process and setting appointments section.
You can stream it now to hear their insight, advice, and initial thoughts after analyzing the data that was just published. Or keep reading for a brief overview.
Why Is It So Hard to Get Sales Appointments?
It's not breaking news that setting appointments is more difficult today than it was in years past. In fact, the Media Sales Report found that 80% of sales managers find it harder today than just 5 years ago.
The report also found that when it comes to getting appointments, 95% of managers think sellers should have at least 4 appointments per week.
Of those managers, two-thirds think salespeople should have at least 6 appointments per week. 91% of salespeople said it takes 2 to 9 attempts to get an appointment, while 47% said it takes at least 5 attempts.
With these findings in mind, Sunshine asks: Why is it so hard to get appointments?
Listeners will find that all three guests agree that setting appointments is harder than ever before due to:
More competition
Salespeople are easier to avoid due to technological advances
There are more distractions
In an industry that is rapidly growing, and technology is expanding, it's no longer like looking for a needle in a haystack. The idiom Sunshine uses is, "it's now like looking for a needle in a needle stack."
You can now use technology to know someone before you even reach out to them. And this leads to previous research conducted by The Center for Sales Strategy, where our experts learned that it takes 7 to 9 attempts to get an appointment.
Why Do Salespeople Give Up on Setting Appointments?
Multiple research studies show us that it takes 5 or more attempts to get appointments. Sunshine asks guests, "Why are salespeople not doing that? What makes them give up so easily?"
1. They lose track of time (Dalena)
Solution: Find a CRM or sales enablement tool to help keep track and automate some of the sales process while keeping it personalized — and find a way to keep everything organized.
RELATED POST >>> Why Do Salespeople Hate CRM Systems — andWhat Can Sales Managers Do About It?
2. They don't know what to do (Dean)
Solution: You know it takes 5 to 9 touchpoints to make an appointment, so it's critical to have a messaging strategy. What do you want to say on that second voice that's different than first? Touchpoints should tell a story overtime.
Tune into the broadcast because Dean provides a great example of a messaging strategy that worked for him!
3. They must have cadence (Kurt)
Solution: Salespeople get nervous about being annoying. They need to know what to say and build on previous messages and videos they've sent over time. Most salespeople give up after 2 or 3 attempts because they get sidetracked or don't want to be annoying.
Tips for Connecting with Prospects
When setting an appointment with a new prospect, sellers need to standout. The best way to do this is by using a valid business reason that communicates empathy, expertise, and problem solving. Being creative when connecting with a new business prospect helps as well. Creativity enhances the seller's ability to stand out from the pack.
Kurt encourages salespeople to have a coach guide you with business insights and learn what decision makers dealing with.


Dean's tip for connecting with prospects is to share relevant content and tell them something they don't know. Be a resource for them and not a salesperson.


Dalena advises salespeople to take it back to the basics and make sure they're taking time to reach out and using that time appropriately. She provides examples such as having playlists and specific spots in your home or office for prospecting.
When it comes to the best time of day to prospect, Dean quotes, "the best time to prospect for new business is after you close a new deal." Tune in around 22:00 as Dalena chimes in with her strategy of prospecting before work starts and after work ends.
Is Using Social Media Important in the Sales Process?
Today, smart sellers incorporate social media into their sales strategy as an additional way to connect with prospects. This allows them to:
Build rapport
Pinpoint specific prospects
Establish yourself as a thought leader
Through likes, comments, shares, and posts, salespeople provide their insights to both prospects and current customers and allow for more engagement. Social media is a valuable tool for driving sales.
However, the Media Sales Report found that only 21% sellers said they always use LinkedIn in prospecting and connecting.
This finding is one that surprised all guests because even if you're not using social media as part of your outreach strategy, you should at least use it to connect and research. During the conversation, Dalena mentions how she uses LinkedIn to establish rapport and build conversion. Kurt and Dean agree that simply keeping your profile up to date is vital for prospecting. "If you don't think your prospects are checking you out on LinkedIn then you're crazy," quotes Dean.
Suggestions for Building Better Sales Pipelines
Switching to one last subject, Sunshine points out the obvious - salespeople are doing a lot more than just selling. Therefore, he asks guests what suggestions they have that would help salespeople and sales mangers build better sales pipelines and improve sales performance.
1. Know Your Metrics (Dean)
Know what you need to be hitting every day, be disciplined about scheduling time and blocking it out.
RELATED POST >>> Reserve Engineering the Sales Process
2. Be Efficient (Dalena)
Close your email and apps, make sure salespeople have the right tools to be efficient and have an automated process. Also, celebrate the small wins.
3. Add This Metric to Your Weekly Meetings (Kurt)
Ask your salespeople, how much time did you spend prospecting and setting appointments this week? Review this with them and talk about this metric and how can they ca improve.
Don't miss another episode of the Improving Sales Performance series where Managing Partner Matt Sunshine speaks with thought leaders, experts, and industry gurus, who share their insight, tips, and knowledge on various topics that help companies improve sales performance.
Subscribe to our YouTube channel, and have your notifications on so you're notified of our next episode!