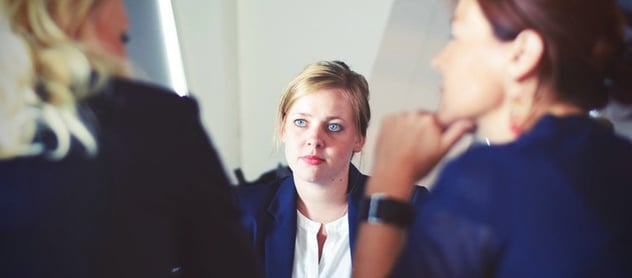 You know it's important to hire highly talented people because they have the innate capacity to achieve excellence and grow your organization faster than those who don't.
Hopefully your sales organization understands this as well and has invested in a strong talent assessment to guide you as you make these critical selection decisions. Most assessments out there are descriptive — reporting the candidate's thoughts, feelings, and behaviors. The very best assessments on the market can do much more than that, though! They are predictive in nature, which means they can accurately predict success in your candidates, regardless of their level of experience. When you use a predictive instrument, your candidate will either be "Recommended" or "Not Recommended" to move forward in your selection process, based on their innate behaviors in the key themes that separate the best from the rest.
So, what do you do when your favorite candidate is not recommended to move forward?
That can be crushing!
If you are using one of the Talent Plus assessments that we offer (the Sales Talent Interview, Online Sales Talent Interview, or the Profit Center Manager Interview), this is what I recommend:
Remember, the classification of "Not Recommended" is not a prediction of failure in the job.
Our assessments accurately predict success and are not designed to predict failure. The "Not Recommended" classification means that your candidate does not have a sufficient level of consistent talent in the areas that we know are key to success in the job. Because they did not meet the minimum threshold determined by the benchmark study, we are unable to predict success. Nearly half of "Not Recommended" candidates will likely succeed in the job, however.
Challenge yourself to hold out for talent.
When hiring managers hold out for a "Recommended" classification, the odds of their candidate succeeding skyrockets to over 80%. So whenever possible, you want to play the odds! I look at it this way… we all know there is an exception to every rule — but when it comes to selection, you want to primarily follow the rule. Setting the bar high when making selection decisions leads to talent growth, increased productivity and revenue, and a decrease in turnover.
Check the fit.
There is both an art and a science to making a strong hire. The criteria for the "Recommended" classification is statistically-driven by research and science. But good selection is also an art, calling upon both the experience and the gut-instinct of the hiring manager.
In the same way that it would be wrong for you to hire every "Recommended" candidate regardless of fit, it's also a bad idea to routinely reject all "Not Recommended" candidates.
Did your candidate score just beneath the minimum cutoff?

Do you believe their strengths are a perfect fit for the job?

Do all other indicators point to success?
In these rare cases, you should schedule a feedback call with a Certified Talent Analyst to discuss both talent and fit.
Please don't read this article and open the floodgates to poor hires! While I am encouraging you to open your mind to the rare exception, I also want you to hold tight to high expectations for both talent and fit. You don't want to begin ushering in every candidate who just missed the cutoff. Instead, follow the rule of holding out for a "Recommend," but open your mind to the rare exception to that rule.