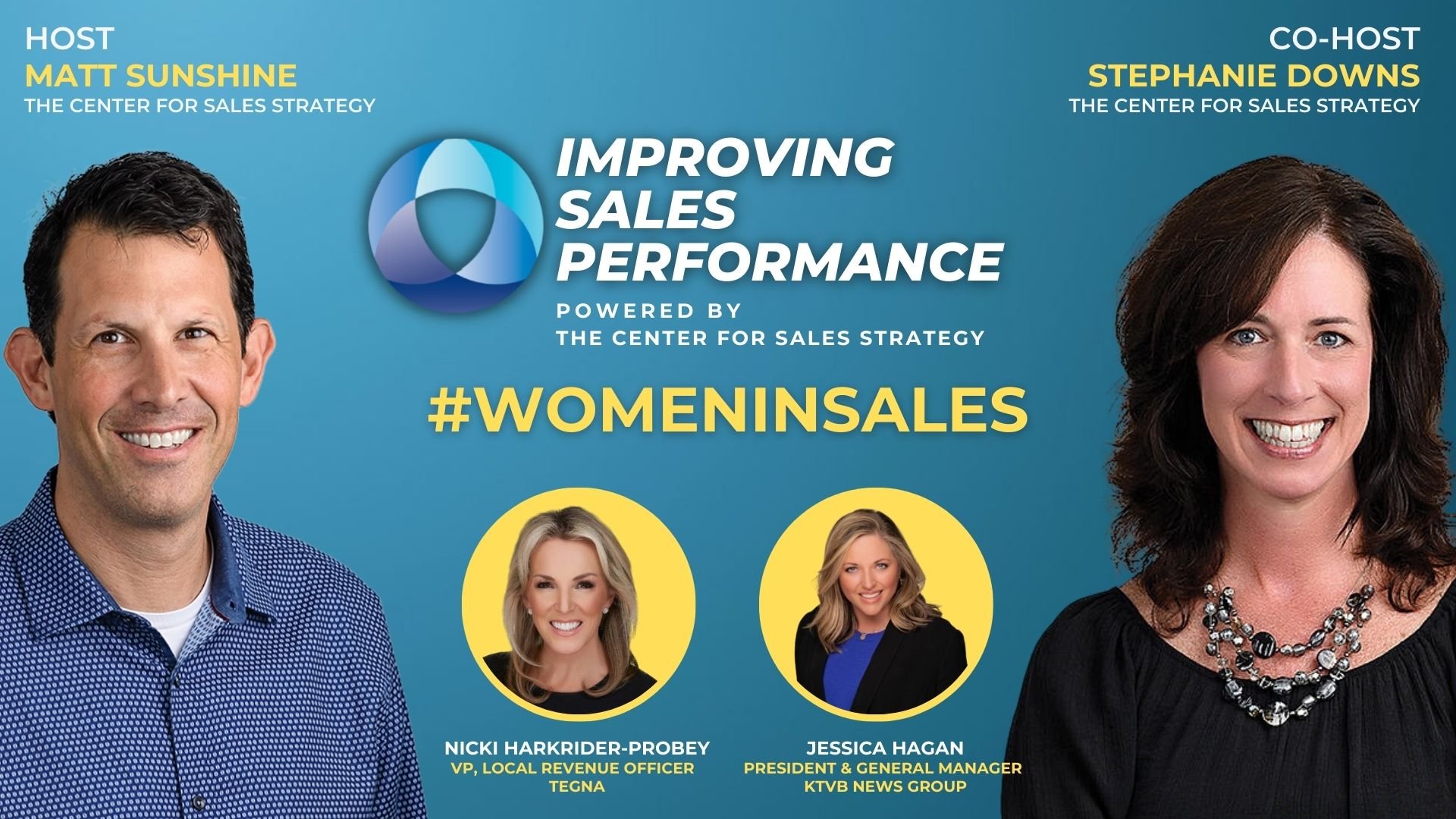 The new season of the Improving Sales Performance Series has a slight twist.
Host Matt Sunshine is joined by co-hosted by Stephanie Downs to focus on celebrating, honoring, and recognizing #WomenInSales for the month of October.
To start the season, Nicki Harkrider-Probey (VP, Local Revenue Officer at TEGNA) and Jessica Hagan (President & General Manager at KTVB News Group) join the show to share their insight, tips, and knowledge on various topics that help companies improve sales performance.
Tune in now or keep reading for a brief overview.
Female Thought Leaders
Nicki Harkrider-Probey is VP, Local Revenue Officer for TEGNA, where she's responsible for driving television and digital revenue while also transforming the sales organizations of 64 TEGNA-television stations.
Harkrider-Probey leads all efforts that drive sales transformation, business development and the development of the people who sell for the TEGNA sales organization. She joined the TEGNA corporate team as Vice President of Sales in August 2016 after serving as Director of Sales at WFAA, where she also served as Director of Local Sales.
Prior to her role in sales, she was owner of her own business, Real Marketing where she was contracted for marketing consultation for companies in DFW.
Jessica Hagan is President and General Manager at KTVB News Group, where she oversees a team of 35 and is responsible for the development and execution of revenue and sales strategy.
Hagan is joined KTVB from KING 5 Media Group, which includes TEGNA's NBC affiliate KING and independent station KONG in Seattle, Washington, where she was on the station's leadership team as director of sales since 2016.
Prior to her current role, Hagan was director of market development at KING 5 from 2013-2016, where she was responsible for content revenue strategy for local programming and creating local new business initiatives. Hagan has 17 years of experience in the media industry, beginning her career in 2003 as news intern with Northwest Cable News before joining the sales team at KONG, then owned by Belo, and taking on roles of increasing responsibility in sales and marketing before joining KING 5 in 2013.
Important Key Performance Indicators for Sales
Aligning your team with the right KPIs increases productivity and enhances performance, but it also allows you to monitor the overall health of your organization and team. The hard part is choosing the KPIs that are most relevant to both your industry and goals.

During the interview, Nicki says these are the top KPIs she looks at:
Budget performance in different areas.

Year over year revenue and advertiser growth.

Sales organization depth
Jessica also contributes some controllable elements such as business development in broadcast, enterprise business and digital in number of new accounts, and of course, retention.
Both women agree on one KPI that is not tangible, and that's feeling. Is there great mojo on the sales floor or on the zoom call? Are others cheering each other on? "It's about culture and engagement," states Nicki. "You need that feeling of positivity."
Two listeners also agreed with this statement.
Sometimes the things that count the most are hardest to measure – John Henley
When you accomplish the "feeling" part, you can accomplish tough KPIs – Amy Coplen
Big Rocks for Sales Managers
Great management begins and ends with YOU, so it's important to take time to strategize what being a great manager looks like.
A Big Rock may be, "Learn more about motivating already successful sales people," or "Get better at filling my Talent Bank."
Jessica states that morale and culture should be Big Rocks for sales managers. "Spend more time coaching and developing," she states. "Spend time with you people and help them see success."
She also adds recruitment to the list of Big Rocks. "People are doing life evaluations and it's important to keep a robust talent pipeline full. What does the next generation of great salespeople look like? How do they become prepared to join the industry?"
Nicki adds that it's all about people and customers. "Sales managers should wake up every day and ask themselves how can I connect with my people and customers in a meaningful way. How can I help connect with customers or potential customers?"
It's not about having a calendar filled with tasks — it's connections with people.
The Past, Present, and Future of Sales
The interview deep dives into how sales management has changes over the years and what is to come in the future. Co-host, Stephani Downs also asks the key question of, "What makes a great sales leader?"
Nicki states, "Sales leaders have to come to the table with a growth mindset. If not, it's difficult to keep up."
"All of this change is opportunities, and you have to learn during this cycle to capitalize on those opportunities, " she adds.
In terms of how sales management has changed, Jessica adds, "Today, managers aren't spending time on reports. They have the technology available to know where things are, areas of growth, and more. This allows you to find the stories and ask great questions."
Another change she notes is accountability. "With technology, we're better at-being accountable to clients. You can sit down and look at the data together, put your solutions out there, continually optimize, and ask the question of did it work."
When it comes to the future of sales, Nicki believes there will be further recognition, acceptance, and excitement that each day on the job is different. "We're still in the acceptance stage. In the next few years, there will be a new understanding of what sales means — which is different than what it was."
Jessica adds that although the structure of a sales department has already changed, she believes this will continue to become a top priority for organizations. "There will be additional roles that keep growing in scope of availability. You constantly have to be thinking how to evolve your sales structure to best serve clients."
Don't miss another episode of the Improving Sales Performance series where Managing Partner Matt Sunshine speaks with thought leaders, experts, and industry gurus, who share their insight, tips, and knowledge on various topics that help companies improve sales performance.
Subscribe to our YouTube channel, and have your notifications on so you're notified of our next episode!