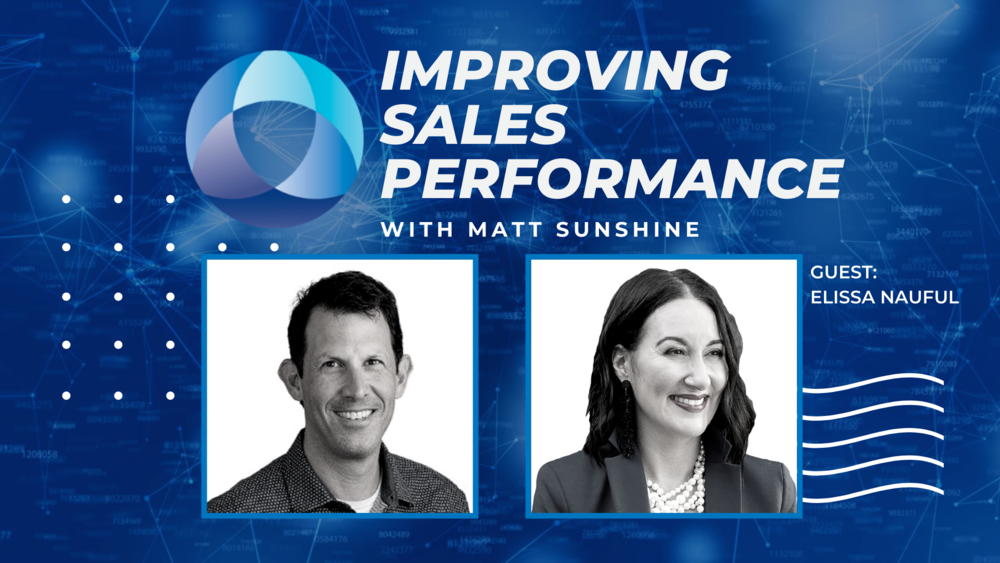 What are some common obstacles that stand in the way of a successful sales culture? And how should sales organizations use social media to help drive revenue?
These questions and more were answered in Episode 17 of the Improving Sales Performance series. In case you missed the Live broadcast, here's a breakdown of Elissa Nauful's, Digital Media, Marketing and Social Advisor, insights for executive leaders who want to build a successful sales culture.
A True Social Media Expert
Elissa is the Founder and CEO of BallywhoSocial, one of the nation's ­first and most innovative social media agencies.
As Florida's fastest growing social media agency, BallywhoSocial focuses on creating social solutions and inspiring authentic connections with a roster of national clients. The innovative work and drive of this company is a direct reflection of Elissa and her belief that social media is much more than vanity metrics, it's a way to genuinely connect on a deep, meaningful level with people.
Common Obstacles That Stand in the Way of a Successful Sales Culture
1. No clear mission

2. Lack of clarity on expectation
3. Sales is not supported
Nobody intends to have a bad sales culture.
And as Elissa states during the broadcast, she truly believes employees want to do a good job and want to feel like they're successful n doing good job. The disconnect comes from management expectations.
When you look at culture, you look at an organization as whole first. The biggest challenge is mission and vision, these are not clearly articulated from top down, so no one knows why you're doing what you're doing.
It's critical that as a leader you're transparent, clear on expectations, and that everyone is on the same page. Lack of clarity will always equal no to low results because people don't know which direction to go. And according to Elissa, that's not only a huge leadership challenge but also a big opportunity.
The third common obstacles that stands in the way of a successful sales culture is that sales is put into a corner and not supported. "Salespeople are not trained properly, and the organization is product focused rather than being sales focused," Elissa explains.
What Can Sales Managers Do Right Now to Drive Revenue?
Understand the talent on your team

Fire non-performers

Have a growth mindset
As explained in the broadcast, there is no one size fits all. Elissa suggests making your number one goal understanding the talent you have and the strengths and weaknesses of your people.
With that base knowledge, you can create clear objectives for each individual — and that takes time because some people need things broken down more than others.
Elissa also discusses what she calls her un-popular opinion, "Fire the people that are not performing. If they can't be trained up then they have to leave."
Revenue performance is super important. We all know that — yet so many businesses struggle with growth and end up with flat revenue year over year. Host Matt Sunshine asks, "Why is that? What can a business owner do to get the needle moving on growth and not just maintain?"
"Maintaining is not growing," Elissa states. "If you just maintain you will be out of business. Attrition happens, pandemics happen, people leave, markets change. If you stay the course, you are setting yourself up for colossal failure and slow burn."
You must have a growth mindset and make sure your best salespeople are selling. Set up a sales structure where 80% of your salespeople time is selling — according to Elissa that is the most critical factor to growth.
How Should Sales Organizations Use Social Media to Help Drive Revenue?
As a social media expert, Elissa advises sales organizations on what not when using social media to help them drive revenue.
Do NOT use social media (LinkedIn, particularly) to send your sales pitch
"When you use LinkedIn to send a sales pitch, it tells you two things. One, the salesperson is lazy. Two, the organization is so focused on input to the CRM and tracking the CRM, but not tracking the results," Elissa explains.
The best way to use social media to help drive revenue is:
Research your contact

Research the industry

Read all industry updates

Tag keywords to look at trends and opportunities
Tune in now to hear examples!
What Separates Great Sales Operations from the Good Ones?
Referencing Jim Collins' "First Who, Then What?" concept, Elissa states that great sales organizations put their people in the right seat on the bus.
People need to be in the right seat and in the right role, and leaders need to recognize that those roles evolve and change. Skills sets and capabilities change — can your current people be trained up? When you operate a business, you constantly have to learn, adapt, and ask the 'whys.'
Why are we doing this?

Why do we do things we way we do them?
Turning back to sales culture, Sunshine asks, "What is something that sales leaders and business leaders need to know that we might not have already touched on in order to establish a sales culture of growth."
Elissa responds with a one-word answer: Ego.
"Some leaders need to be the hero and not the mentor or the coach. If you're in that role and having to be the winner, then you have to know yourself and be honestly with yourself because ego gets in the way of successful management."
Don't miss another episode of the Improving Sales Performance series where Managing Partner Matt Sunshine speaks with thought leaders, experts, and industry gurus, who share their insight, tips, and knowledge on various topics that help companies improve sales performance.
Subscribe to our YouTube channel, and have your notifications on so you're notified of our next episode!