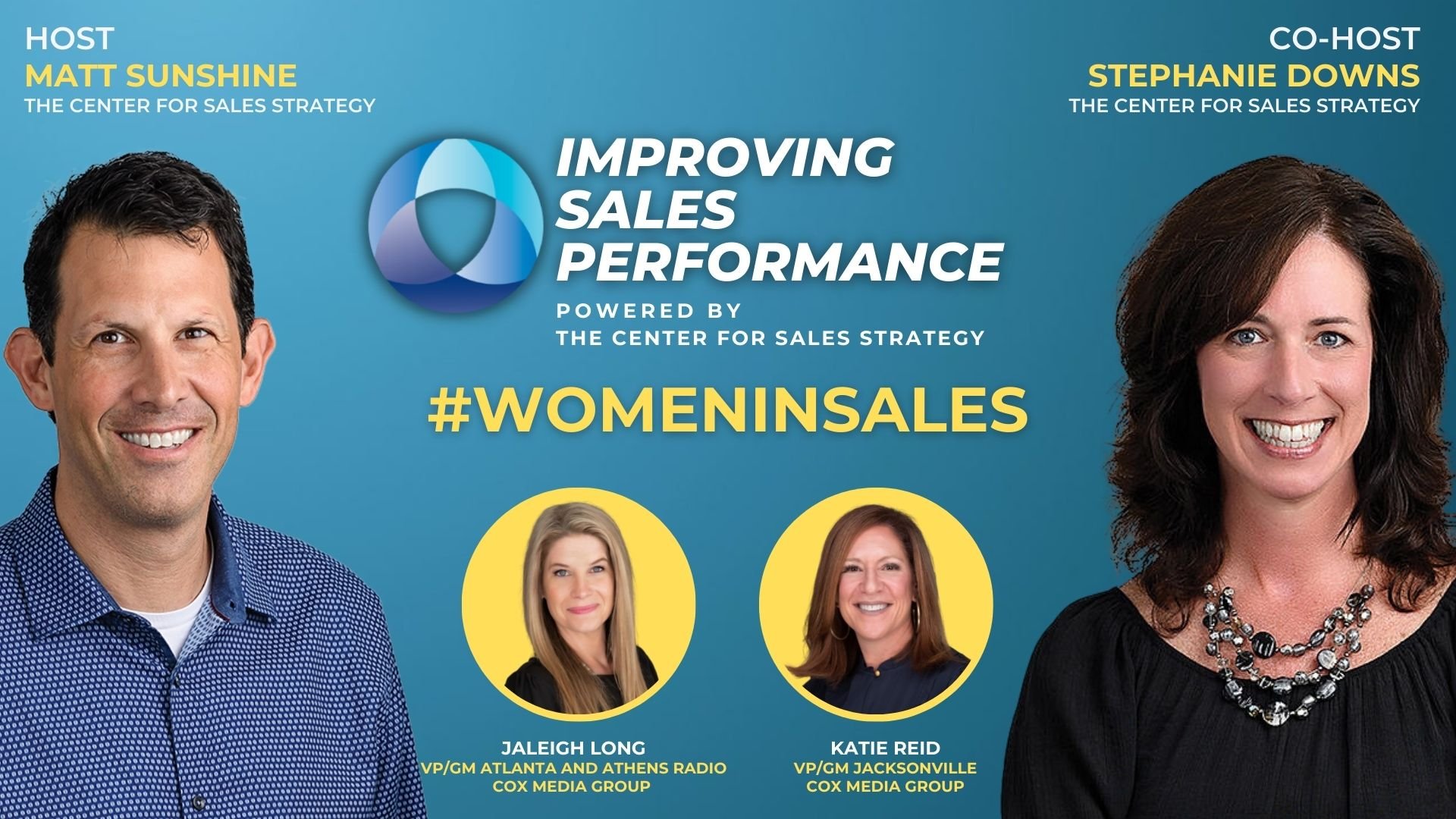 Guests Jaleigh Long, VP/GM Atlanta and Athens Radio, Cox Media Group and Katie Reid, VP/GM Jacksonville, Cox Media Group, join the livecast to help wrap up season 5 of the Improving Sales Performance Series #WomeninSales.
As female thought leaders, experts, and industry gurus, both Jaleigh and Katie share their insight, tips, and knowledge on various topics that help companies improve sales performance.
Tune in now or keep reading for a brief overview.
Female Thought Leaders in Sales
As CMG Atlanta Vice President and General Manager, Jaleigh Long leads one of the industry's most notable and successful radio organizations (News 95.5 WSB, B98.5 FM, 97.1 FM The River, KISS 104.1 FM).
She leads all station departments, including programming, promotions, sales, digital, engineering, production and community affairs, by continually upholding the core values of CMG; maintaining an engaging, diverse and inclusive work environment while achieving optimum cluster performance, revenue, ratings, and profitability.
An 18-year industry veteran with an in-depth knowledge of both radio and digital, Jaleigh joined CMG Atlanta Radio in 2014 as General Sales Manager (GSM) before being promoted to Director of Sales in 2017. Previously, she was with South Central Media in Evansville, IN for seven years as GSM. A graduate from University of Southern Indiana, she started her media career in Indianapolis as an Account Executive for Susquehanna Radio.
Currently, Katie Reid is the VP/GM of CMG Jacksonville. Katie's vast experience spans across several industry brands and sales functions. Throughout her career, she's been responsible for driving millions of dollars in sales revenue, developing stellar sales teams and delivering excellent service to client advertisers. Prior to this role, Katie served as the executive director of revenue, supporting sales teams across the company.
Katie is a board member for the Florida Association of Broadcasters. She is also on the sales advisory committee for RAB. She is a 2017 graduate of the Broadcast Leadership Training program with the National Association of Broadcasters.
Important Key Performance Indicators for Sales
In order to ensure that the sales process is working, you also need to establish the right key performance indicators to track so you always know how well you are doing in each step. So what KPI's should you measure?
During the interview, Katie says she looks at an oldie but a goodie, "We look at the percentage of that month. If you're not 85 to 90% of that month, 50 to 60% of the second month, and 35 to 40% of the third month then you know right away if things are going well or if you've got trouble."
From that metric, she states that, "It's all about key account retention and growth target account development — what those numbers look like and not just the whole numbers, but really digging under the hood for each account executive."
She also adds to look at category growth, agency versus direct, and what we have control over.
Jaleigh says that the first metric she looks at is their number one asset, which are our people. "Our people make up those numbers, and making sure that we have the top talent and top performers across the entire sales organization from sales leaders to media consultants to campaign and digital strategists to account managers — making sure that we've got the right people in place."
She also adds, "We look at how many target accounts do we have activated right now, and what's our goal by the end of the calendar year— looking at key account growth year over year."
Big Rocks for Sales Managers
Big Rocks are your priorities. They're the projects, tasks, or goals you must accomplish. They're not a messy to-do list.
A Big Rock may be, "Learn more about motivating already successful sales people," or "Get better at filling my Talent Bank."
Jaleigh says Big Rocks for sales managers should be, "Maximizing the strength of your sales team. When we look at what our responsibility is, which is finding problems for our clients, we have to stay close to that business, developing deep relationships internally and externally, listening for those problems and finding out how we can solve them."
Katie adds that coaching to individuals and sales culture are Big Rocks that sales managers should focus on. "Sales managers also need to continue to look for trends for category information – we have to give great information to sellers and clients to help cultivate relationships."
Host Matt Sunshine also jumps in and says, "Clear obstacles so that people can do what they're best at." To hear more on this topic, tune in now!
The Past, Present, and Future of Sales
Co-host Stephani Downs asks Katie and Jaleigh, "How has sales management changed over the years? Compare what it was like to be a sales manager 5 years ago compared to what is expected now."
Katie says the differences are day and night. "It's so much more complicated and sophisticated. Conversations with clients are more complicated and sophisticated. You have to understand how all the digital works to solve client problems."
Because of all the knowledge out there, sales managers and salespeople must become experts in categories and experts in how they present information to prospects and clients.
Jaleigh adds, "Today, sales managers need to be more agile and be aware of gaps you need to fill because it changes daily on your team. Quickly identify areas of improvement and where opportunities are. We have to be progressive in our thoughts and how we imagine success – be more business thinkers."
As a last piece of advice to sales managers, Katie advises you to educate yourself in savvy marketing, understanding consumer behavior, and understanding how products work. She also recommends looking for trends that are coming their way and stay in front of it.
Jaleigh advises that sales managers be aware and listen to others, ask tough questions about areas you need to improve for yourself as a leader, and invest in yourself as a leader and get a mentor.
For more advise, tune it now!
Don't miss another episode of the Improving Sales Performance series where Managing Partner Matt Sunshine speaks with thought leaders, experts, and industry gurus, who share their insight, tips, and knowledge on various topics that help companies improve sales performance.
Subscribe to our YouTube channel, and have your notifications on so you're notified of our next episode!