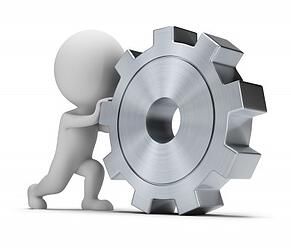 Improving sales performance happens when salespeople do the little things that make a difference. The best salespeople do these things without being told — they even do these things when their manager is not looking:
Prospect for quality accounts.

Spend time developing valid business reasons to get appointments.

Block out an hour a day for phone time to set appointments.

Use a persistent yet professional approach to set appointments (7-9 attempts over a three week period).

Conduct ten (10) quality calls a week with a blend of current customers and new business prospects.
Unfortunately, most salespeople struggle with many of the items on this list and improving sales performance suffers.
There is a way to prop up sellers in the areas of sales related to finding new business prospects — it is called inbound marketing.
Imagine a world where new business prospects FIND the seller and every seller has at least ten quality face-to-face appointments every week! This world exists for many sales organizations.
Download 30 Days to Inbound Marketing Success to find out
how to start a lead generation machine for your B2B sales organization.
Kurt Sima is VP/Senior Consultant for The Center for Sales Strategy