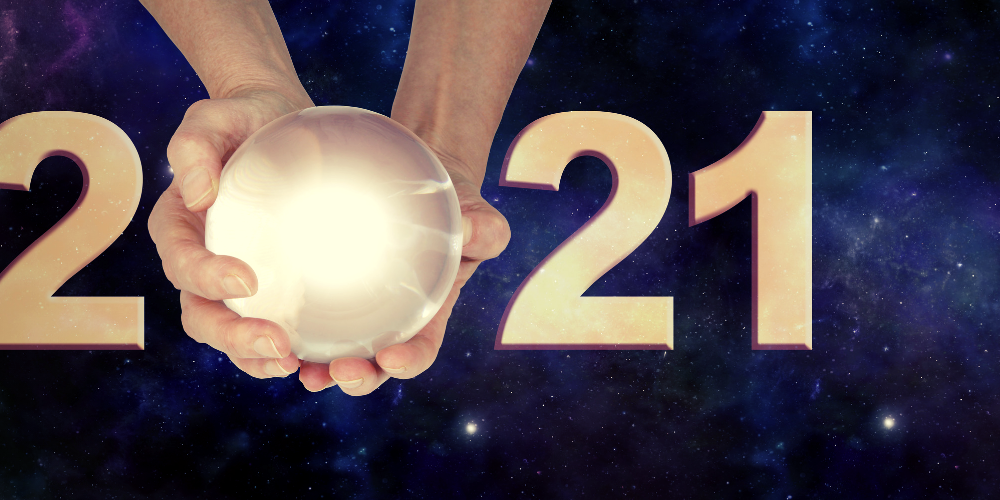 Congratulations! You made it through 2020, and a new year is upon us.
Business is not going to look the same as it did this time last year. The pandemic hasn't just caused pivots — it's caused permanent change. But all change is not bad! 2021 presents significant growth opportunities for organizations that can Accept, Adapt, and Accelerate from the lessons this year taught us.
Below are predictions from our team of experts to help sales organizations remain agile and seize opportunities in 2021.
Bold Predictions for 2021
Remote Work is Here to Stay

Video Will Eliminate Many Barriers

Growth Opportunities Exist Through Sales Enablement and Thought Leadership

Building a Strong Culture is Crucial

Reorganizing Sales Structure Will Be Priority

Economic Growth Will Return to Pre-Pandemic Levels
Remote Work is Here to Stay
Early 2020, we predicted, "Companies will continue to become more flexible with how they manage their work environments offering flex time, remote work opportunities, and other features that attract top talent and offer the promise of a compelling work-life balance."
Little did we know, the pandemic would expedite that prediction and force organizations to offer these features.
One of the most significant changes in 2020 was the sudden shift to a work-from-home status. Many organizations expected a few weeks of working from home and then a normal return to an office environment.
"Most salespeople and customers will continue to work from home at least part-time. The new paradigm in the second half of the year will be much more of a hybrid approach between office and home-based work. Productivity will go up as a result."
Months later, we realize this is no longer a reality, and even those that return to an office setting are not returning to the same office setting they left behind.
"Work from home will continue at some level for all media companies forever — it might 100% or maybe 40% of the time, but the days of working in the office all of the time are over."
In relation to working from home and in-office, "We will see a more flexibility than we've seen in years past expedited by the pandemic."
Video Will Eliminate Many Barriers
Our prediction in 2020 was, "Face time with prospects will be even harder to get. As a result, successful sellers will finally master the art of using shared-screen conversations to humanize themselves with people they have never met."
We were not wrong.
For 2021, the statistics are undeniable — salespeople who use video will connect at 3xs the rate of those who don't.
"Salespeople (and customers) will grow increasingly comfortable with live video calls and get better at them."
As a result of increased video usage, "Meetings with customers/clients will happen more often and more informally. The barriers to a meeting — travel time, travel expense, and long calendar commitments are now lowered."
Growth Opportunities Exist Through Sales Enablement and Thought Leadership
"Every B2B sales organization will have a budget and person dedicated to sales enablement." That was our 2020 prediction. HubSpot's 2020 Sales Enablement report found that 65% of sales teams that outperformed against revenue targets this year have a dedicated sales enablement person or team.
For 2021, we're going a little more specific and predicting that:
"Media sales departments will finally realize that using sales enablement tools is a great way to sell smarter and faster!"
To see growth opportunities in 2021, "If you don't already have one, create a budget for lead generation and sales enablement to ensure the success of your more virtual-than-ever-before sales teams."
Due to the lack of traditional in-person events and selling in person, more and more companies will spend on digital sales and marketing tactics. Therefore, 2021 is the year for:
Building a Strong Culture is Crucial
"Companies will be more intentional about building a culture of engagement, knowing that this reduces regrettable turnover, increases productivity, and improves key customer retention. They'll recognize that if their people aren't actively engaged, they're not going to activate their talents and reach their full potential in the job."
Reflecting on our 2020 prediction, and the current workforce, we've seen that in order to truly thrive in a pandemic, it's crucial to have a strong company culture.
"Culture will finally be a priority. With people being mostly out of office, building and maintaining a strong organizational culture will be paramount for long-term success."
The best organizations to work for are the ones that are the most intentional. They recognize that their company culture directly impacts their employee retention, productivity and revenue, and customer happiness, so they make it a priority.
Reorganizing Sales Structure Will Be Priority
To establish the foundation for sustainable business growth, a solid sales structure must be built layer by layer. People, resources, and processes must align and work together to produce the best results for your organization.
"Sales structure reorganizing will be a priority in 2021. Companies finally realize that doing things the same way over and over and expecting different results is truly insanity. The world has changed in the last 100 years, but for some reason, our sales organizations have not. That finally changes in 2021."
Restructuring is easier said than done, but if you're going to manage a successful team in 2021, the need for change eventually hits home. When thinking about restructuring, there are four important things to know about the modern-day sales structure:
Identifying Needs

Alignment

Management Structure

Time
Despite recent innovations, many sales departments are still missing budgets, not developing new business, and not retaining key accounts. The common reasons for this vary, from using a sales structure from a different era and undefined roles and responsibilities to placing the right salespeople n the wrong role to having the wrong lead generation expectations.
"There will be more creativity in terms of the sales structure. Organizations will have sellers playing different and unique roles based on their expertise and skill set as opposed to everyone trying to do the same thing."
Additionally, organization will "Stop relying solely on salespeople to find prospects, sell them, and service them. There will be more diversification in roles."
Economic Growth Will Return to Pre-Pandemic Levels
Once the thick fog of the pandemic begins to lift, the economy will roar again.
"Media rebounds to 2019 levels by Q2. At some point, we will get back to normal levels of spending and activities. People can only take so much distance."
A December 2020 survey of the National Association for Business Economics (NABE) suggests the economy very well could roar back in the second half of 2021
"Hot categories will begin to shift from merchandise to experiences as the vaccine makes its way into the general population. Theaters, restaurants, cruises, live entertainment, and events begin to open again — there is a huge pent-up demand here."
Most businesses are still adapting to the environment. Many are operating without key segments that were profitable just a few months ago or inventing new offerings in response to the changes we've all experienced.
"Consumers will continue to have one foot in quarantine behavior, and one foot racing out the door to be in person. The most successful media companies and their clients will acknowledge it is not "either/or" and will be using a hybrid of pre-pandemic and post-pandemic techniques."
Additionally, "Clients will still be looking to reduce uncertainty, so companies will finally focus on ways to make sure what they sell actually delivers and offer flexible terms that could work in everyone's favor if the proper attention and effort are paid to making sure ROI is solid."
A special thanks to Jim Hopes, Kurt Sima, Dani Buckley, Trey Morris, Alysa Hinshaw, and Greg Giersch for contributing.