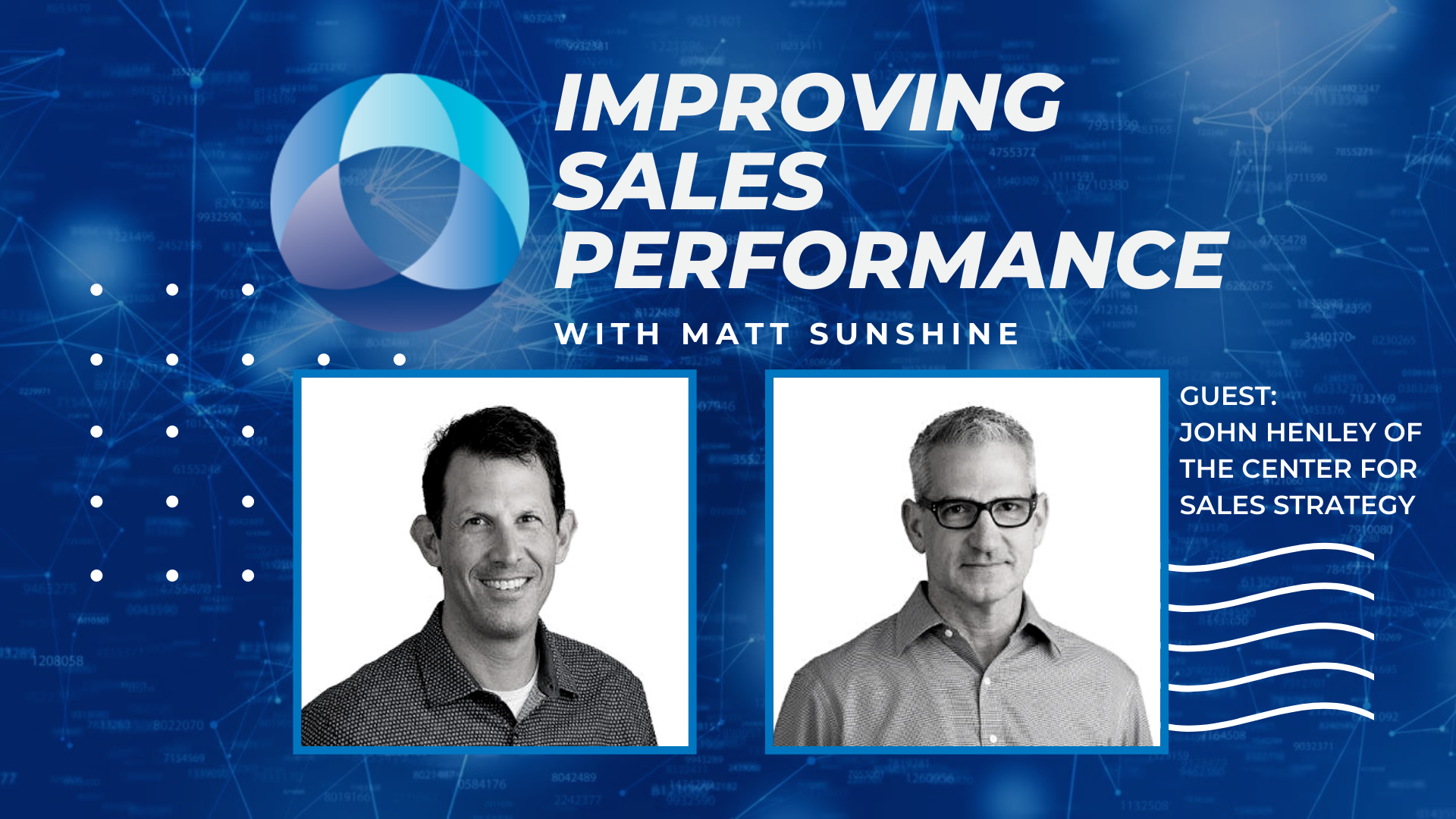 The Impact Leadership System is both a training curriculum and an ongoing guidebook for sales leaders of all organizations and levels of experience. This system ensures sales leaders make the right People decisions, follow the best Processes, and engage in effective Planning to deliver top Performance.
In episode 6 of the Improving Sales Performance series, Managing Partner at The Center for Sales Strategy (CSS) John Henley uncovers details about the new Impact Leadership System and how sales leaders can use all four stages in various ways.
A True Leader in Sales Training
Joining CSS family in 1996, John Henley is involved in client renewals, new business presentations, and directly managing a number of people on the team.
He became a Managing Partner and Owner at CSS in 2008 and has been instrumental in the development of The CSS Partner team, which has been a key factor in driving both growth and diversity for the company and our two new division — LeadG2 and Up Your Culture.
John has a strategic approach and is often working directly with many of our larger clients' senior leadership. He has been the driving force on writing and refining the concepts for two key training programs at CSS. The Impact Leadership System and Sales Accelerator, both help our clients drive winning sales performance.
What is Impact Leadership System?
"Think of the Impact Leadership System as a framework," Henley explains. "It helps improve your sales from the top and helps any organization improve sales performance."
In the interview with host Matt Sunshine, Henley talks about how they knew they needed something to fill a void but didn't know at the time exactly what they were creating.
Many sales leaders think a training program is as simple as having a few training sessions, sitting in on a few calls, and handing out a sales playbook. However, a truly effective sales training requires a much greater investment of resources and time.
"We think of the Impact Leadership System as a training curriculum, but also an ongoing guidebook for sales leaders," Henley states.
And, if it isn't obvious by now, this training program is made for sales leaders at all levels of organizations and experience.
It's beneficial for General Managers and CEOs who are involved in sales or who want to bring good thoughts to sales leadership conversations.


It's beneficial for Directors of Sales who want to dig deeper into annual sales planning and want to know unique ways to hold people accountable.


And, it's also beneficial for local sales managers and digital sales managers in the media space that want to dig deeper into topics like sales calendar and Individual Focused Management meetings.
How Management Uses Impact Leadership System
It's a simplified framework, broken down into the four areas – People, Process, Plan, Performance. This means it's going to help management make the right people decisions (recruiting, selecting, and developing), it helps management have the best processes – because as Henley explains, "you can have great people but weak processes frustrate the talent." Then management moves to the essential pieces like planning, and then think of it all in terms of developing top performance.
"Why is the Impact Leadership System important to build our more than the Talent Focused Management (TFM)?" asks Sunshine.
TFM focuses on talent as a top priority for improving sales performance. Sales managers learn the balance between nature and nurture in growing their salespeople. But managing sales is only half the job. The other half—leading people—is not something that comes automatically.
RELATED POST >>> Sales Manager's Takeaways From Talent Training
When helping drive performance for 40 years, CSS did it through a lens of People –we know and believe you must have fantastic people. "Over time, we developed other systems and practices that are equally important –but we never organized it in clear way," states Henley.
During the interview, Henley also talks about how you must know what to do and when to do it. "We don't want sales managers not succeeding because of not having proper knowledge," he explains. He also quotes Alvin Toffler:
"The illiterate of the 21st century will not be those who cannot read and write, but those who cannot learn, unlearn, and relearn."
What does this quote have in relation to the Impact Leadership System? Tune in to find out! Also, tune in to hear exactly how the Impact Leadership System was built and the 1,100 hours of work that went into its creation!
What Will a Sales Leader Learn from the Impact Leadership System?
The Impact Leadership System was designed to be digestible and actionable. There are four sections, 32 courses; each course is 10-15 minutes long; how long should it take for a sales manager to get through this training?
The answer — you can use the Impact Leadership System in a variety of ways. Whether you want to go through it all at once and see how it fits together or go back and forth when you need to really focus on one specific area.
Near the end of the interview, Henley deep dives into each section — People, Process, Planning, and Performance — and tells listeners exactly what they'll take away from each section when they take the courses. He also explains why each course is built in certain ways.
Don't miss another episode of the Improving Sales Performance series where Managing Partner Matt Sunshine speaks with thought leaders, experts, and industry gurus, who share their insight, tips, and knowledge on various topics that help companies improve sales performance.
Subscribe to our YouTube channel, and have your notifications on so you're notified of our next episode!