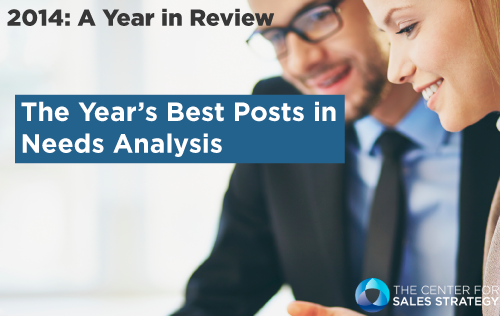 As 2014 comes to a close, we like to take a minute and reflect on the posts that resonated the most this year. Here's a year in review of our most popular posts regarding needs analysis.
Having a solid needs analysis that uncovers your clients needs is important. Don't forget to ask the question - What else should we be talking about?

Most sellers understand that the goal of the needs analysis meeting is to uncover an urgent need that they can help solve; and then leave with an assignment. In order to accomplish this, you must ask great questions.
Spoiler alert: there's not a list of "greatest needs analysis" questions you can ask any prospect. Here's what to do instead.
Before you ask for an hour of a target account's time in a needs analysis meeting, be prepared to give them an hour or two of yours.
Here's a story about the time a salesperson did something really smart: came up with a very compelling Valid Business Reason that resulted in a sale.
Those were our best posts about the needs analysis process. What stood out to you?
In case you missed the previous editions:
Part One: Online Communication
Part Two: Interviewing and Hiring
Part Three: Sales Talent and Communication