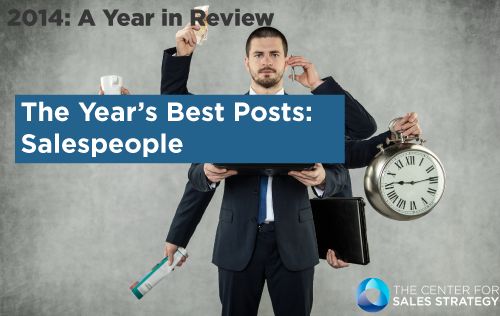 As 2014 comes to a close, we like to take a minute and reflect on the posts that resonated the most this year. Here's a year in review of our most popular posts regarding salespeople.
We fielded questionnaires in mid-2013 to approximately 2,600 salespeople and over 900 sales managers asking them "What Keeps Media Salespeople and Their Managers Awake at Night?". Download the report.

Can you hit a moving target? The best salespeople follow these five principles and can hit moving targets. Learn from them.
Are you a hunter, farmer, or trapper? Find out.
There are three types of sales people: the sales hunters, the sales farmers, and the sales trappers. Are sales trappers inbound marketers?
Buying has changed, forever, and now requires some additional sales superpowers. Are you using yours?
We had to use some harsh language to let you know why you should fire your crappy accounts. Yes, there is such a thing as a crappy account.
When you're trying to sell something, do you obsess about the decision maker? Don't. Focus on this instead.
Everything is different, nothing has changed. Which is it? Salespeople are struggling with the same things they were 100 years ago... or are they?
Knowing these five things about your best accounts could be the difference between making and losing the sale. Find out what they are.
Is your prospect lagging? Read five ways to activate lagging prospects and turn prospects into customers faster!
Why won't people give you the time of day? Hint: it's not personal, there's just not enough time in the day.
You can do this. Really, you can. But you have to concentrate. Read more about it.
Just wanting to do the right thing isn't enough. It takes more than a good heart to do good in this world.
When you have a great idea, what do you do with it? Here's what salespeople should do when floating an idea.
Those were our best posts about salespeople. What stood out to you?
In case you missed the previous editions:
Part One: Online Communication
Part Two: Interviewing and Hiring
Part Three: Sales Talent and Communication