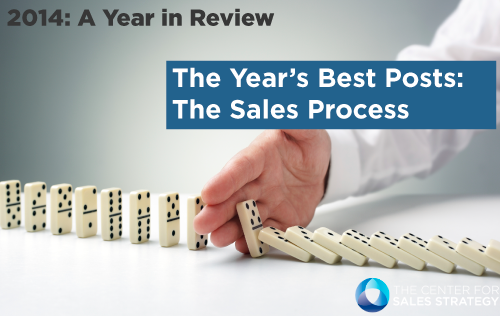 As 2014 comes to a close, we like to take a minute and reflect on the posts that resonated the most this year. Here's a year in review of our most popular posts regarding the sales process.
When trying to uncover really important client needs, shouldn't we at least spend a few minutes writing more creative, specific, meaningful questions that have not been used a ka-billion times?
Do you want to increase sales? You need to learn how to build a referral machine. Here's a five-step instruction manual.
You may be tempted to lower your price to beat your competitor, but competing on price won't get you anywhere. Find out why dropping rates to beat your competitor's price just doesn't cut it.
Sometimes your calls aren't returned. Find out why prospects aren't calling you back, and what you can do about it.
Make sure you're doing more with your sales collateral than simply asking someone else to throw it away for you. Include these five things.
Still selling benefits and talking about features to your prospects? Here are five reasons to stop.
As a salesperson asking the right questions is a smart sales strategy. These 7 questions can help you make sure that your proposal is received well.
The key to selling bigger deals (when you have a new product to offer and when you don't) is to tailor the solution to a specific need.
In sales prospecting, just like dating, you need to know when they object of your desire just isn't into you.
Most sales pipeline problems spring a leak near the faucet, not near the nozzle. Learn why this is a problem.
It's a tactical mistake that B2B salespeople take focusing on how the prospect is going to pay for your product or service. Focus on these types of B2B selling questions instead.
Sounds counterintuitive, but it's true. B2B salespeople can close more business by selling less. Find out how.
For many B2B salespeople, winning is everything. How do successful salespeople keep winning?
Once you're talking about price, you're no longer selling. Read why the selling process stops once you talk about cost at The Center for Sales Strategy.
Are you dangling your process or your product? If you want to build a better sales relationship, there is a right answer to this question.
Congratulations, you just got the first appointment. Now what do you do?
Getting the first appointment sometimes feels absolutely impossible. Refer to this when you feel like all hope is lost.
Those were our best posts about the sales process. What stood out to you?
In case you missed the previous editions:
Part One: Online Communication
Part Two: Interviewing and Hiring
Part Three: Sales Talent and Communication