If you follow the stock market you know McDonald's stock has been on fire of late! Maybe the secret to their success is hiring people who can open and close!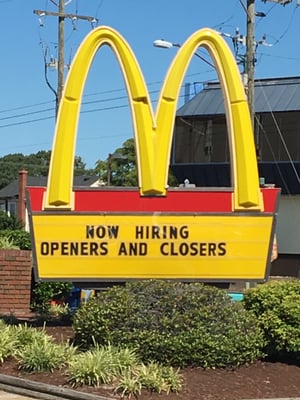 Closing gets all the love, and all the headlines. The big closes lead to high fives and mentions in the company newsletter, and keep you coming back for more! If you can't close, you can't sell. "Coffee is for closers!"
But can you OPEN? Not open the conversation, open the door to the opportunity. One sure fire way to close more deals is to get more, higher-quality appointments. It's tougher than ever to get attention and establish credibility, and you need to do both to get the first appointment with the very best prospects. It's no longer sufficient to pick up the phone and leave a "get to know you and your business" voicemail, or pop in for a cold call with confidence. To be a great "opener" you have to do your homework, and your homework has to result in a valid business reason for the prospect to meet with you.
A great valid business reason should express why the prospect would want to meet with you (not the other way around) and has three core elements: